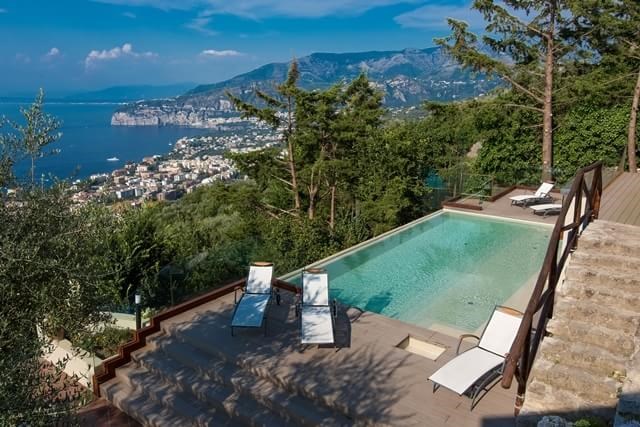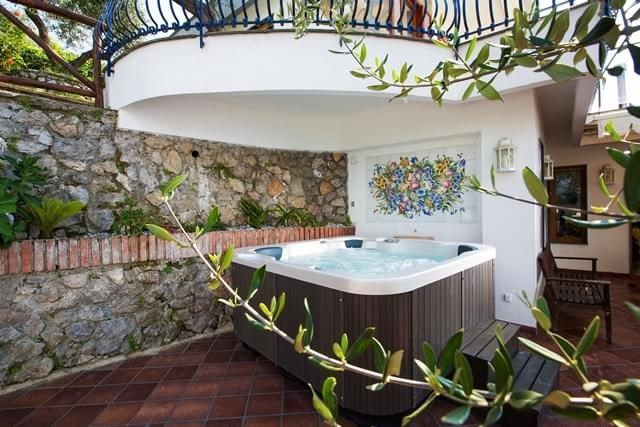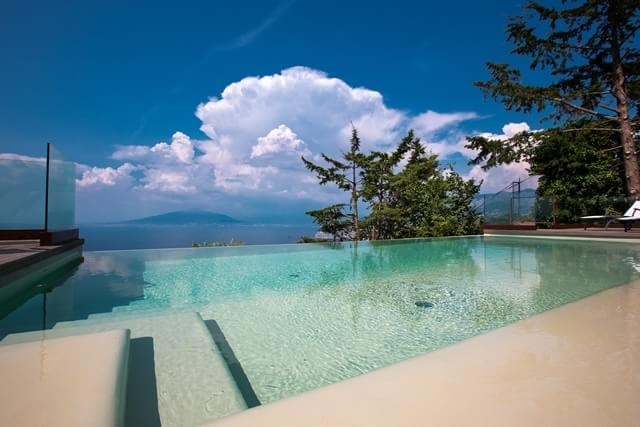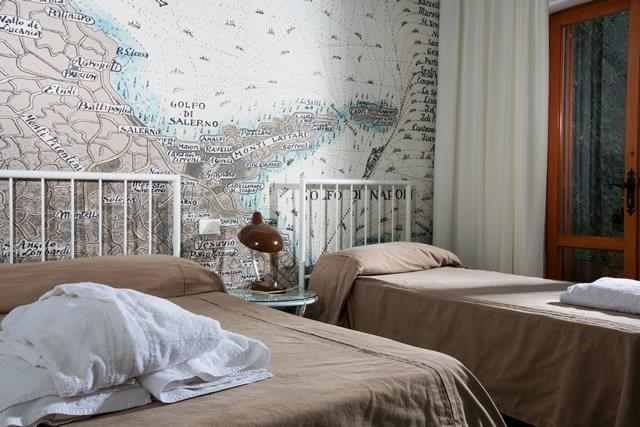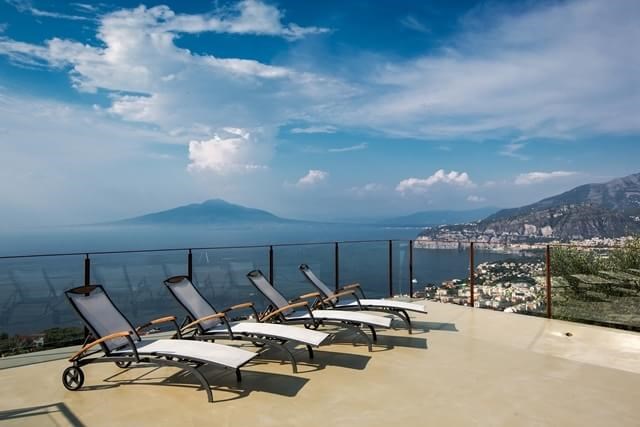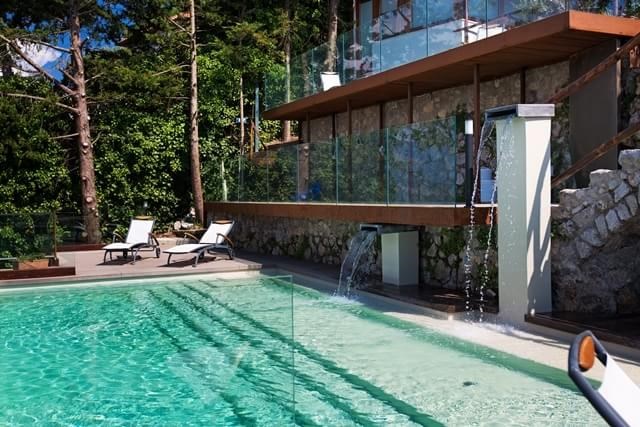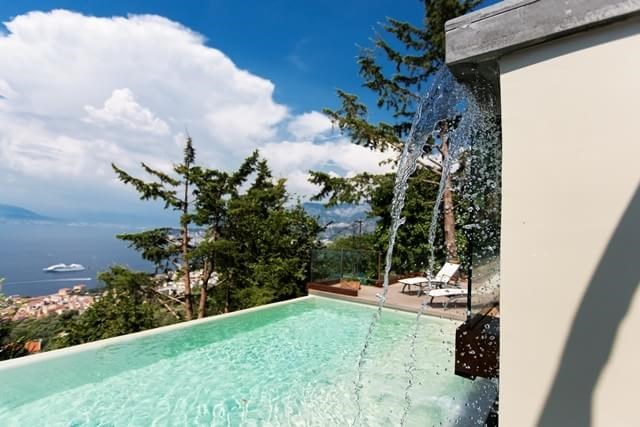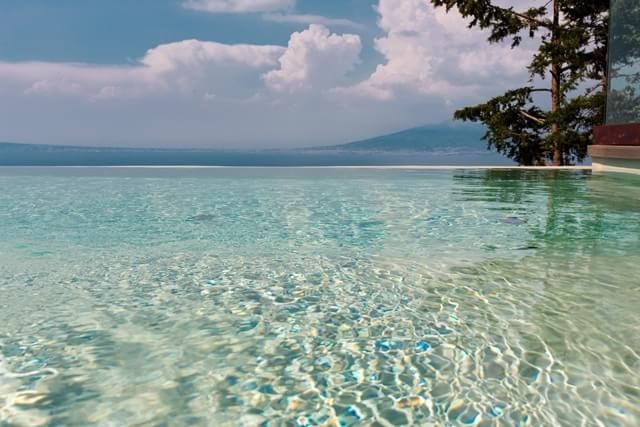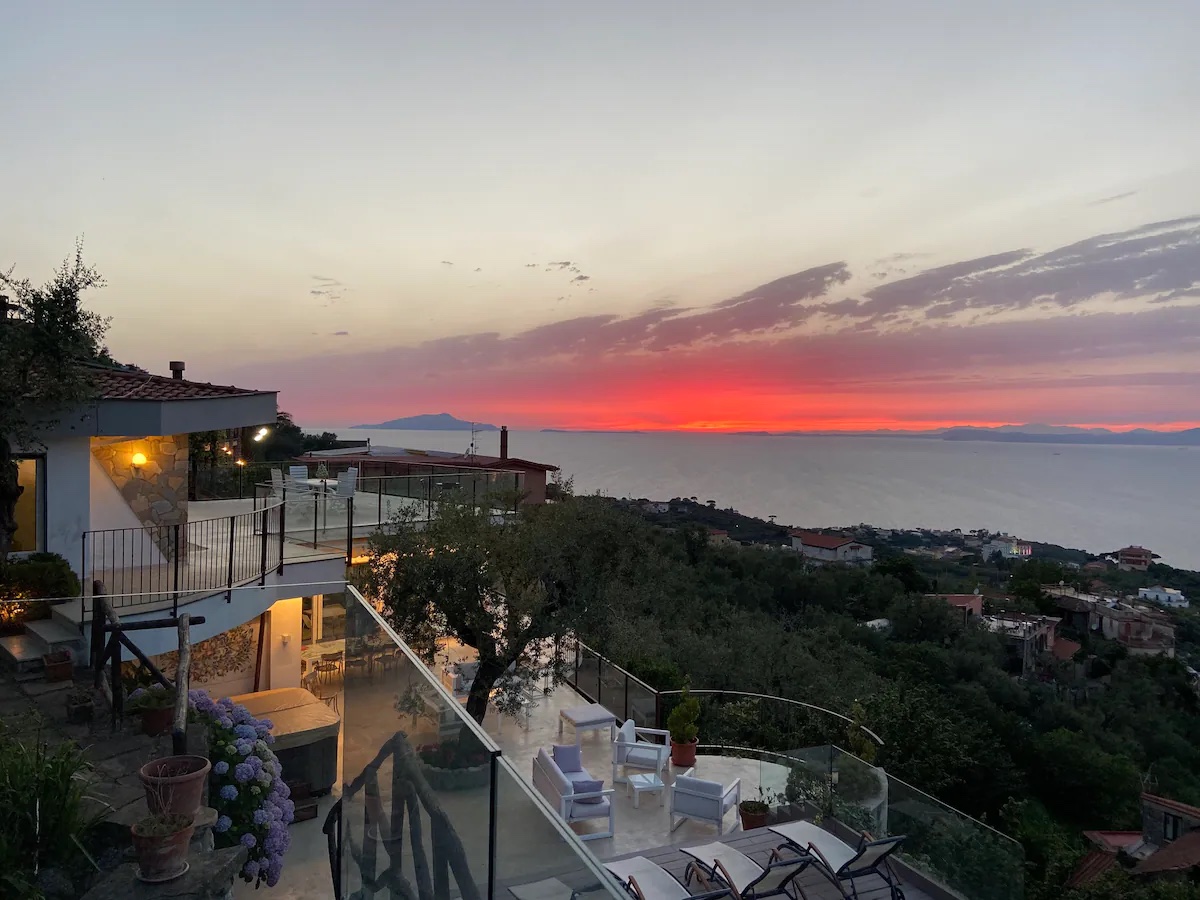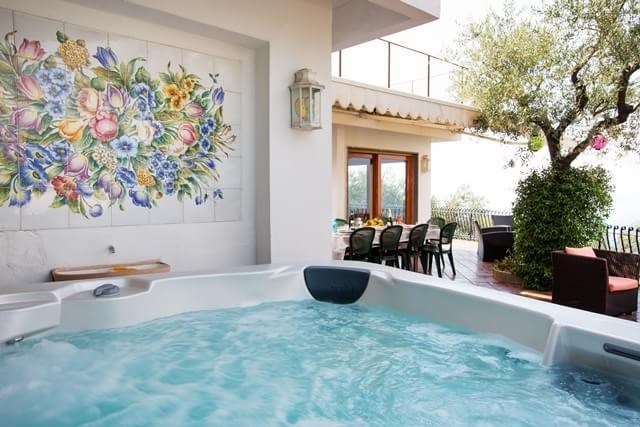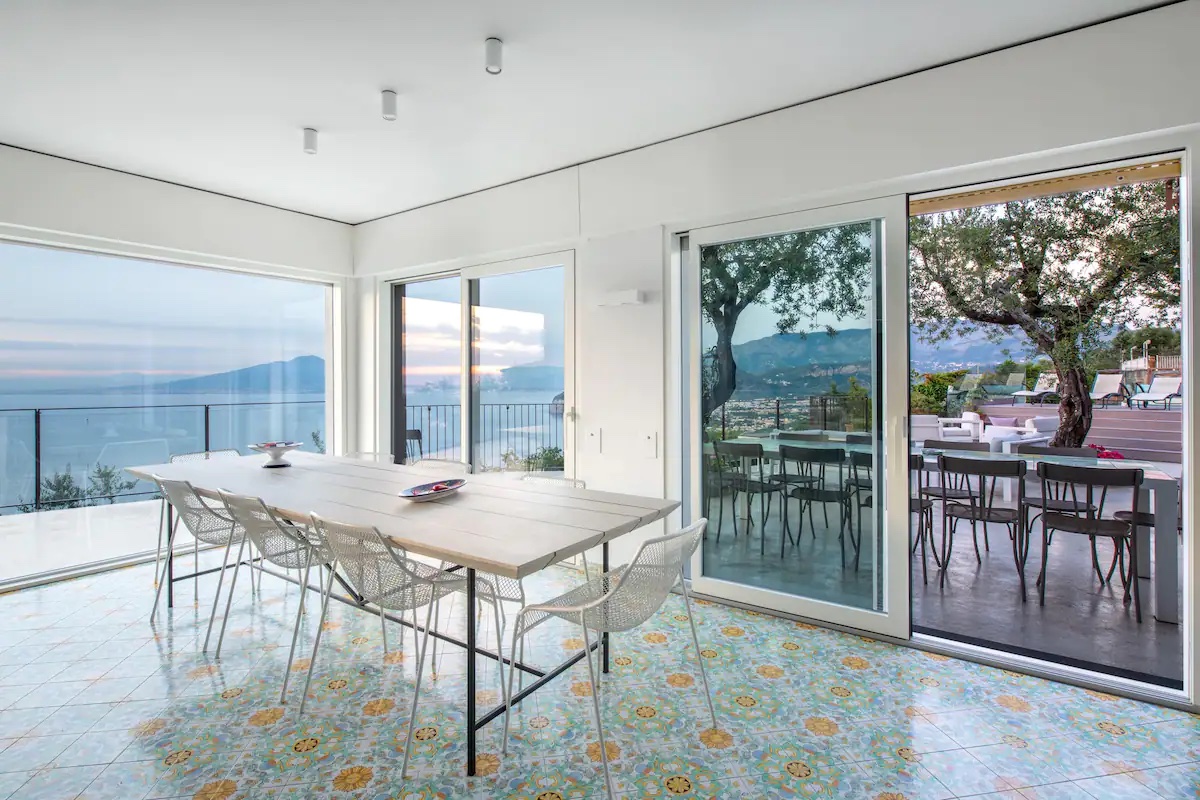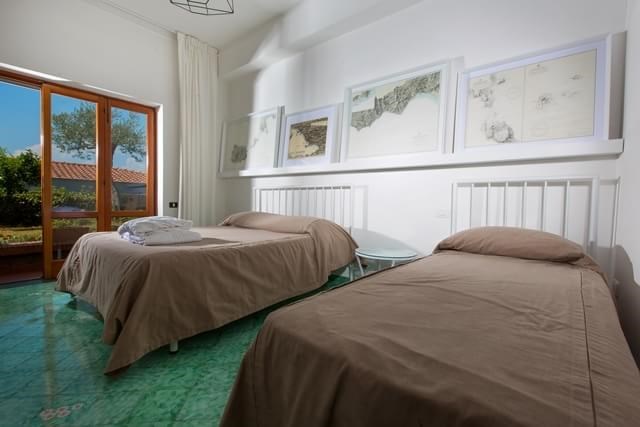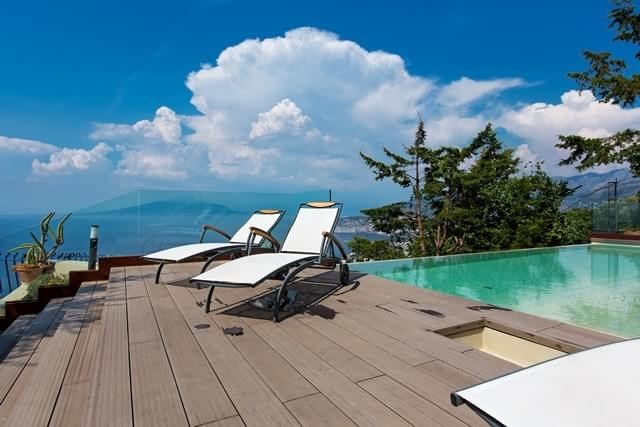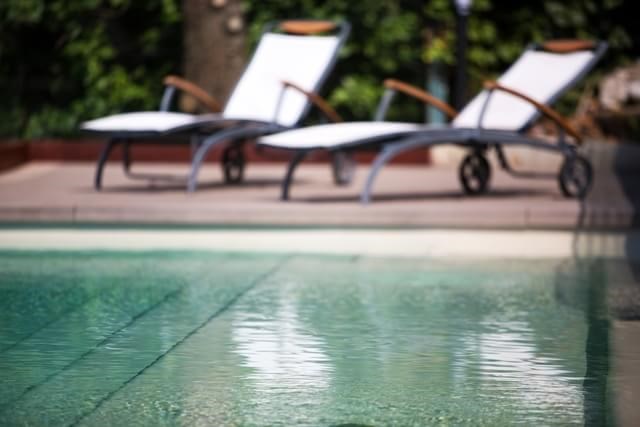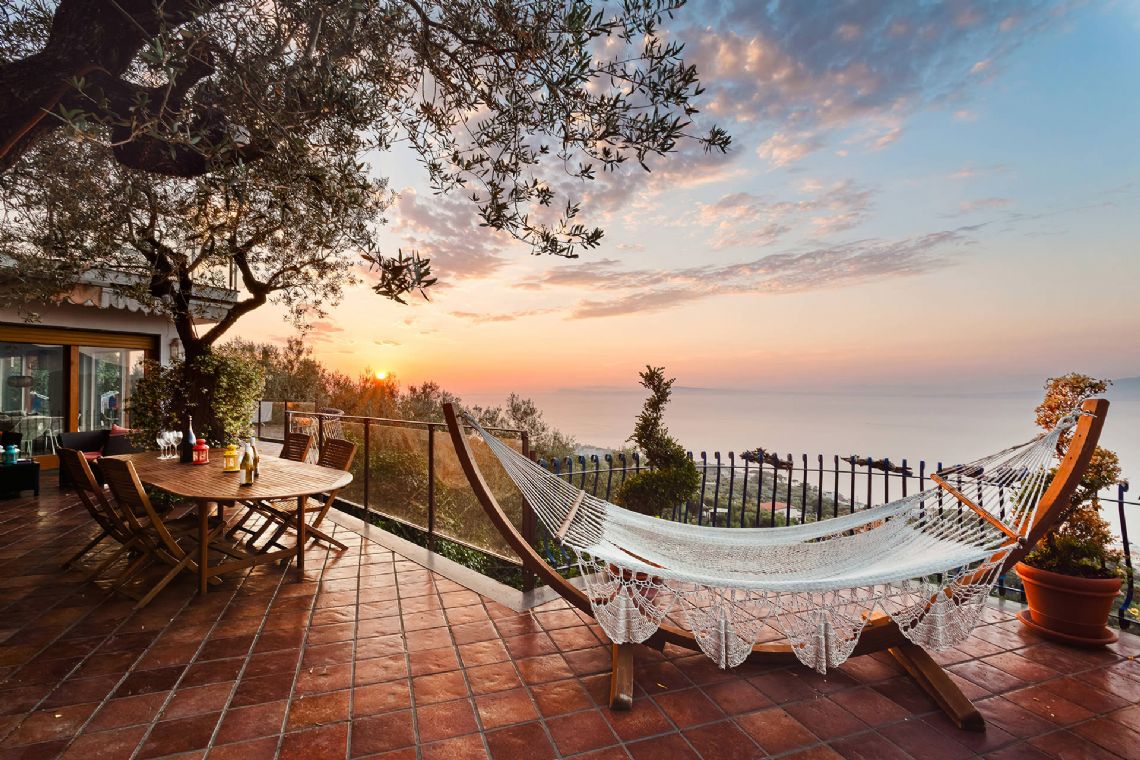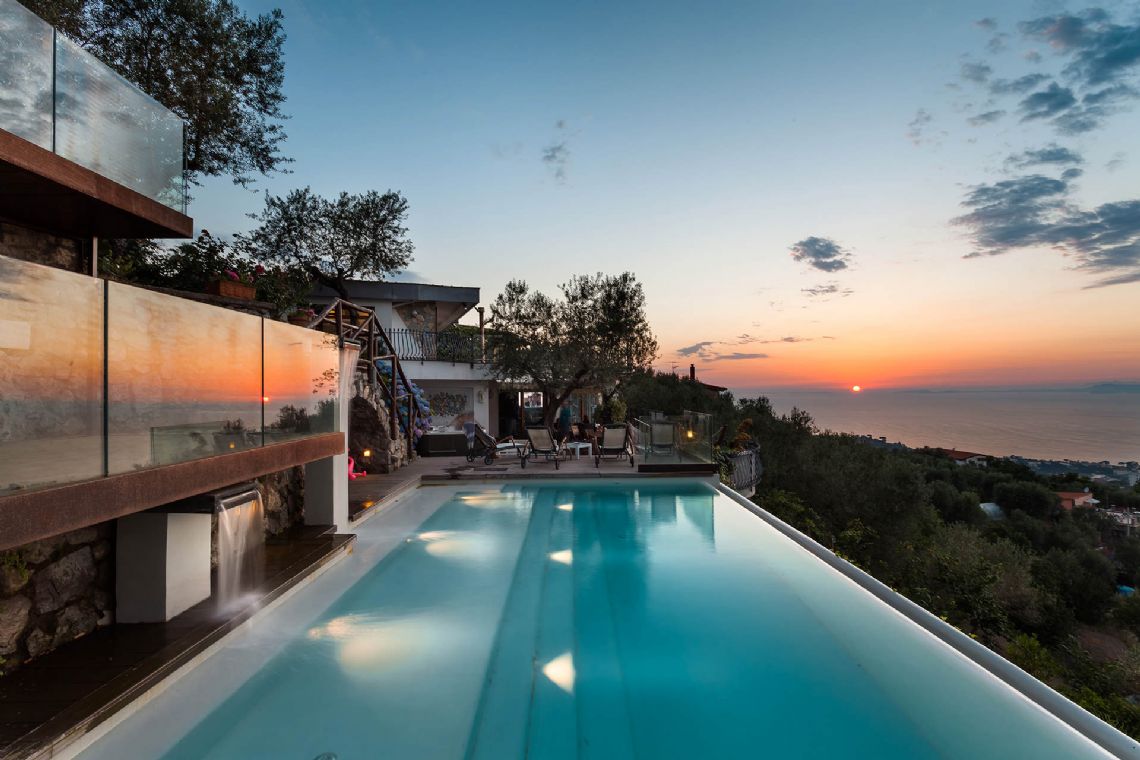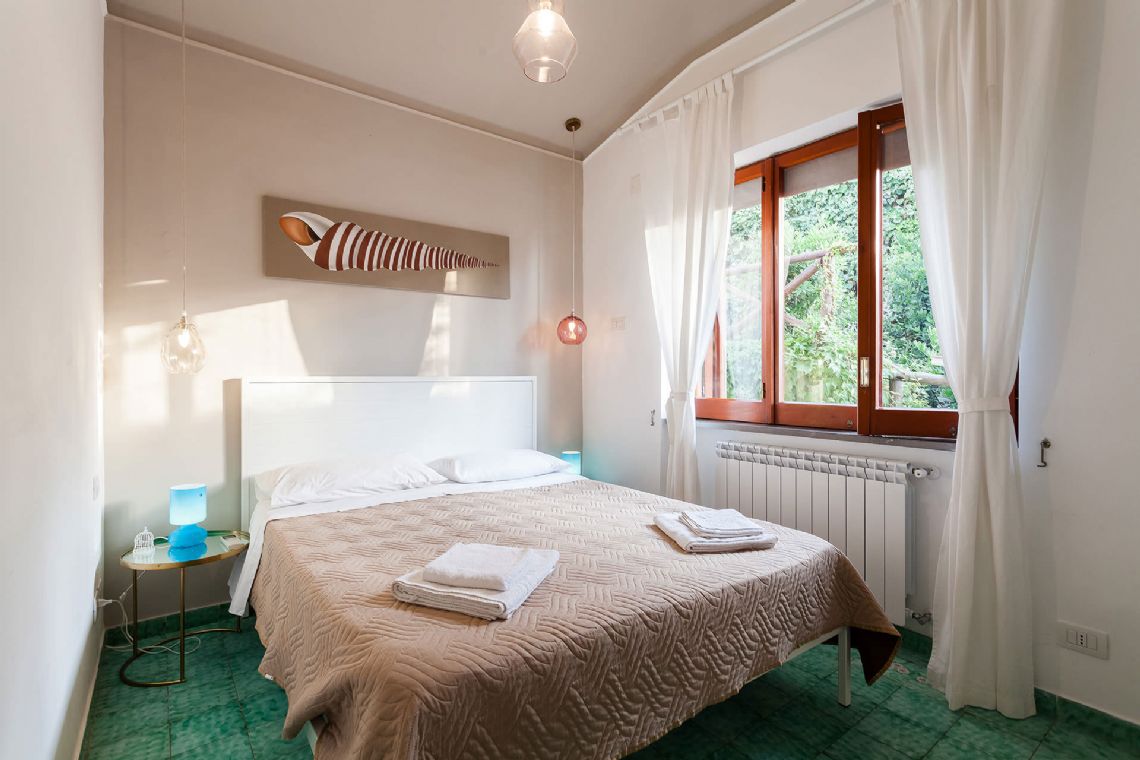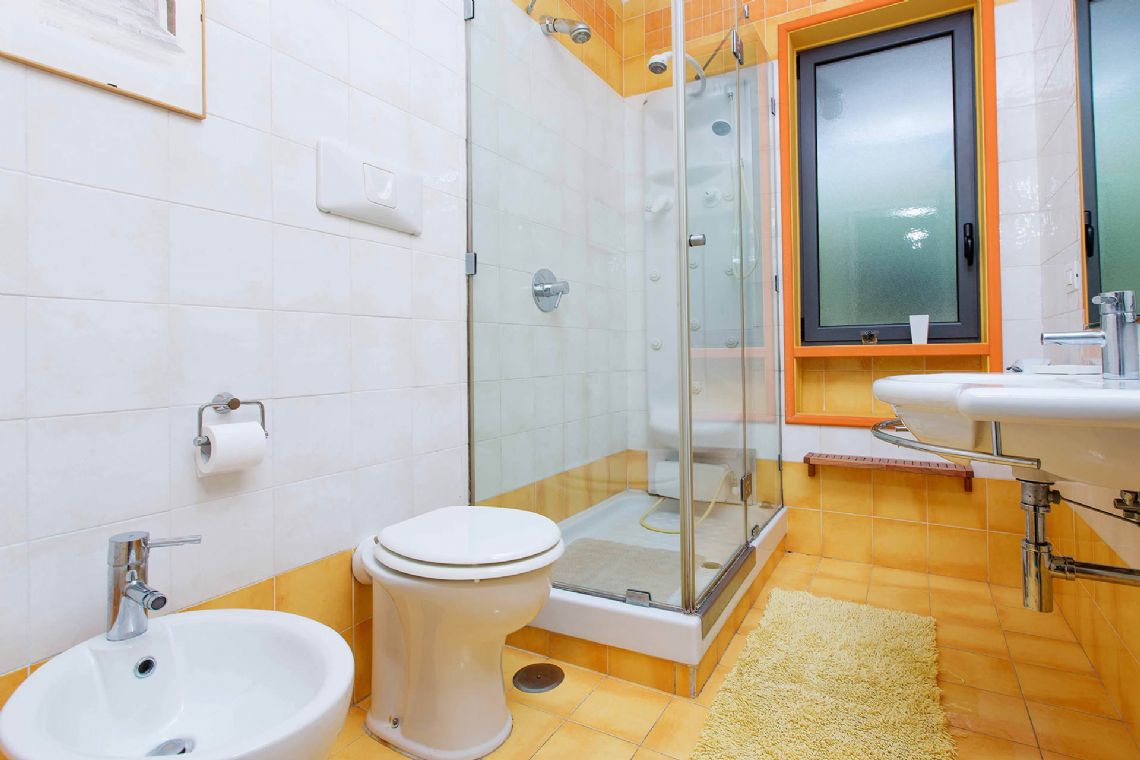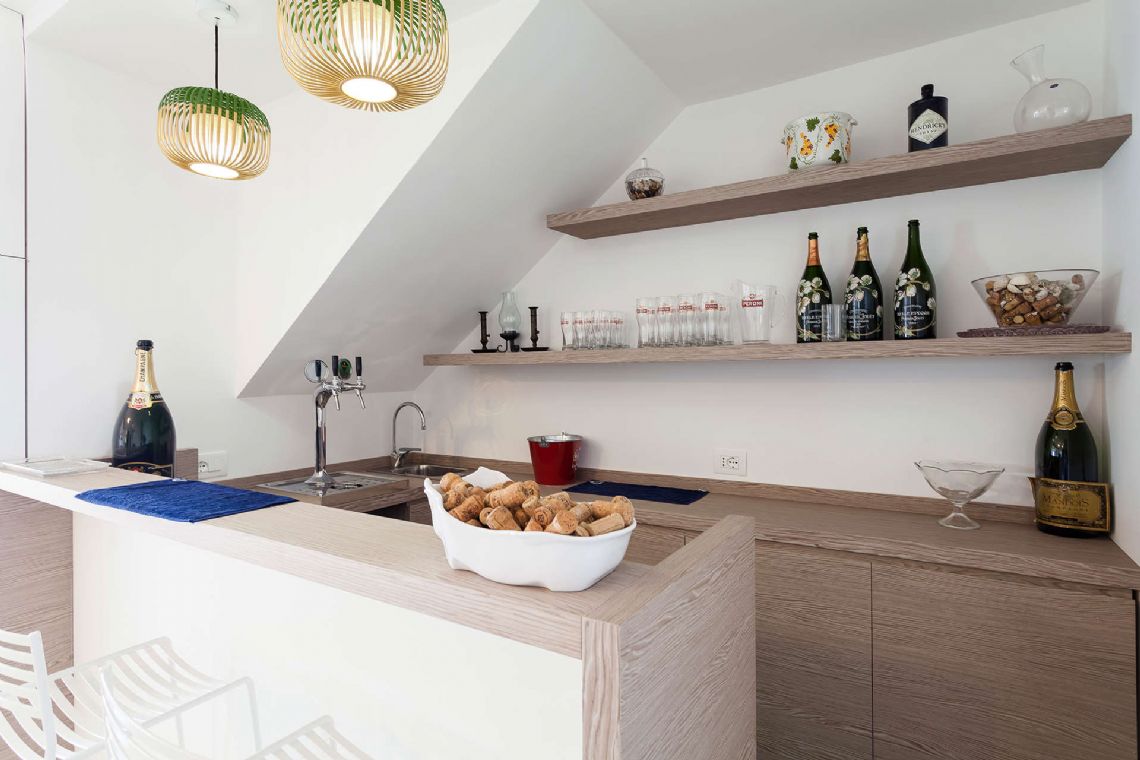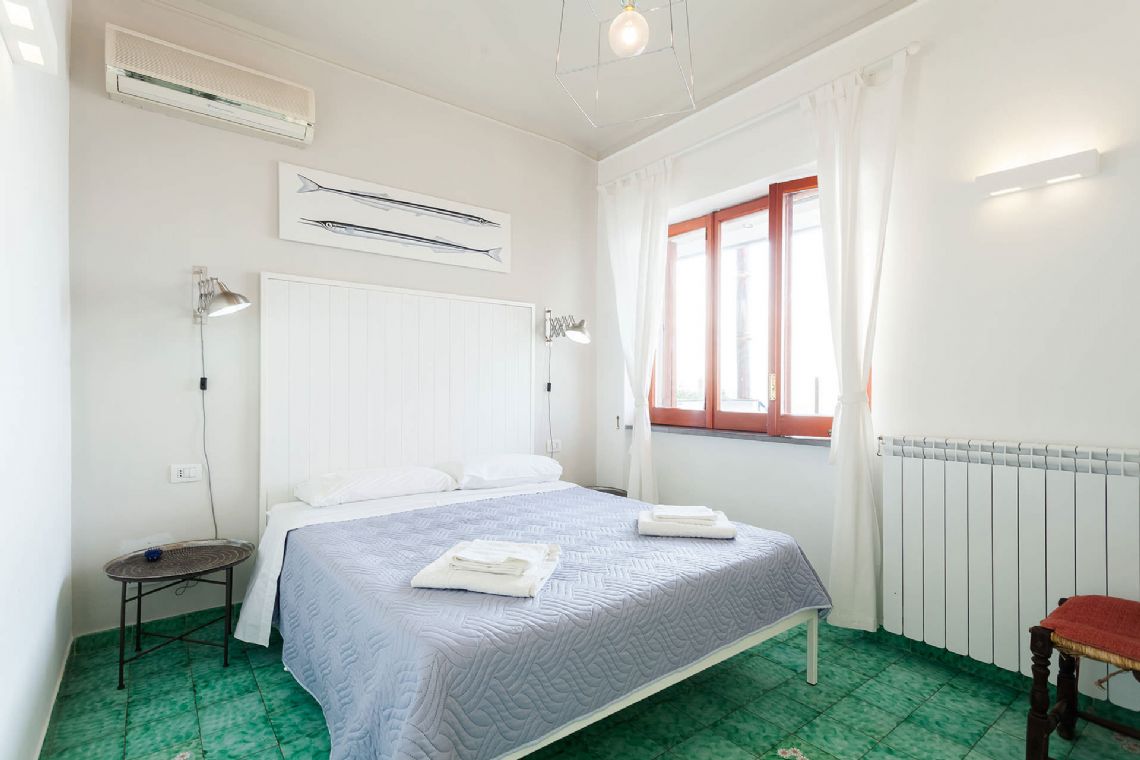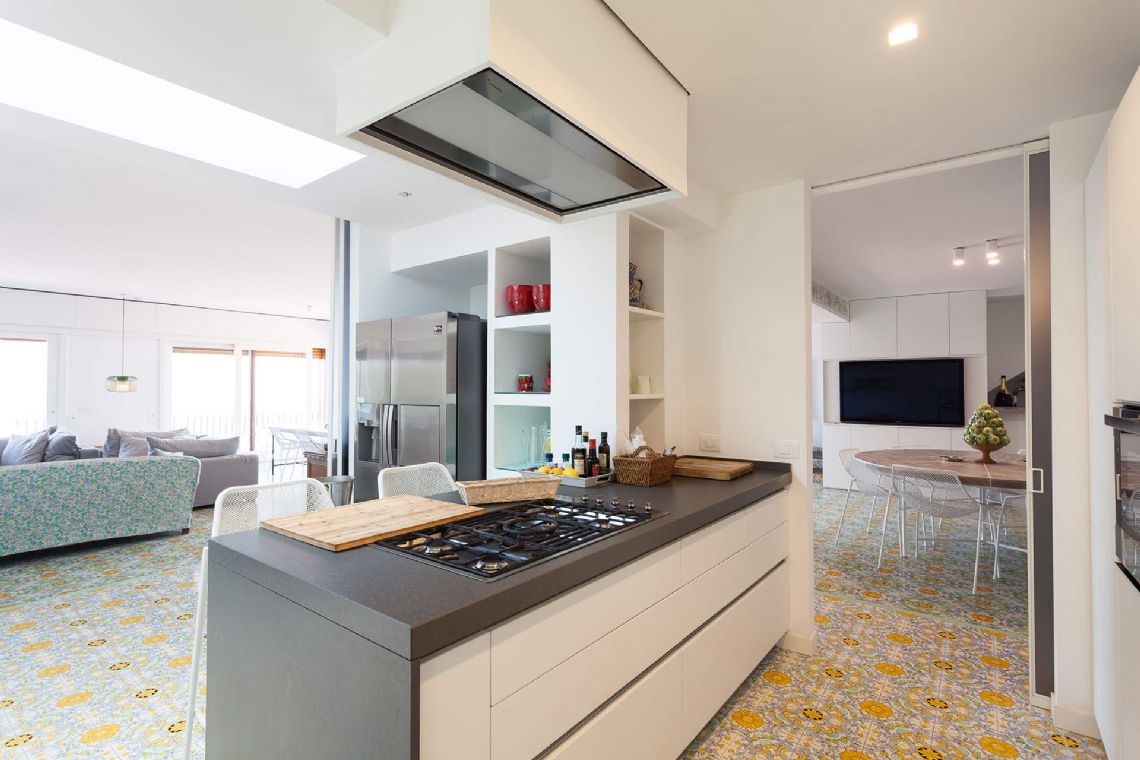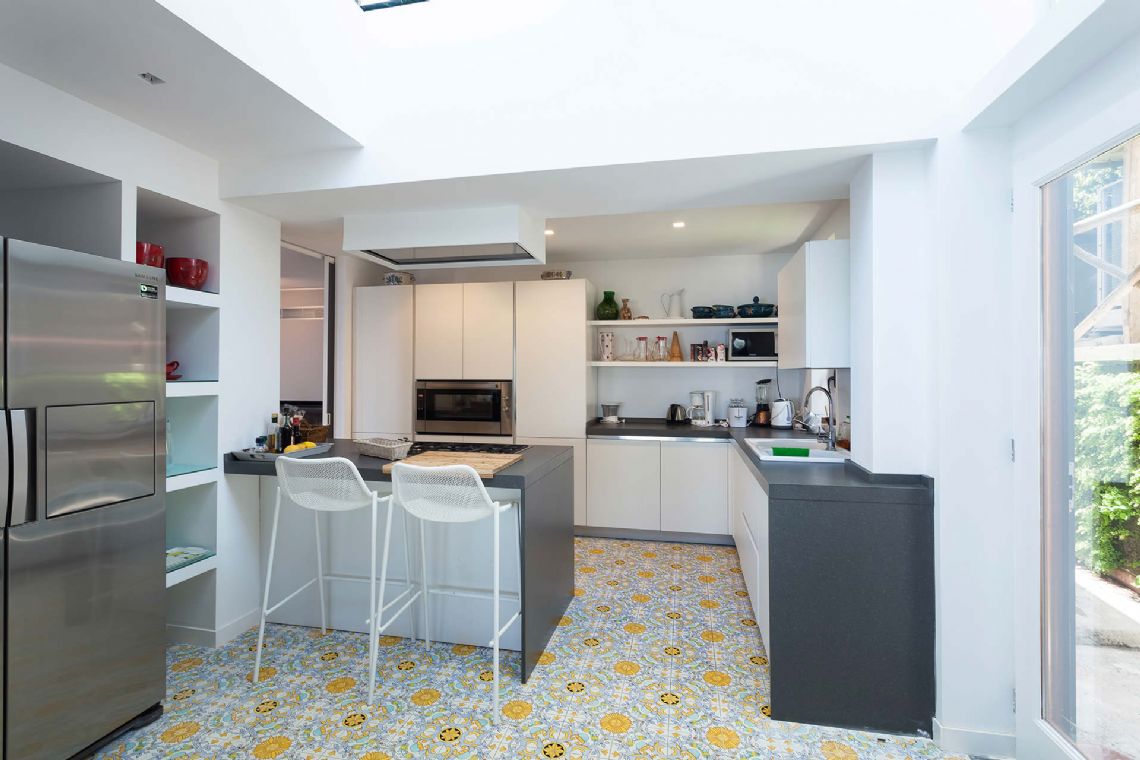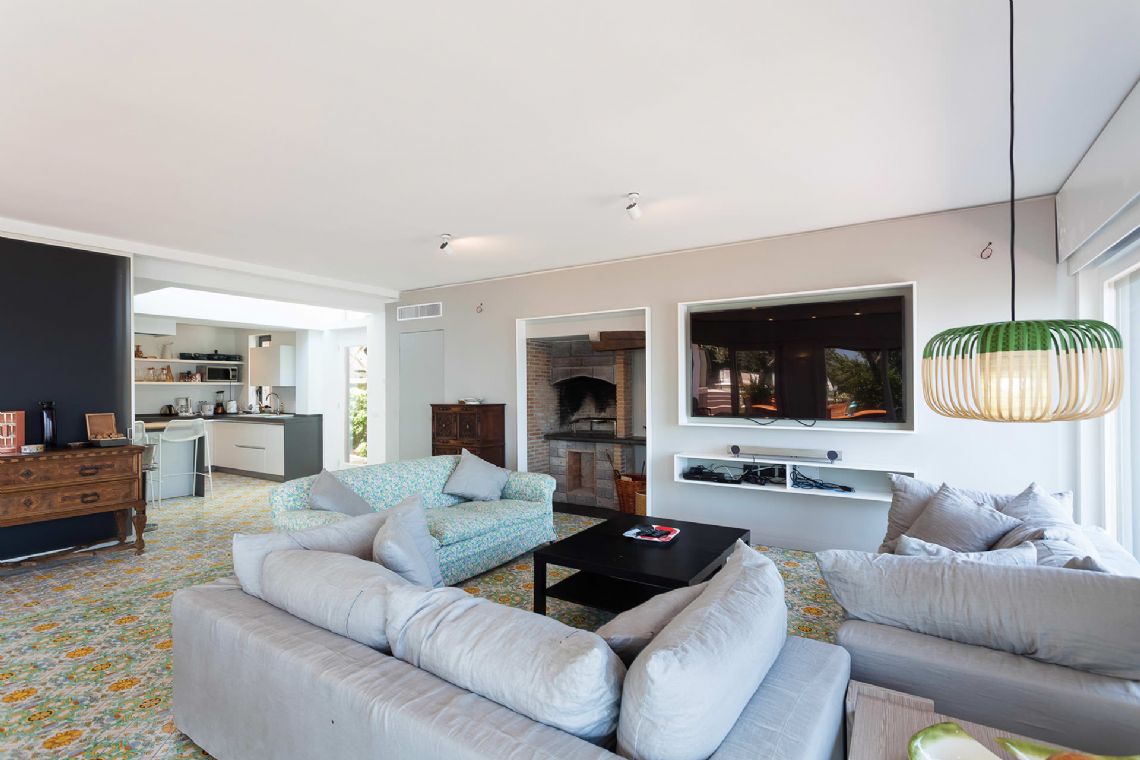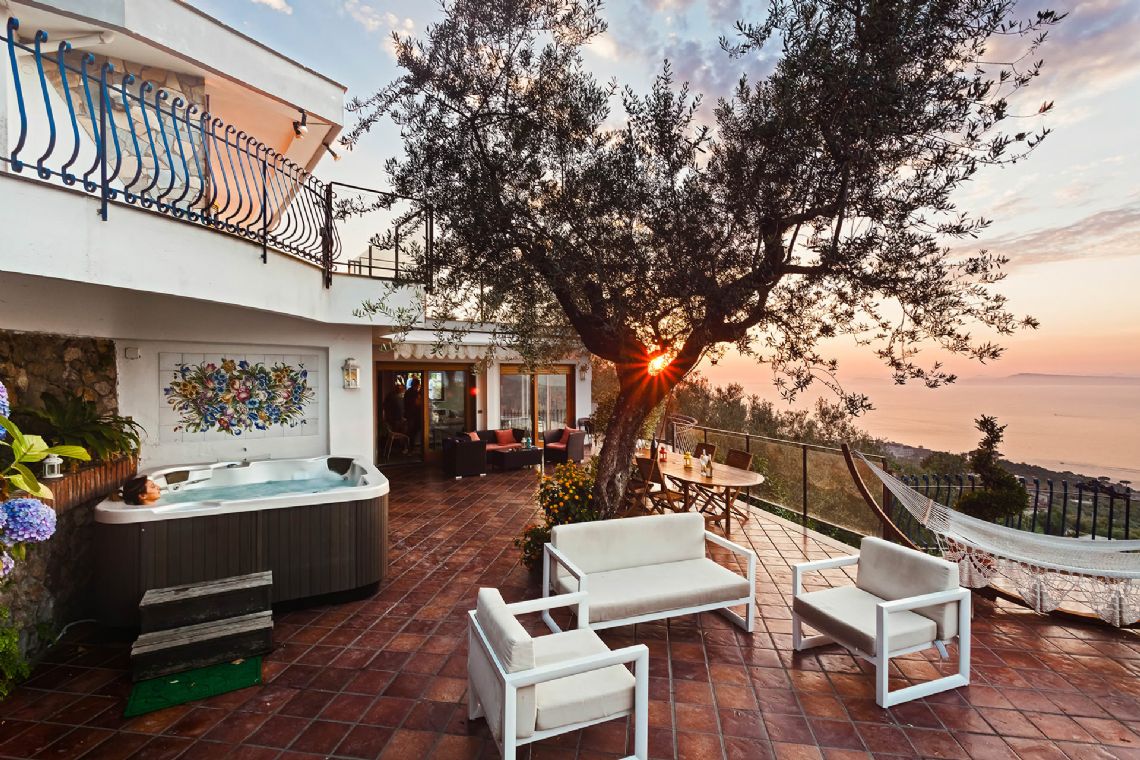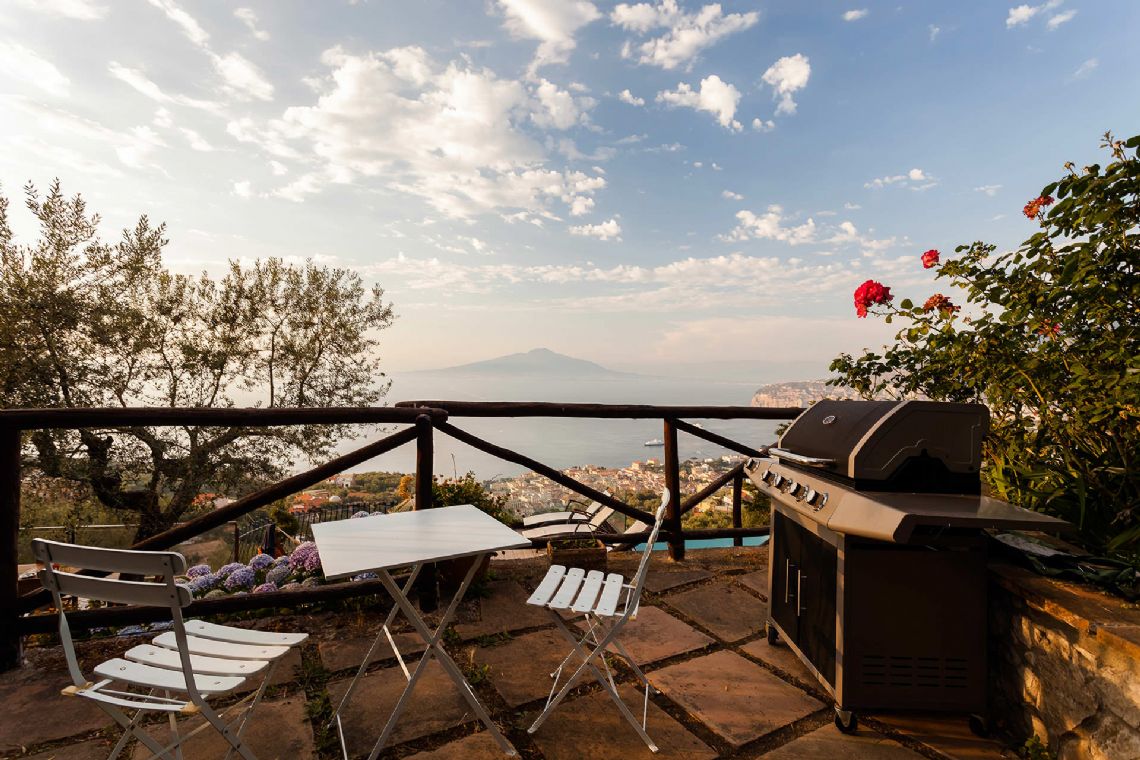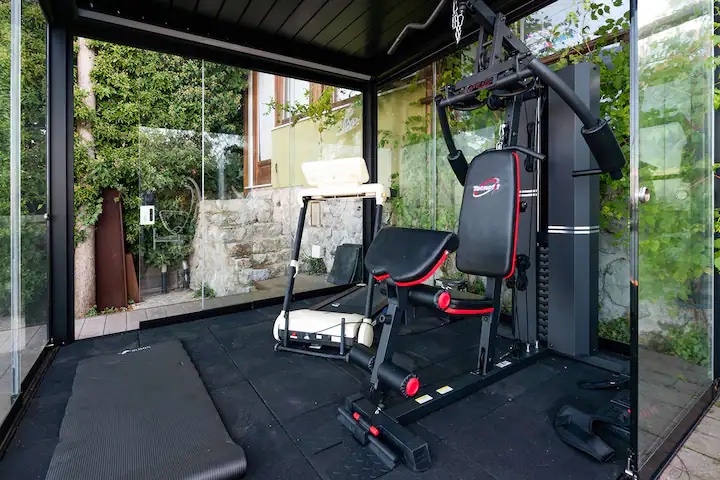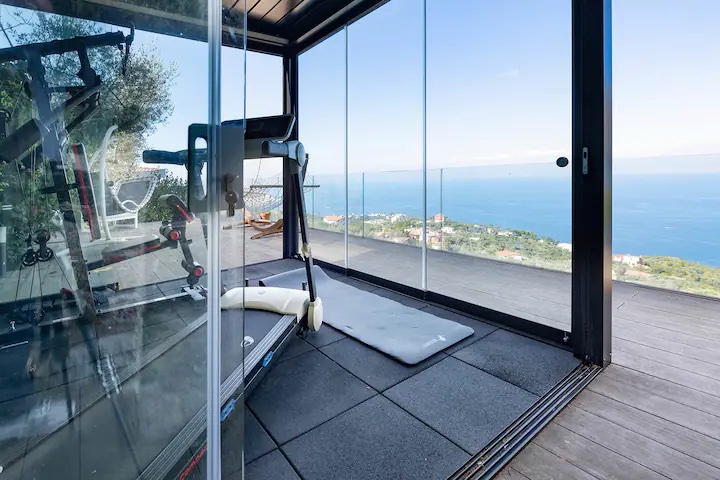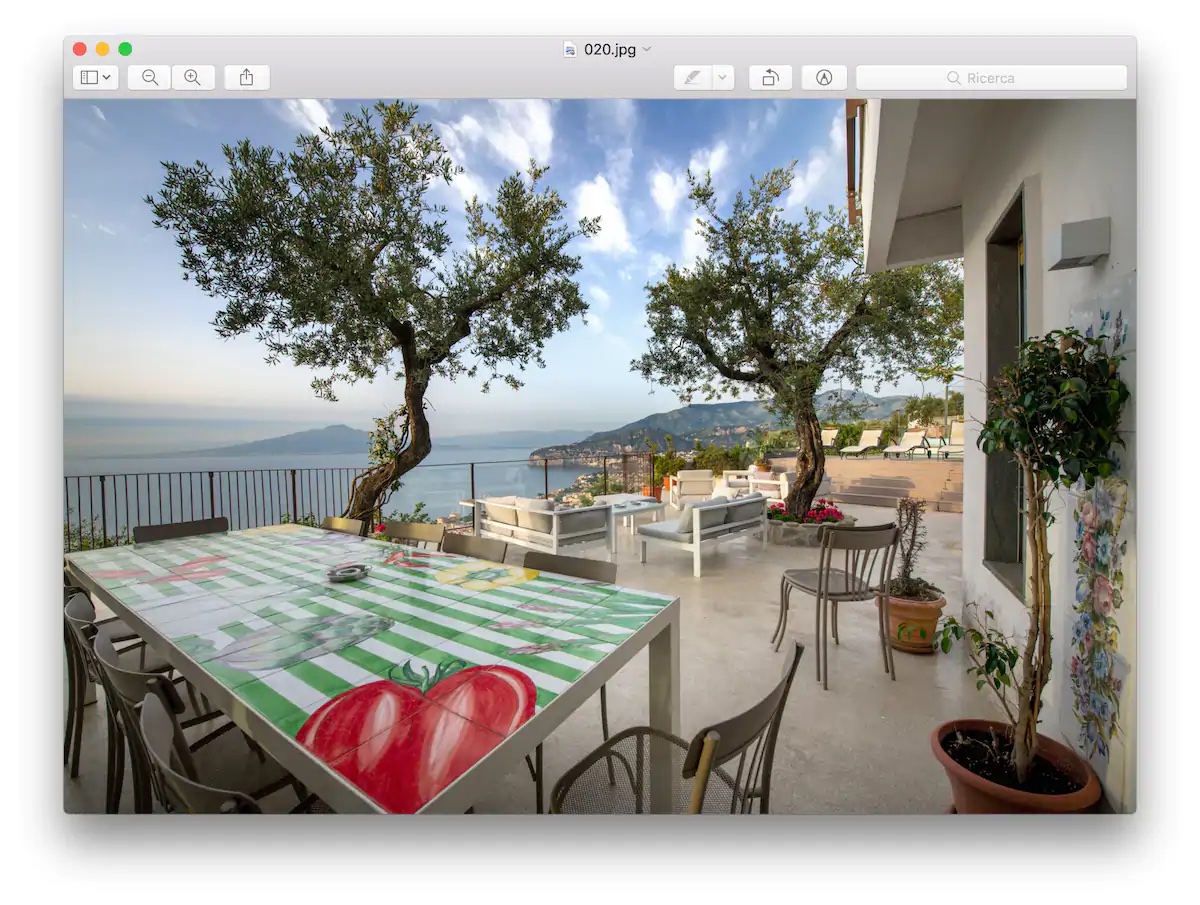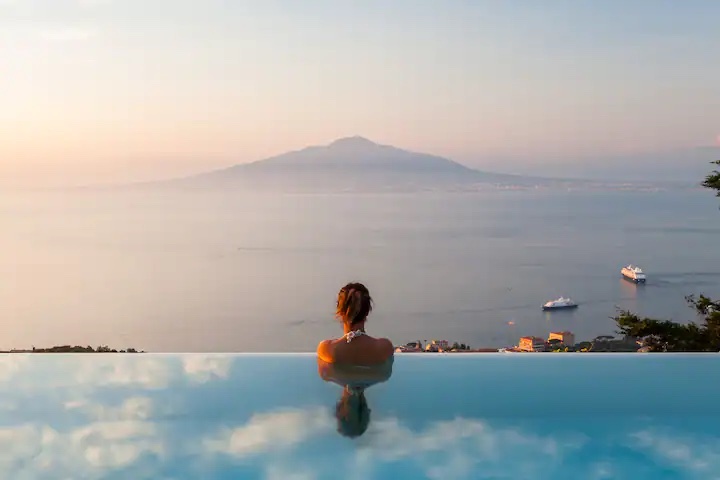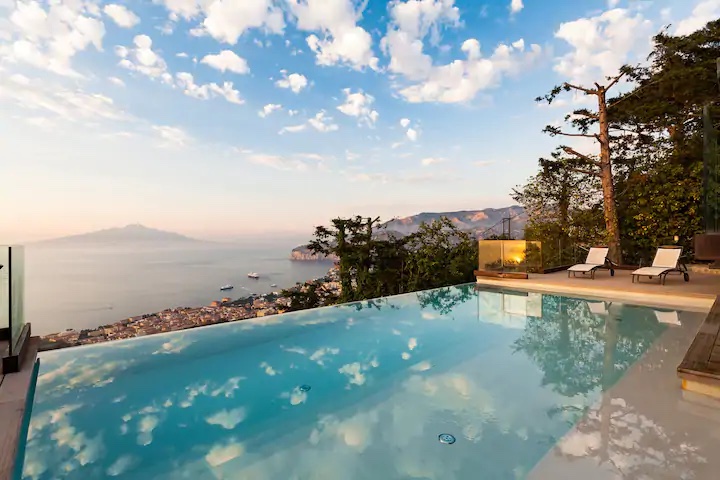 It's difficult to describe the view from Villa Polpy, totally surrounded by greenery ; perhaps you could say that it is truly breathtaking!
Villa Polpy is situated half way between Sorrentoand Sant'Agata sui due Golfi, a hilltop village overlooking both the Sorrento& Amalfi Coasts. 
Sant' Agata is ideal for those in search of a stress free vacation, so suited to families or groups of friends. From its strategic position, the nearby holiday resorts of Positano & Amalfi on the south plus Naples& Pompeiion the north, are all within easy reach
Villa Polpy lies on a typical terraced Sorrentogarden with facilities such as the swimming pool area equipped with a table, chairs and sun loungers, a barbecue area, a fire pizza oven where you can try your hand at making a Neapolitan pizza, a small soccer pitch, a ping pong table and the private car park.
The view of the entire Bay of Naples with Mount Vesuvius right in front is beyond description. The two outdoor buildings, where three of the seven bedrooms are located, are in the terraced garden of the villa
Villa Polpy, is in fact composed of six bedrooms; four in the main body together with three bathrooms, two in the first outdoor building with two bathrooms.
All bathrooms have a shower. One of the bathrooms with a bath tub is in the main building.
The main building itself is split into two levels: the bedroom area and two of the three bathrooms are located on the upper floor; the third bathroom is downstairs as is the modern, efficient and fully equipped kitchen. All the rooms and lounges are equipped with air conditioning.
Villa Polpy is also an ideal location to celebrate events and is often used as a reception venue for small family weddings too!
Villa Polpy is the perfect place for a special occasions such as dinner prepared by a local chef, Italian Cooking Classes where you can learn to make fresh pasta such as ravioli or tortellini, make your own pizza. Activities available are Boat trips during the day and barbecue everything at night.
1 living room , terrace , balcony , 1 kitchen , 6 bedroom , 5 bathroom
HEATING/COOLING
Air Conditioning , Central heating
COOKING
Kitchen stove , Cooking utensils , Dish washer , Fridge , Coffee machine , Oven , Toaster , microwave , Mixer , Kettle , High chair
LAUNDRY
&
SANITARY
Towel-set , Shower , Sink , Washing machine , Iron and ironing board , Bidet , Hairdryer
ENTERTAINMENT
Broadband Internet , Stereo , DVD player
RELAXATION
Outdoor jacuzzi, Private outdoor swimming pool (unheated)
OUTSIDE
Pizza oven, deckchairs, Barbecue, private garden
Children welcome, Pets allowed
Transport
Airport
65 Km
Bus
100 Metri
Motorway
25 Km
Directions
By car
From Naples take the motorway A3 to Salerno. Exit at Castellamare di Stabia. Join SS 145 to Sorrento , follow the sign for Sant' Agata sui due Golfi(via Nastro Verde), meeting point Restaurant Le Palme(Priora).  
Season
Pediod
Monday
Tuesday
Wednesday
Thursday
Friday
Saturday
Sunday
Daily
Weekly
Monthly
Tariffa Standard


Villa Polpy

1400
 - A 30% deposit is required upon confirmation and the final balance is due within 60 days prior to arrival. - A cash refundable deposit of 500 € will be required upon arrival, it will be returned at time of departure less any charges in case of damages The price is inclusive of daily setup, wi-fi, electricity, air conditioning/heat, bed linens and towels. Extra costs to be paid in cash upon arrival: . - City tax € 3,00 per person per night (over 18 years old only) - It is possible, if requested, to have the swimming pool heated, at the daily cost of € 100.
Services on request (extra charges): 
Chef in Villa, Cooking class in Villa - Boat Trips - Chauffeur Service - Tour Guide - Wine Tour - Limoncello & Mozzarella Tasting - Transfer to / from airport, port or station -  Personal Shopper - Food Hamper on arrival - Baby sitting.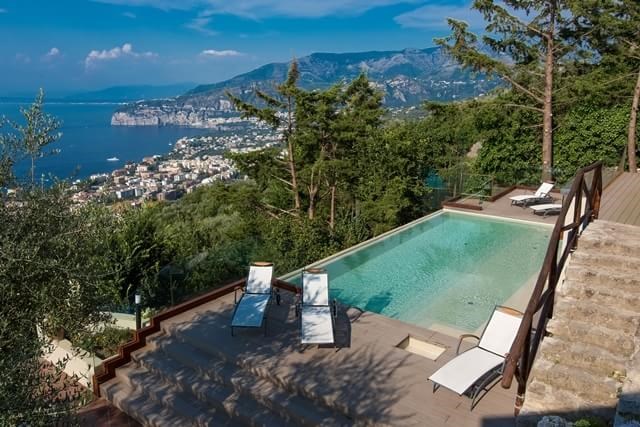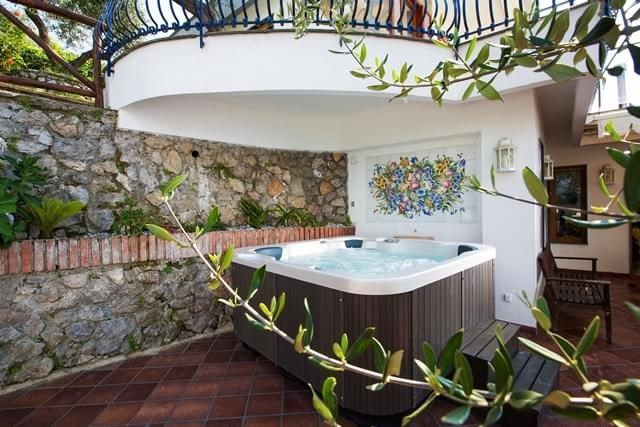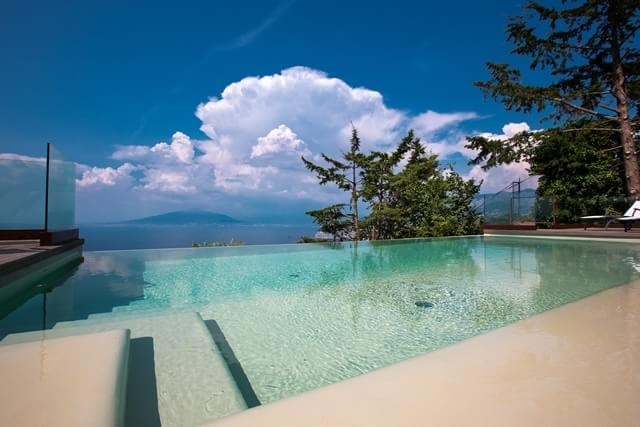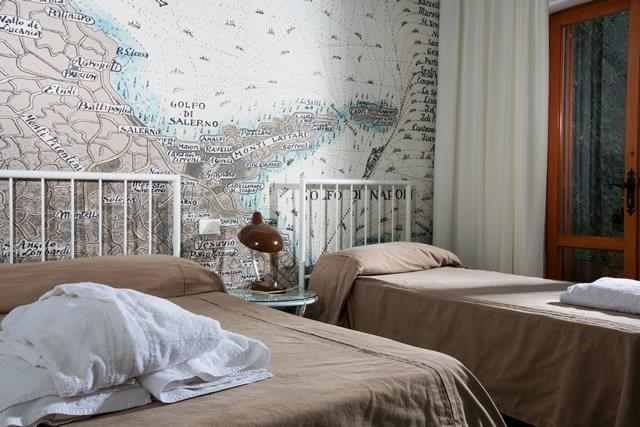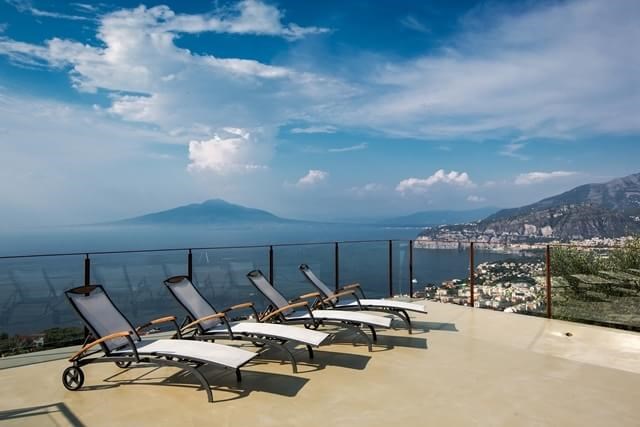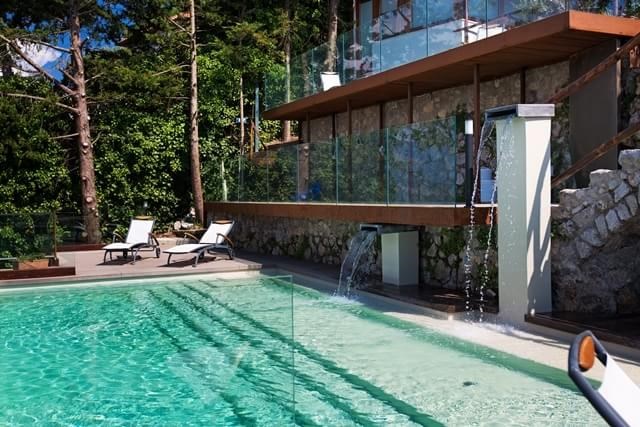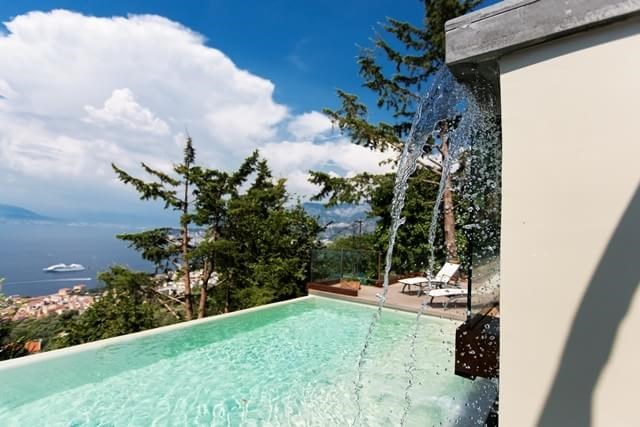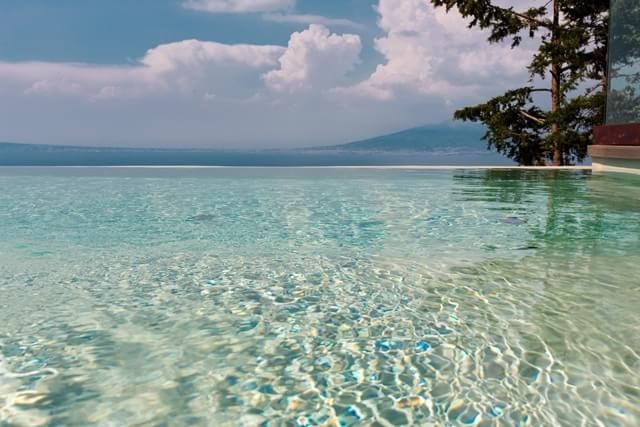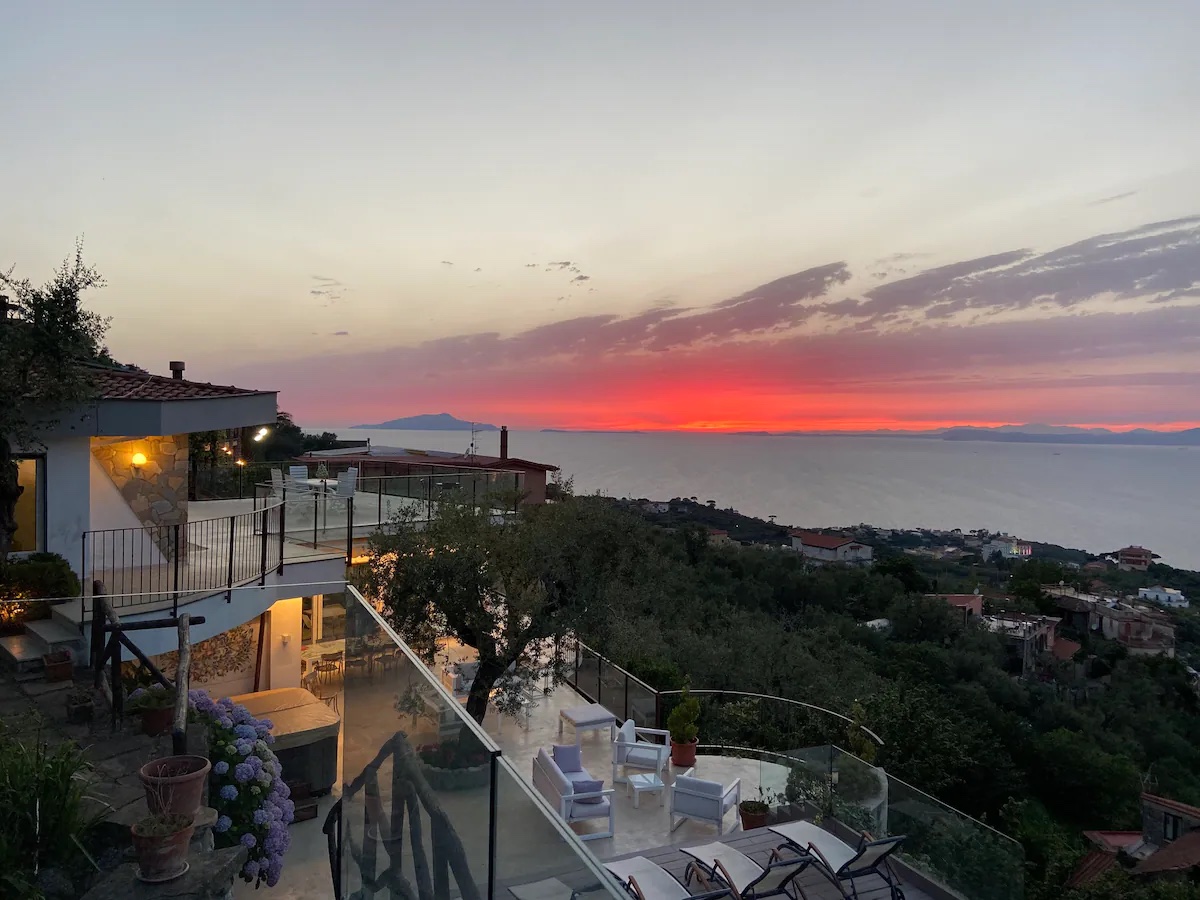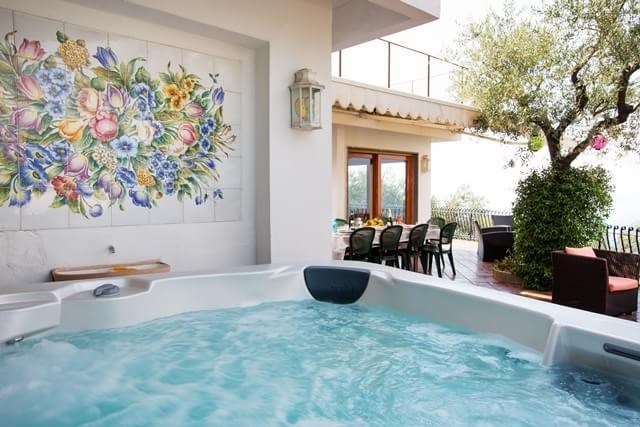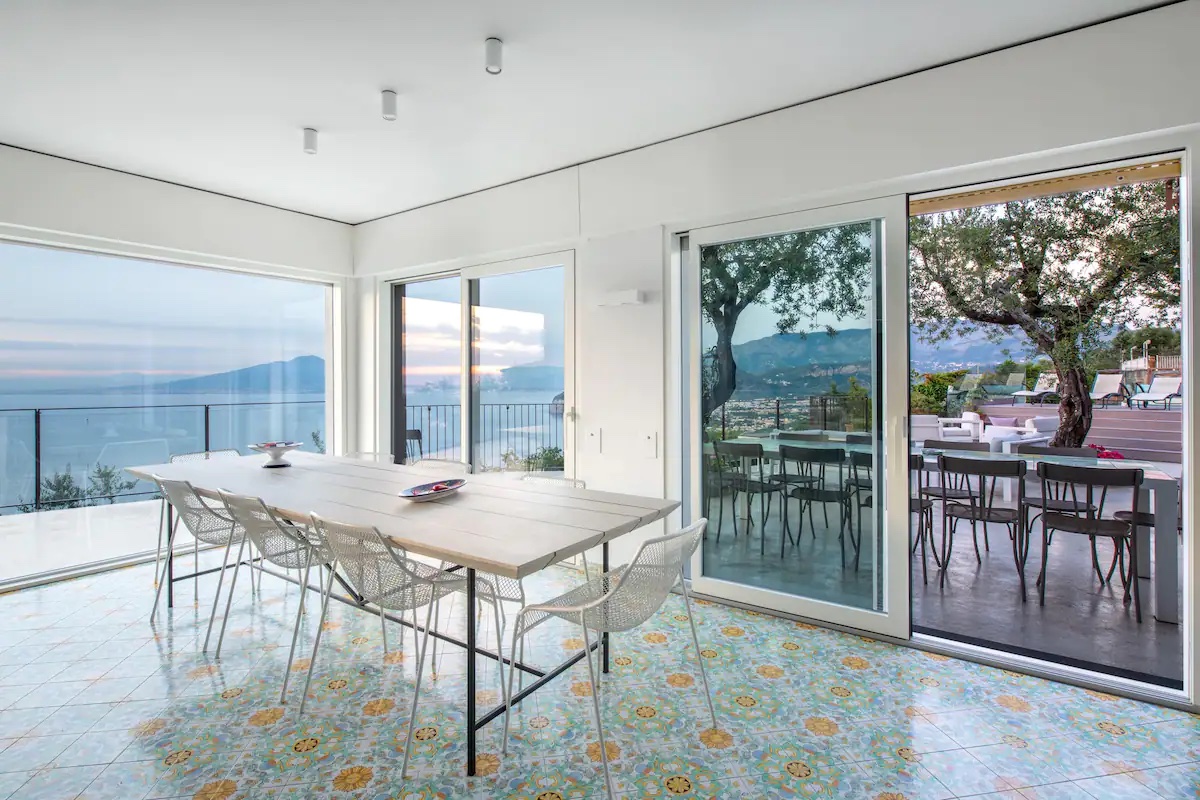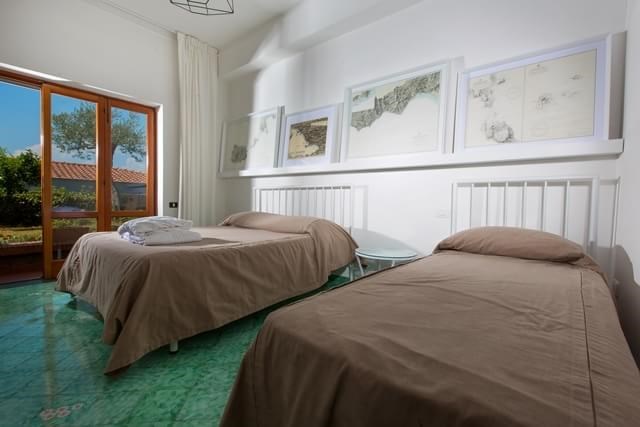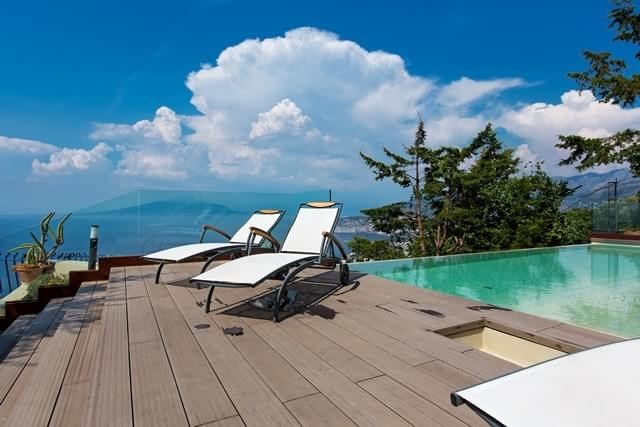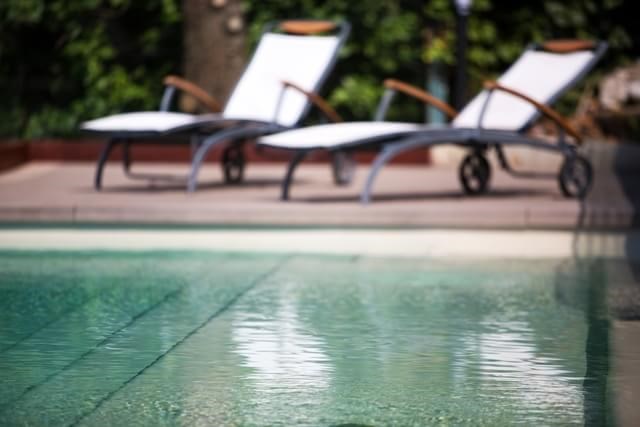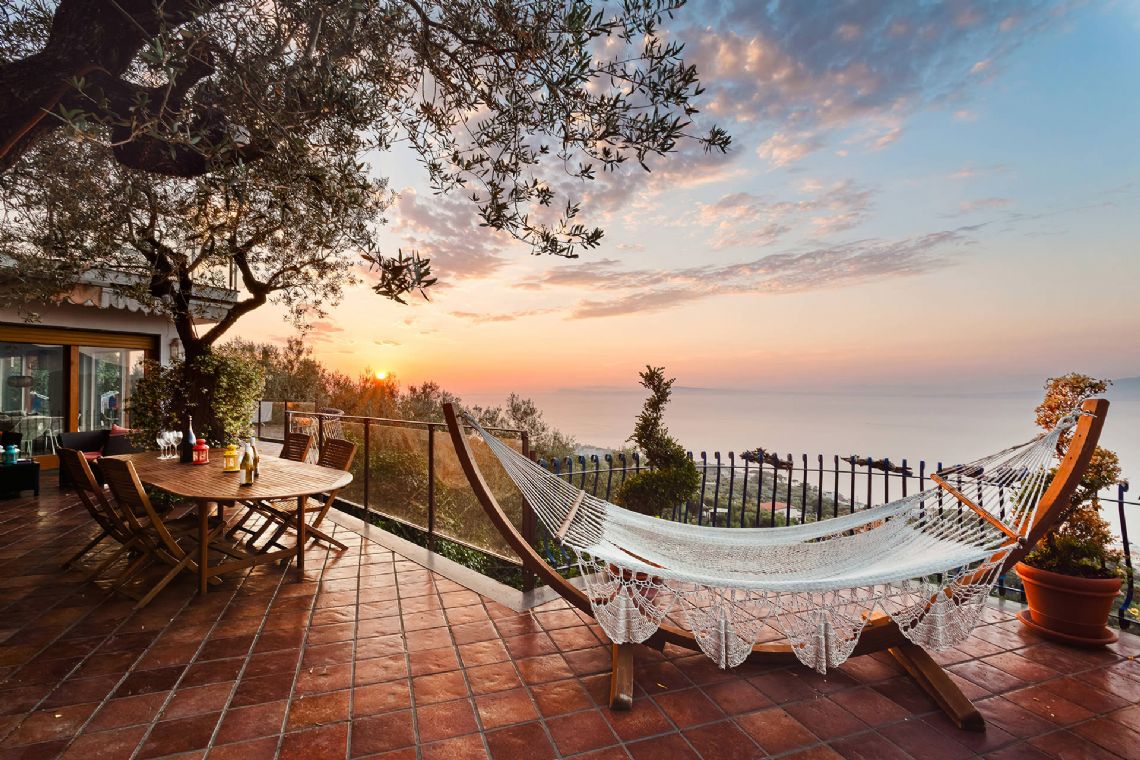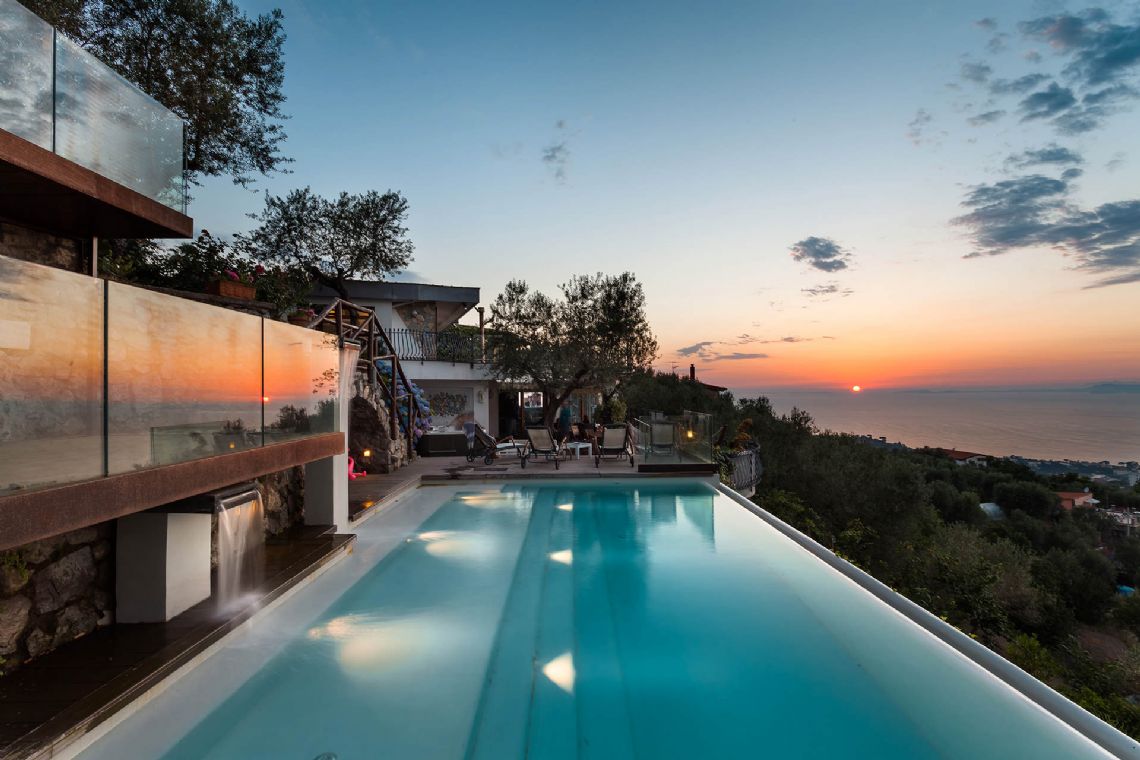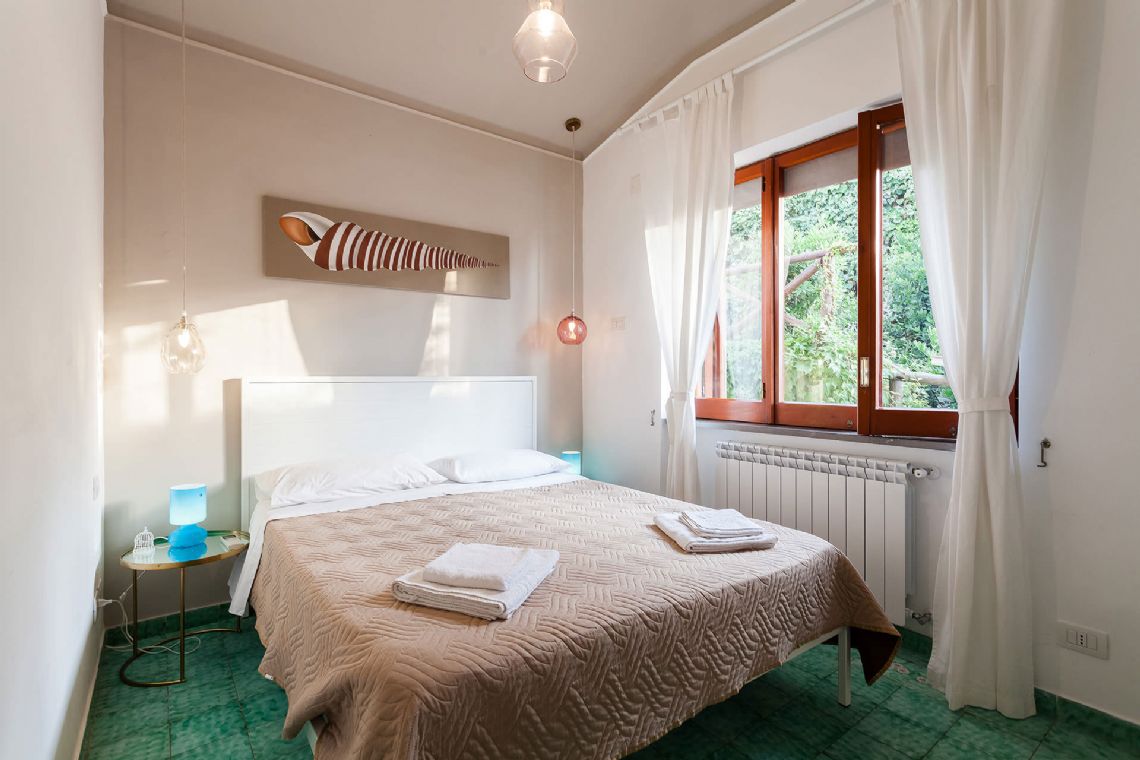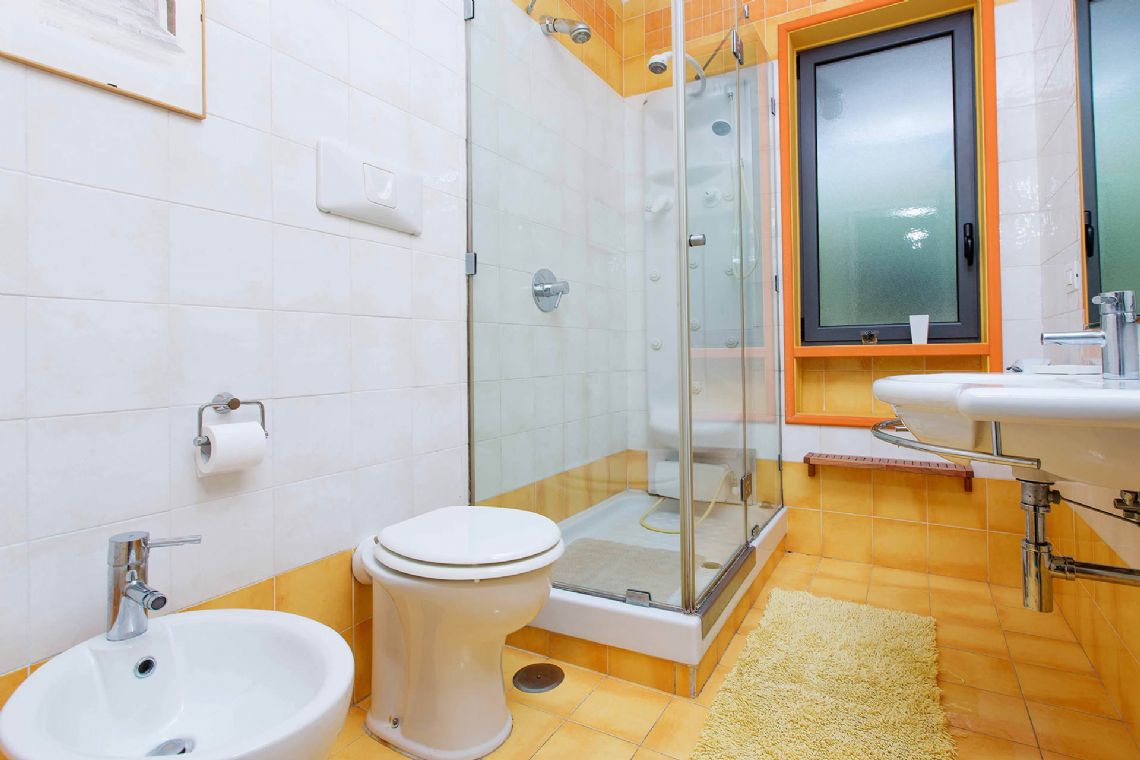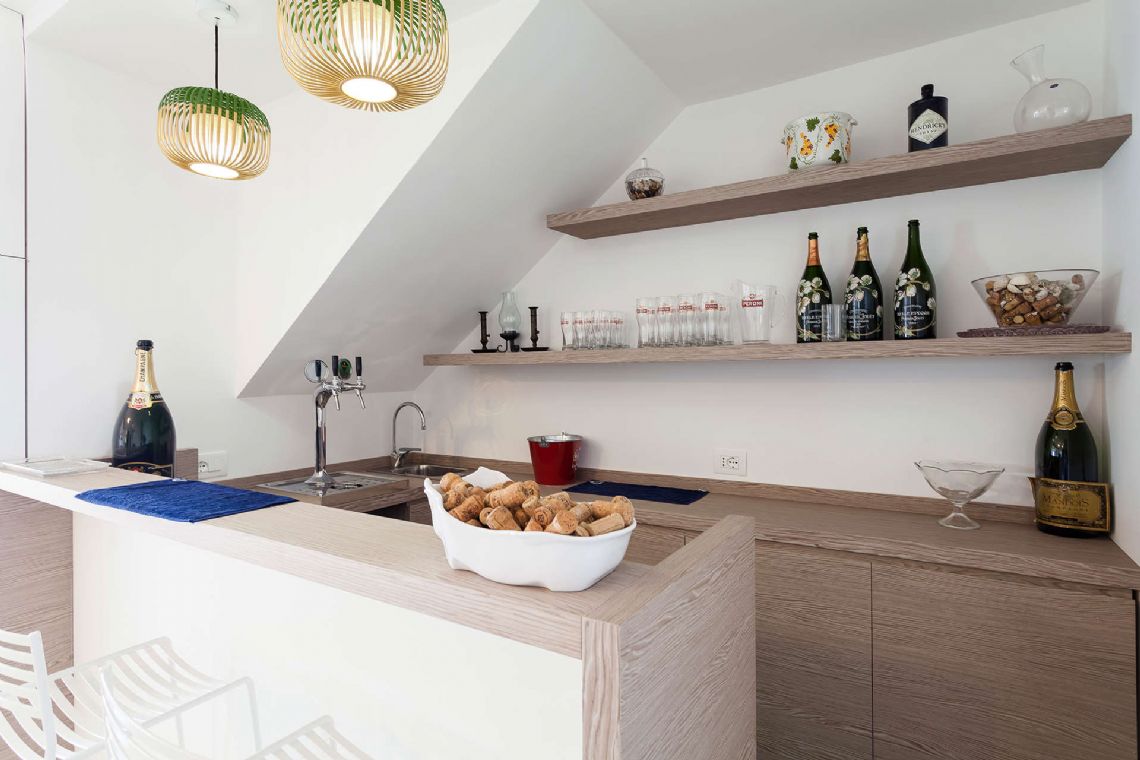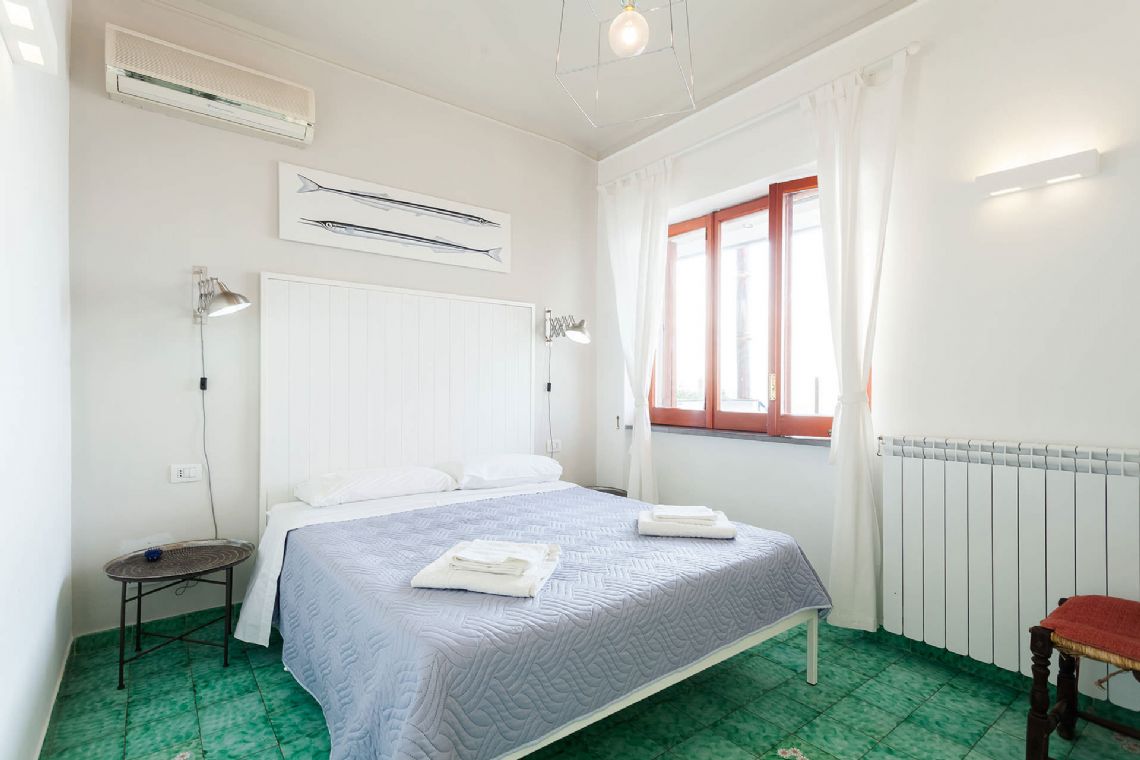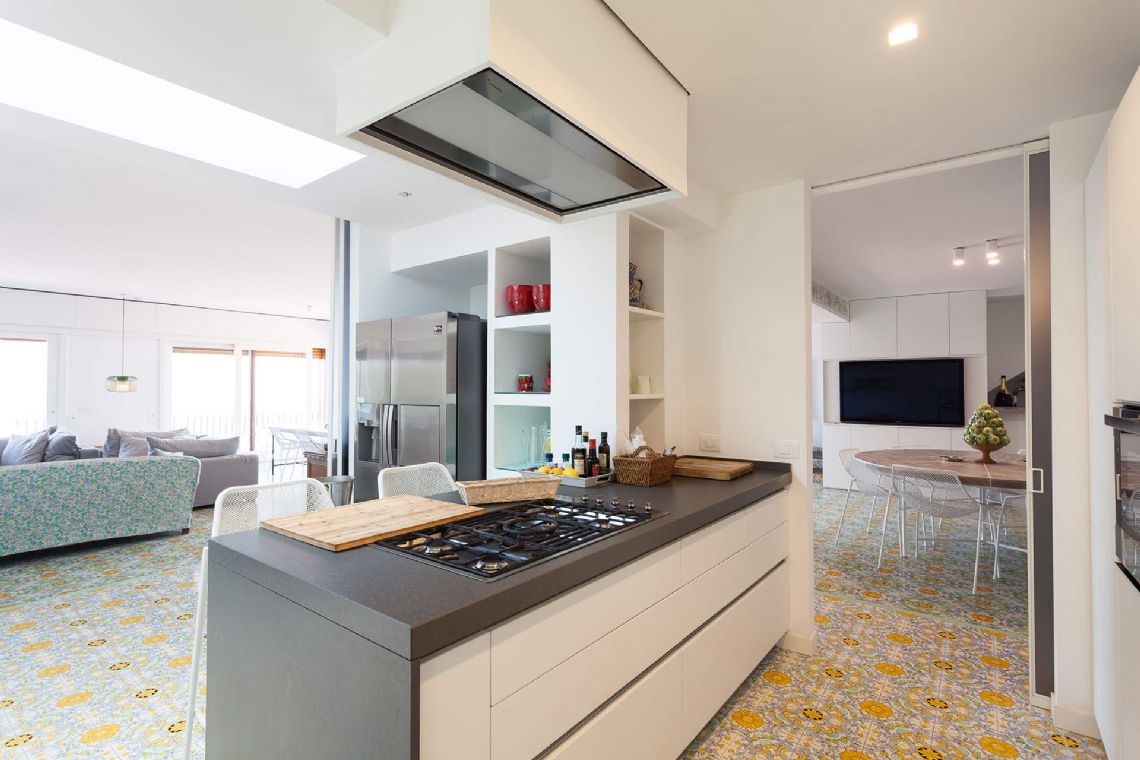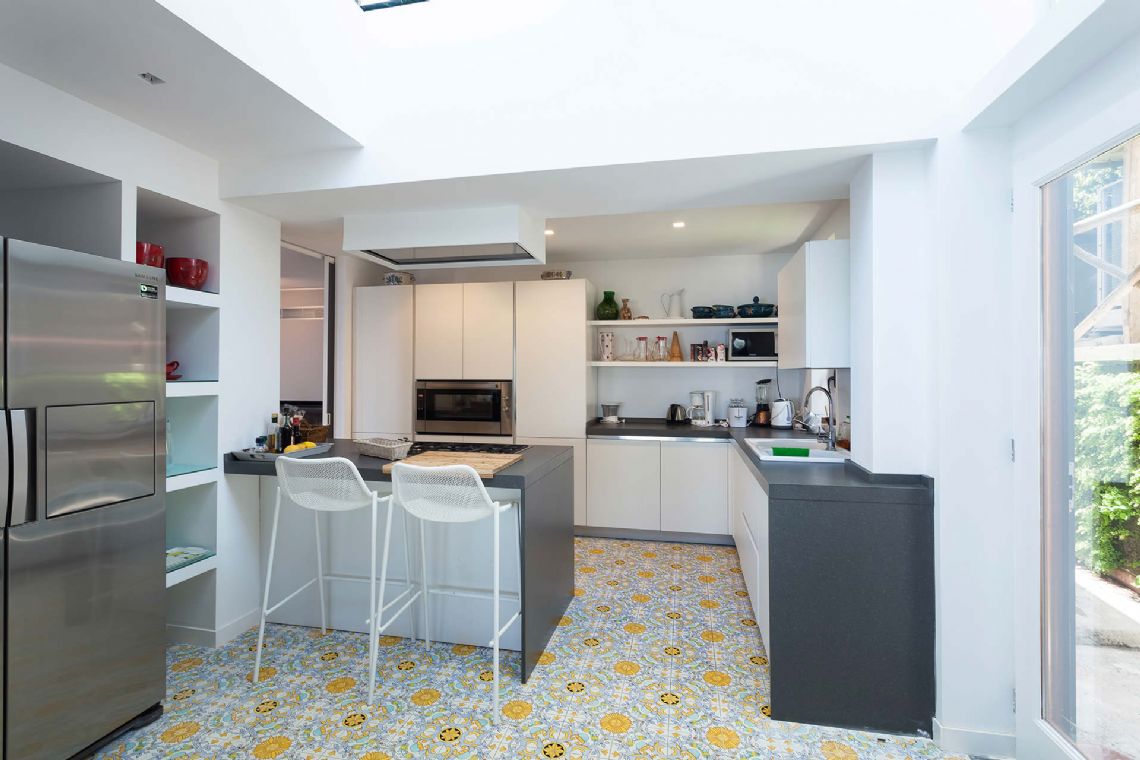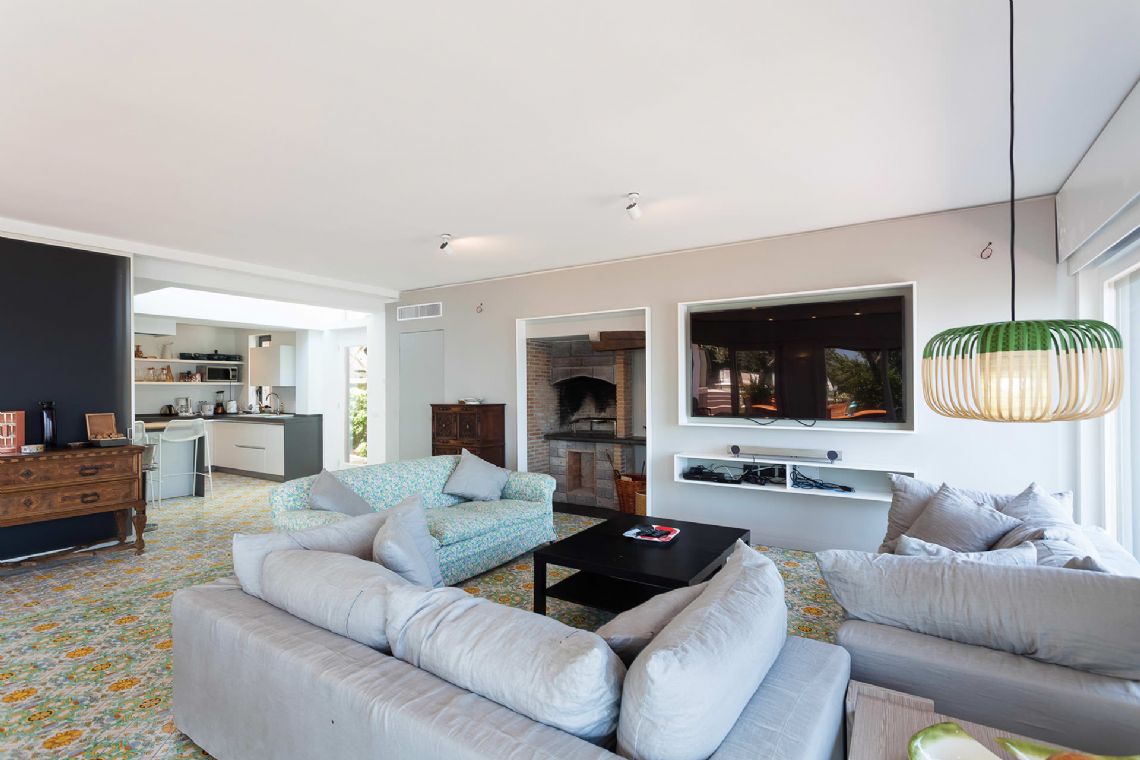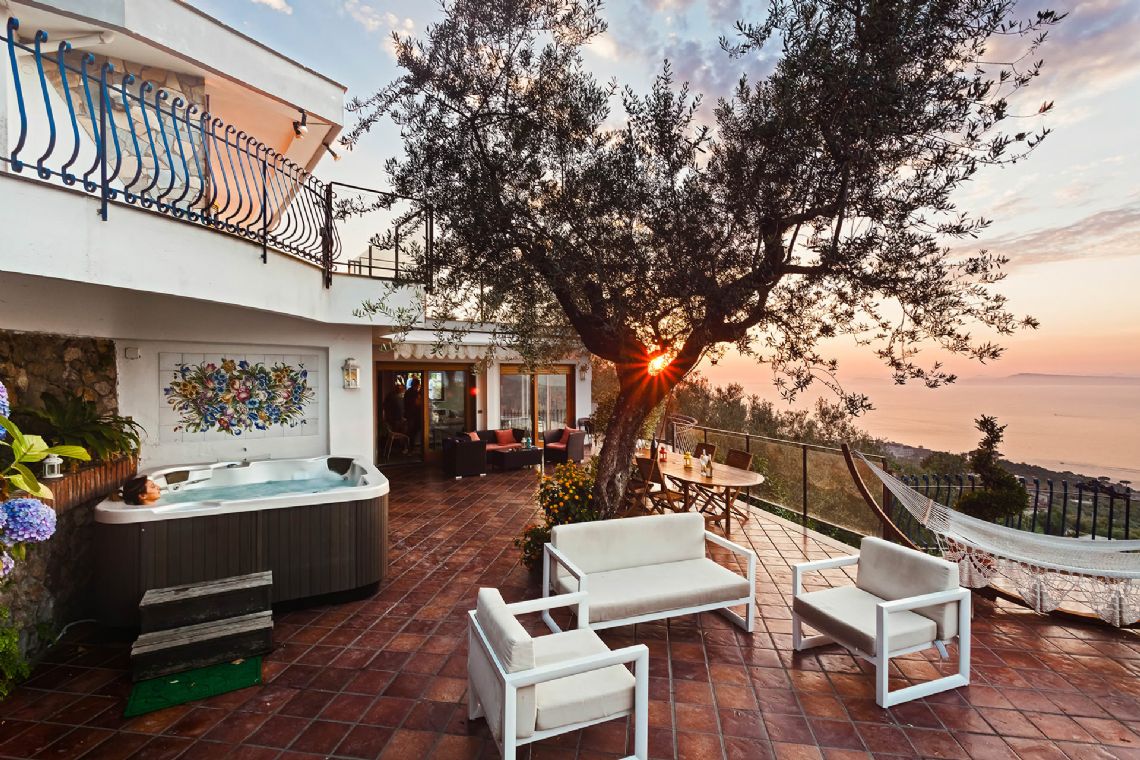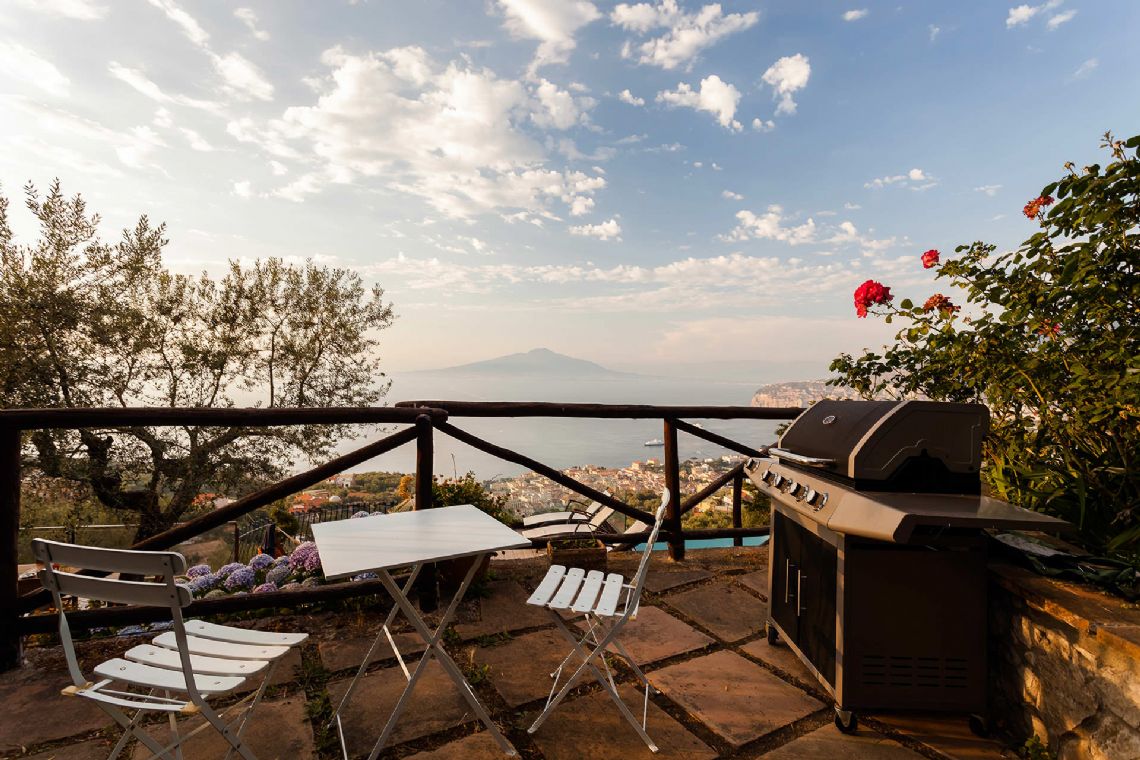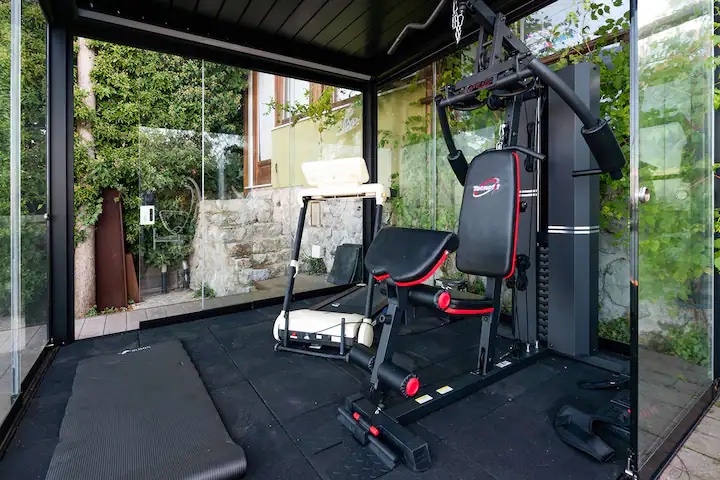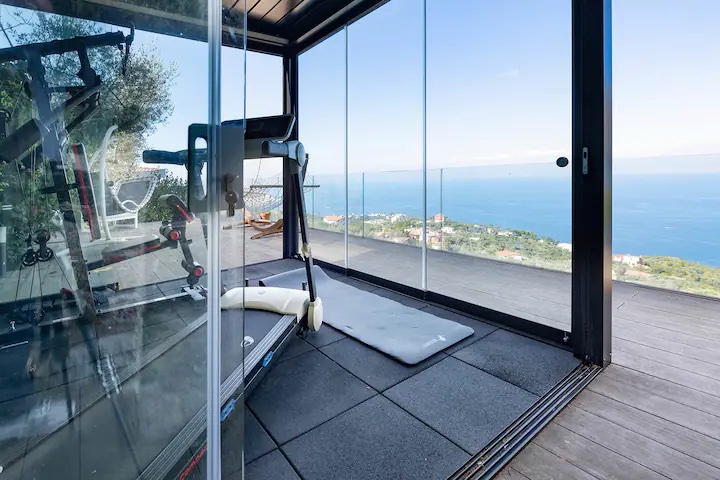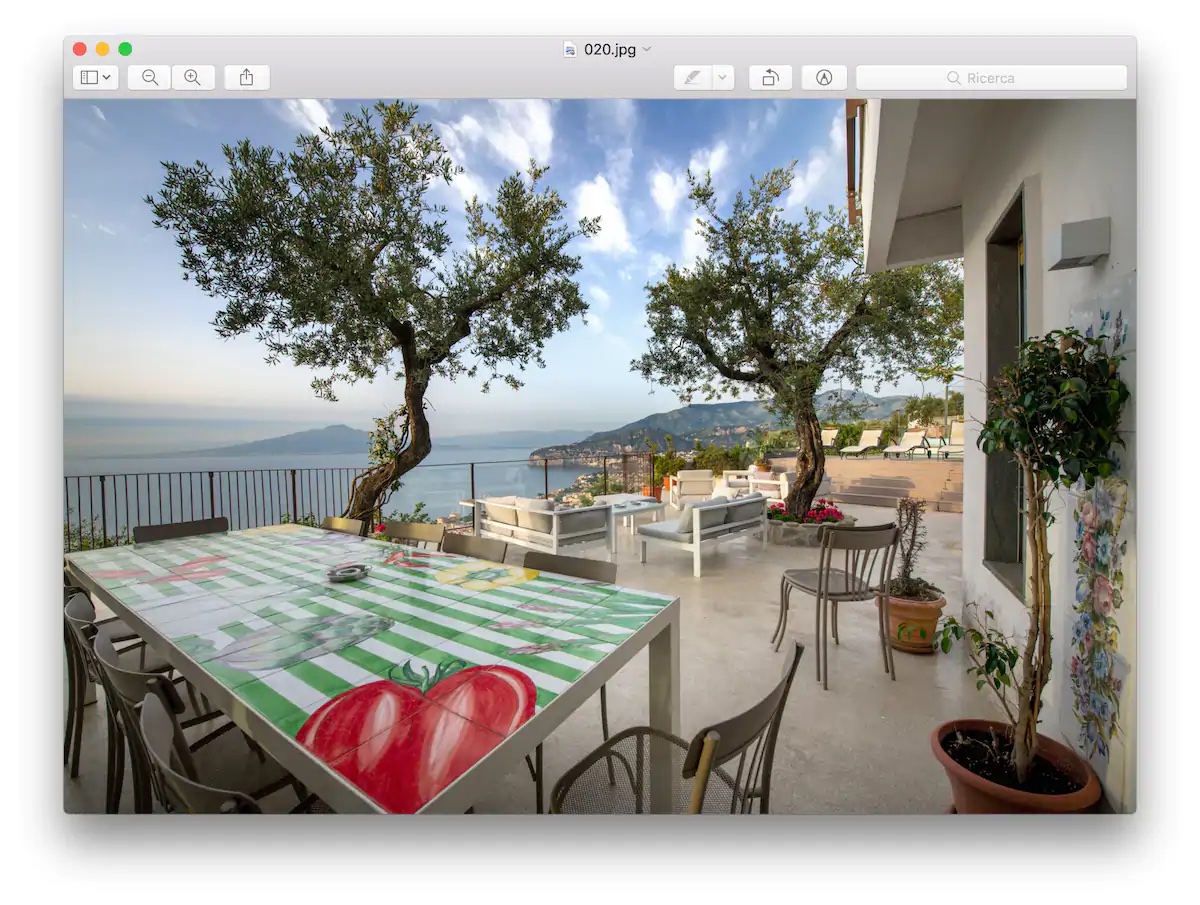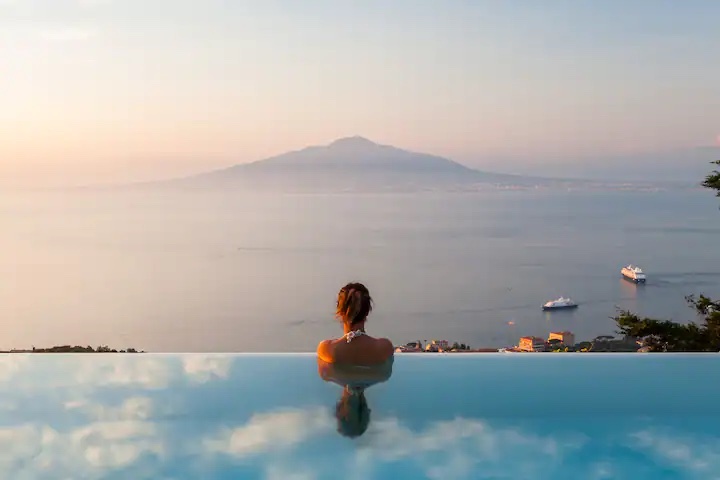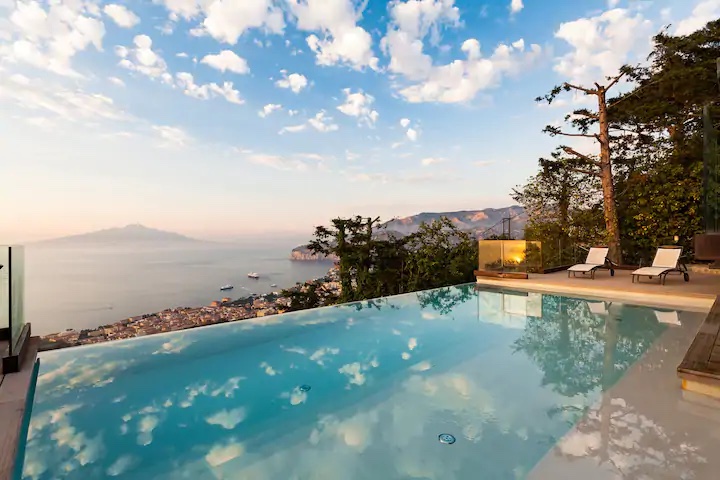 An incredible week!
WOW. This has to be one of the most beautiful places we have ever stayed in. We visited Sorrento for my hen week as a group of 12 ladies. Nothing was too much trouble and everything was booked and organized for us from dinner, taxis, boat trips, and even a night at the villa with homemade pizza, by Carmine(Super Hosts). All of us could not believe the view... I don't think you ever get used to it. The villa is perfect, with so much space and room for us all and the pool... Wow! THANK YOU aging for an incredible week... we will be back!!
Group

A huge thank you to Carmine!!!
Struggling to find the words for this villa and experience in Sorrento... We had the most perfect weekend - the photos truly do not do the villa justice. There is SO much room, it was beautifully clean and it was perfectly equipped for all of our needs. The swimming pool and view of Mount Vesuvius is SO special, and you cannot beat waking up to the stunning pool with the view. Carmine also made this experience an unforgettable one!! He did our food shop at the supermarket for us ready for our arrival, he arranged all taxis and was just a away if we needed any last minute requests! What's more, he hosted an incredible pizza evening, churning pizzas out the oven one by one (the most delicious we've ever had!). A huge thank you to Carmine who made the experience seamless and so special.
Family with no Children

Highly recommended.
5 stars in every way. Fantastic view and best of all fantastic service from Carmine. He helped organize private boat tours for us, and we hired them for a superb dinner at the villa, and immediately responded to every question we had. Wonderful people. From the villa, we explored the entire Amalfi peninsula on day trips. We loved being close to Sorrento, great little city, much better than being in Amalfi or Positano. We drove to those places on the coastal road — amazing drive. Hot tub, pool, lots of room for dining inside or outside. Handy to have laundry available. Highly recommended.
Family with young children

Go there!
Best place hands down, has the best hosts, the best vibe, everything you might want or need from a place by the Amalfi coast, and as we understood they will continue to improve the whole villa even further. Could've easily spent an entire season there. No bad words, would go back anytime. Carmine will meet any special requests you might have, let's just say Carmine is the absolute king of pizza. We stayed there with 11 people for 5 nights and everyone had a smile on their face 24/7. If you bring your own food with you, you won't have to leave the premises at all and honestly the place is so beautiful and packed with so many things to do on the spot, why would you even want to? Our whole gang could write memoirs, but we'll keep it short. Go there! This place will help make your stay one to remember!
Family with young children

Great stay, don't hesitate to book!
Great stay, don't hesitate to book! Very accommodating, great cook/food, beautiful view. 4 couples stayed very comfortably. We had rented two cars and this was very helpful getting to Sorrento, Positano, Pompeii, etc. They had gated parking for both. There is a small town a couple minutes away that was very easy to get fresh food and wine. The private boat to Capri also was a great experience. You might bring some Zofran for the shuttling and boating. :)
Mature couple

Great stay!
I was aware from previous reviews for this villa that it came with much help from the hosts and that people thoroughly enjoyed their stays. In my opinion though the reviews aren't spectacular enough! The help of the hosts before we arrived was outstanding, and it continued to be so throughout the whole stay. We stayed at the weekend (27-30 June 2019) and we were a party of 7 out to celebrate a 50th birthday. This villa was perfect for that. It would also be perfect for couples, families etc. The outside space is exceptional, with stunning views and lots and lots of space for everyone. The air-conditioning works well, the appliances, everything was excellent. So not only is the property fabulous (you will not be disappointed) but it comes with beyond exceptional help from the hosts. I cannot tell you how amazing these people are. Absolutely nothing that you ask is to much trouble, all with a smile and humour, but they are there only if you need them. If not, you're left in peace. We booked the chef-in-villa on our first night which I would recommend, plenty of food and lovely service, plus we also booked a private boat to take us to Capri, which was the highlight. You either need a car or be prepared to take a taxi everywhere, but we knew this before we booked it, so that wasn't a problem. This is quite possibly one of the best villas I've ever stayed in. Lovely house, clean, beautiful outside space, stunning views and outstanding service form Carmine.
Young couple

Lovely stay!
There truly aren't enough words to describe the beauty of this villa and the hospitality Carmine provide during our stay. Our group of 10 fit comfortably and the property and amenities exceeded our expectations. From the meals Carmine prepared to the recommendations for excursions, and arranging transportation and restaurant reservations, every need was taken care of by our hosts. I would highly recommend arranging the pizza party on the first night! The villa is impeccably kept and cleaning service is provided daily, they will also do laundry if requested which was such a nice addition! The views overlooking sorrento are absolutely stunning, you will never want to leave! Some of the previous reviews mentioned that the villa is walking distance to a nearby town which I would not recommend as it is quite a distance and the roads are very windy with no sidewalks. Not to worry though, Carmine will arrange transportation wherever you want to go! Additionally, there are quite a few restaurants nearby that provide free shuttle service to and from the villa. We couldn't have asked for a better place to stay, it was truly a wonderful experience. Don't hesitate to book your stay with Carmine, you will not be disappointed!
Family with young children

Excellent experience
This was an excellent experience. The Villa is gorgeous and so spacious it was hard for the 13 of us to enjoy all the areas available. Everyone from the Villa went above and beyond to make sure we were all comfortable, happy and well looked after. The pizza party on our first night was perfect in every way. Absolutely delicious and wonderfully hosted by Carmine. The pool and the upper deck were our favorite places, but cooking in the big kitchen was a close third! I highly recommend this villa. Loved it!
Group

Villa Polpy was amazing!!
Villa Polpy was amazing!! The views were beautiful and there was more than enough space for our entire family of 8 (all adults). Carmine was great hosts and helped us with activities and transportation throughout our stay. I would highly recommend the boat ride and pizza dinner.
Group

Amazing stay at Carmine's
What to say about Carmine's place! Carmine was the most excellent host - we booked his cooking class (it's a must do) and wish we had booked his excursion around Capri. He helped us with taxis, returning a lost phone, and was so hospitable. The villa itself is GORGEOUS. We had 6 people, all with their own rooms and practically their own bathrooms. We lived in the pool and main hot tub/Jacuzzi (I say main - because there are 2!). It must be the only place in Europe to have both a washer AND a dryer. The beds - so comfortable and clean. The kitchen spacious and great for cooking. Our group enjoyed the gigantic TV for all of the American football games to stream. The Wi-Fi was strong enough in the main room for working and streaming, but in the back villa and upstairs was considerably weaker. The upper deck made for a lovely view with espresso and croissants. Transportation was pretty easy on the bus from Sorrento and to Amalfi Coast. Carmine has a taxi driver that he can arrange to grab you as well. Tip! If you are trying to ride the bus to either St. Agata, Amalfi, or in town to Sorrento you need to buy the tickets in advance in the Sorrento train station. If you forget mid-way down the hill you can buy a train ticket from the corner store to Sorrento. It's about 45-50 min walk into town from the villa, but a much shorter drive. We had a Michelin meal at the very close by Don Alfonso in St. Agata (took a bus there 7 minutes and walked back 35 min). All-in-all, you have to stay here. I already want to go back and have been falling asleep thinking of the view from the pool. Thanks Carmine and Davide for this unforgettable experience.
Not specified

This place was truly our dream vacation!
Ciao Carmine - Long time no speak and I know it's been awhile. I wanted to finally leave a review for our stay back in May and I apologize it took this long. I also wanted to let you know that upon our recommendation our friends we recently learned have put a down payment to come stay at your villa. Back in May our family of 15+ had an opportunity to stay at this amazing villa and we all agreed that the pictures just don't do it justice. I remember the first day when we walked into the property how blown away we all were with the view, the layout of the villa, the cleanliness and just how comfortable we felt upon getting there. This place was truly our dream vacation and although we came to see the coast we really didn't want to leave the villa. What a great way for a large group of family to spend a vacation! Together in paradise which this truly is! The views of the coast and Mt Vesuvius are simply spectacular there is no other way to describe it. With that said the best part of our stay was truly Carmine our host. We originally planned to have Carmine do a pizza party one night for us and because of his cooking and hospitality we decided to reserve him for two more nights, one for an outdoor barbecue and one for a family style Italian dinner. These 3 meals were by far the best meals we had in all of Italy. We also enjoyed Carmine so much that we invited him to stay and enjoy the evenings with us as he was fun, charming, entertaining and just really great company!. Prior to our trip Carmine also went grocery shopping for us to ensure that we had everything we needed for the week. I highly recommend the beer keg to have throughout the week especially when sitting by the pool or hot tub. We were sad to leave Italy and more specifically the Villa and everyone in the family shared afterwards that this was their best vacation ever, bar none! We would do it again and of course only if Carmine was our host. Carmine I hope that you will still be the host when our friends come in 2020 and I have to say that you will enjoy having them as much as you enjoyed our group! Please keep in touch and hope you get to entertain and meet our dear friends soon! Thanks again for the trip of a lifetime Sincerely, The Gonsowski, DiGeronimo and Valdes Families! Group
Group

We had such a great time!
Carmine was amazing. The place has an amazing view and a lot of space. Carmine cooked pizza for us on the last night which was fun for our 4 adults and six kids! They also arranged a boat ride to Capri and a dinner out with a babysitter. So much fun. The location is great to visit the amalfi coast and sorrento.
Family with young children
Sam (Hinsdale, Illinois, Stati Uniti)

Beautiful Place
Beautiful place with plenty of room for 14 people. Incredible views of the sea and an extremely helpful host, Carmine assisted with all of our daily activities. Thanks for everything.
Group