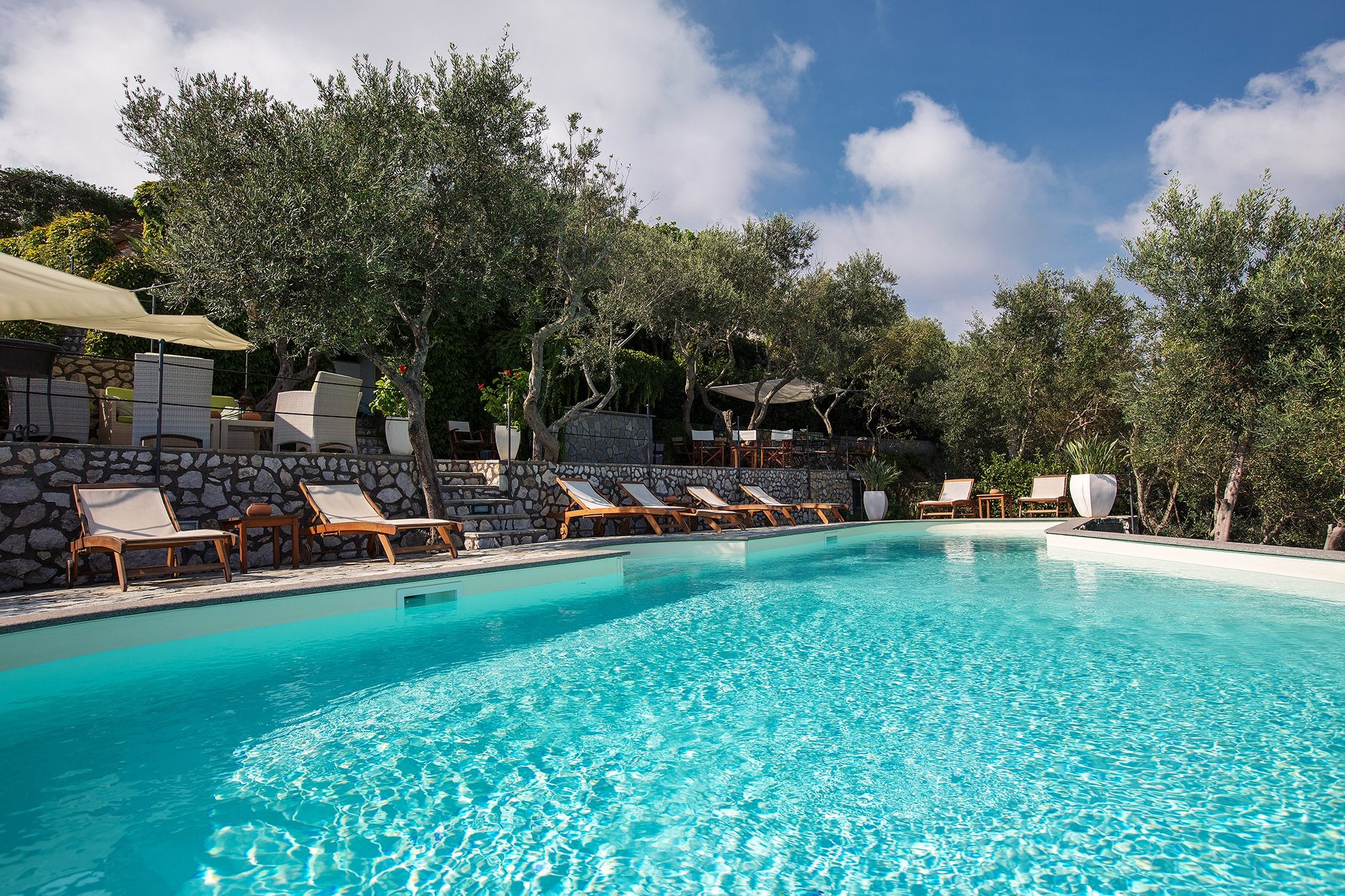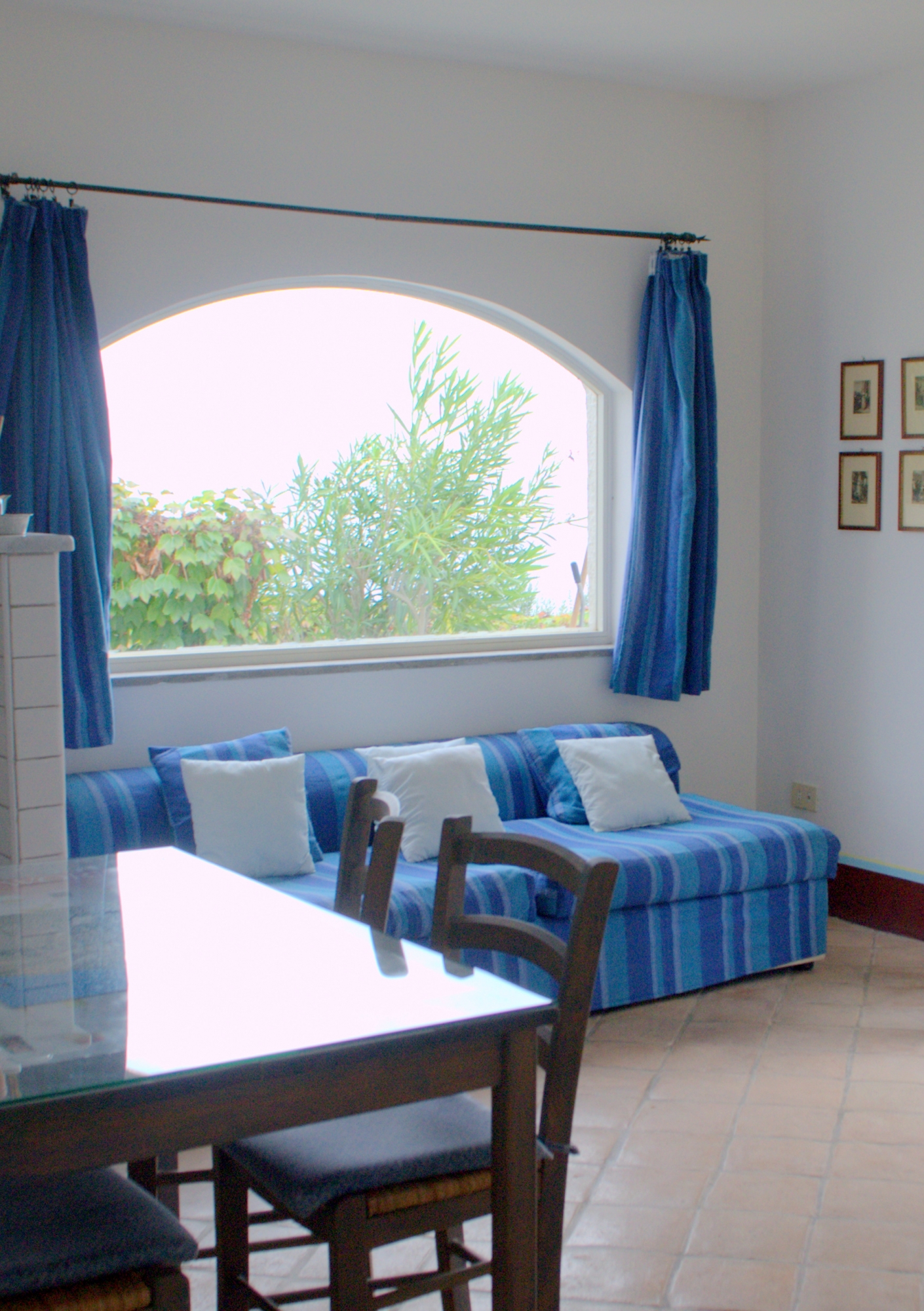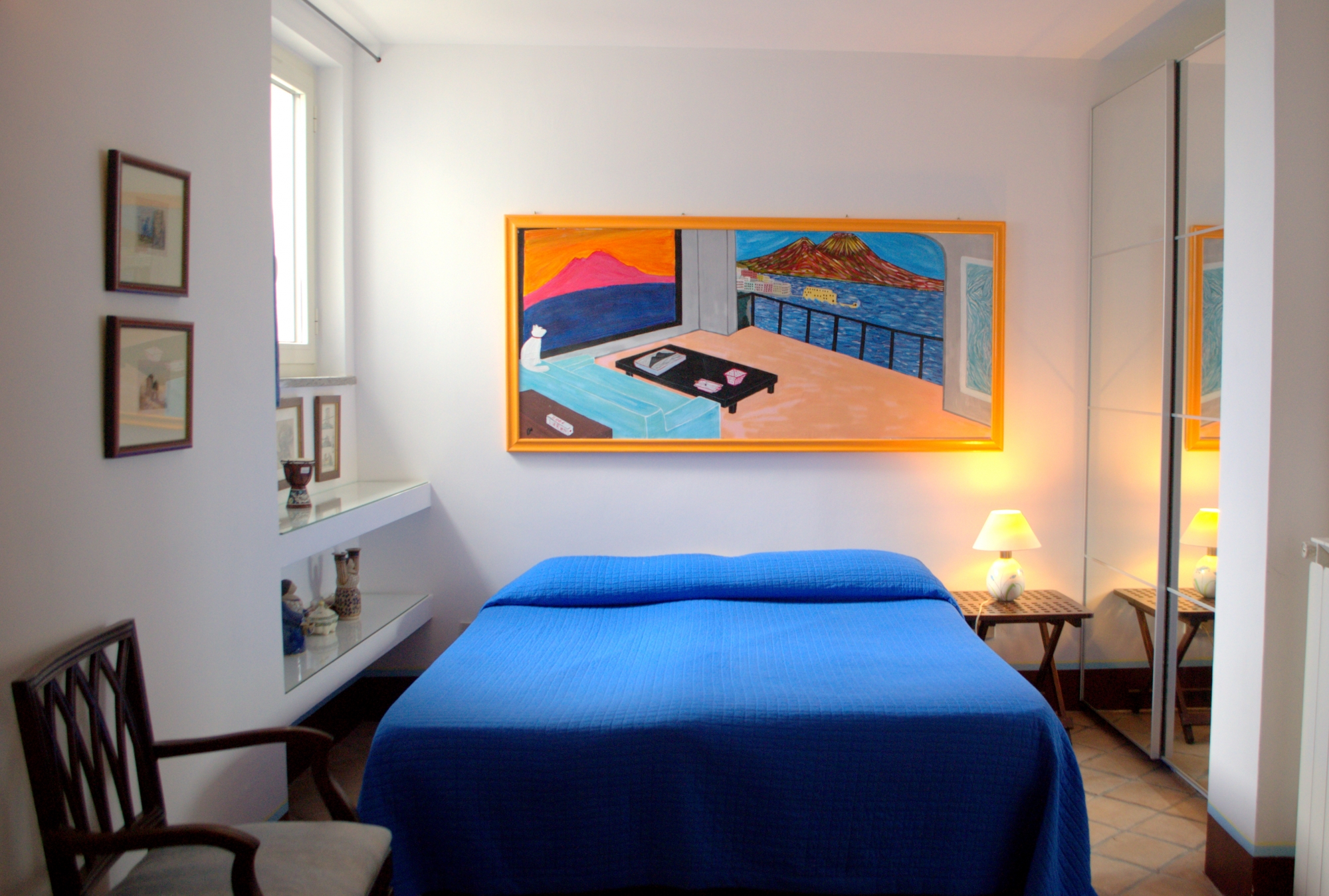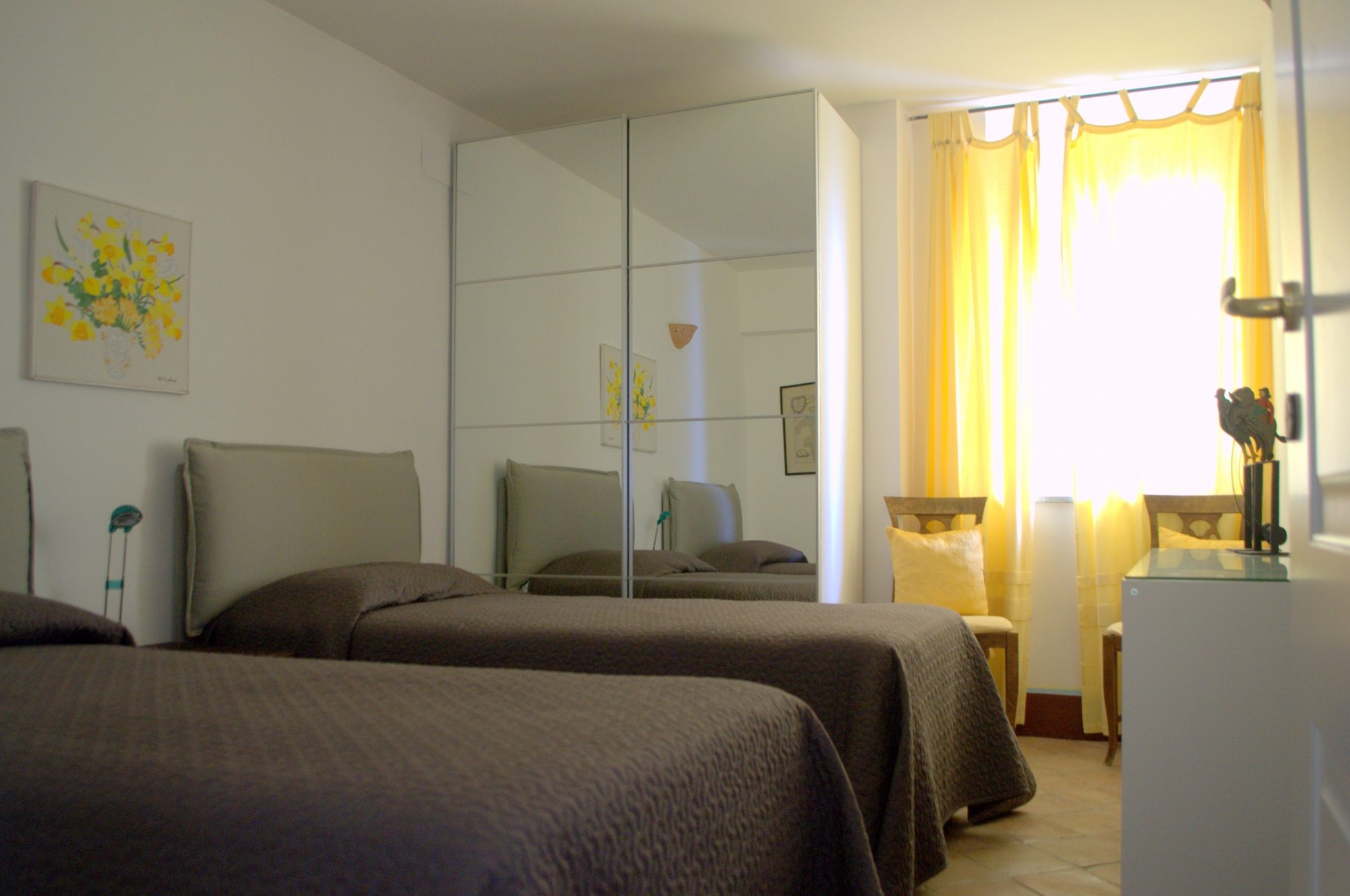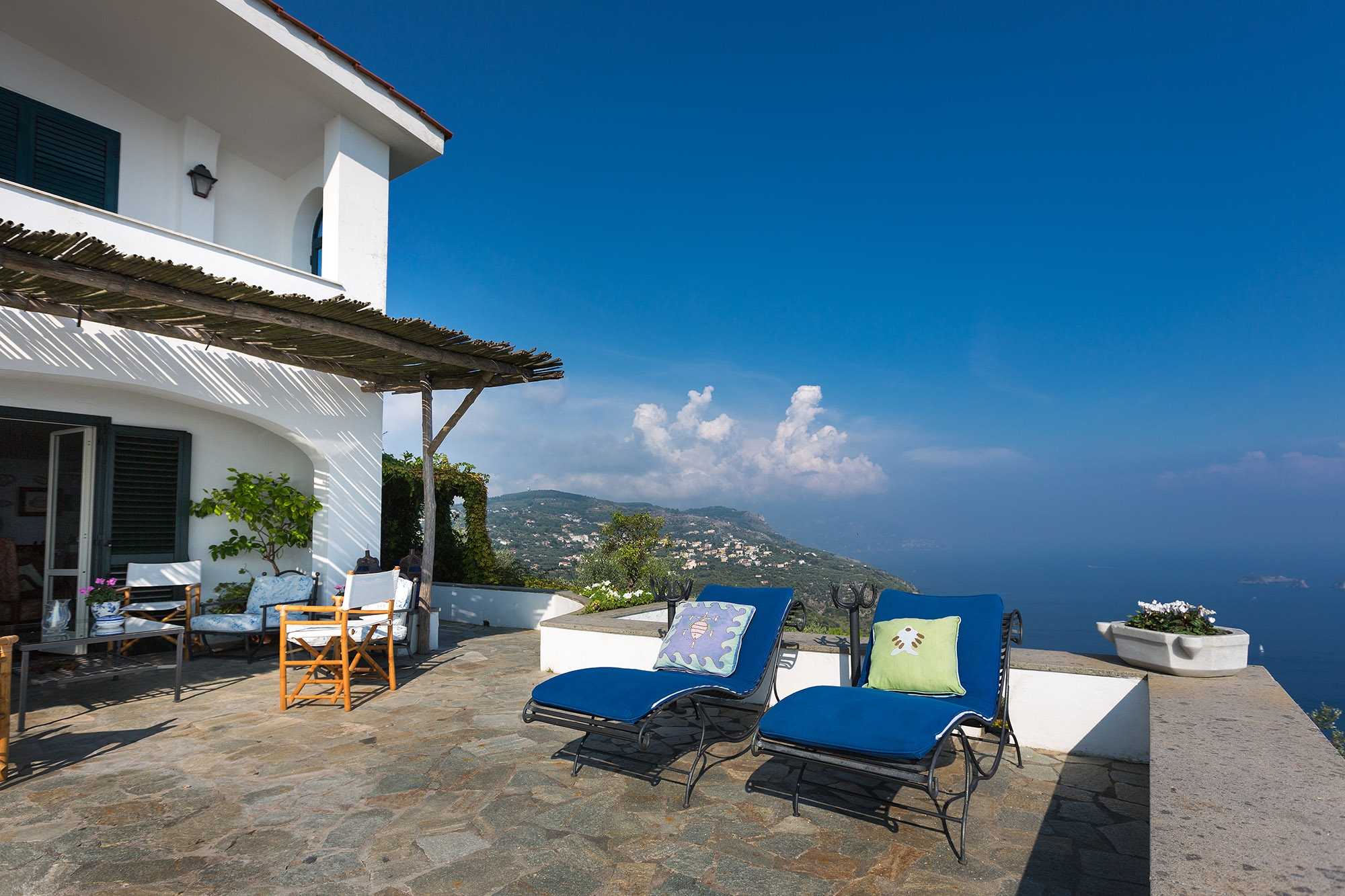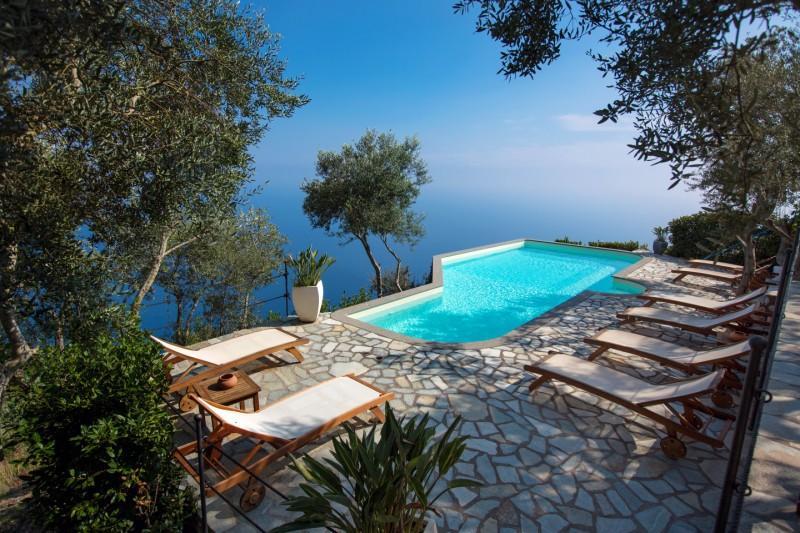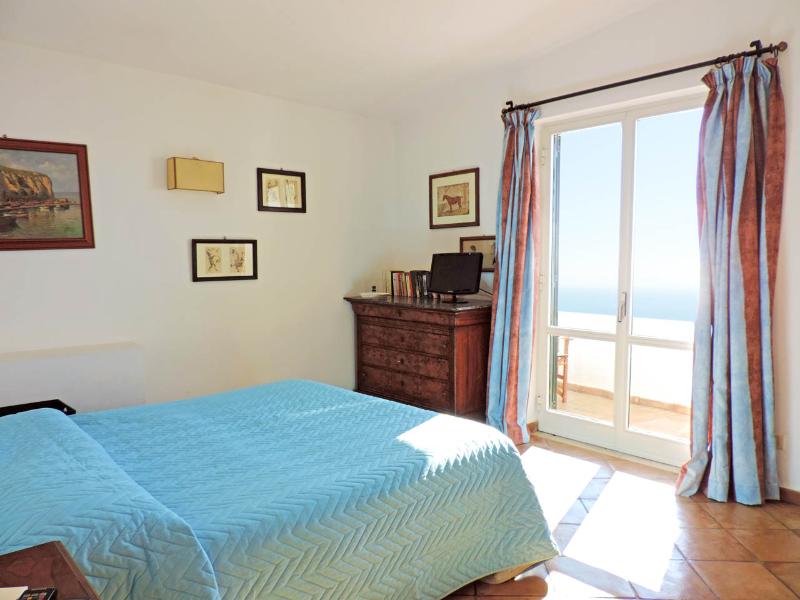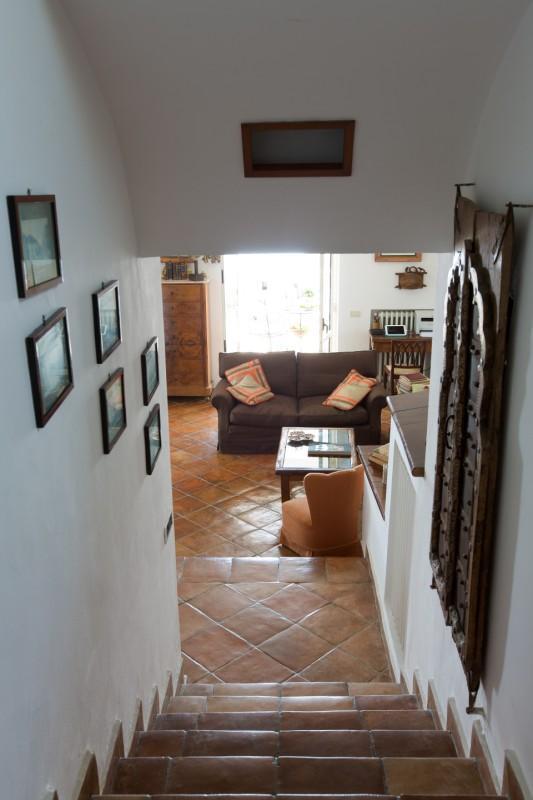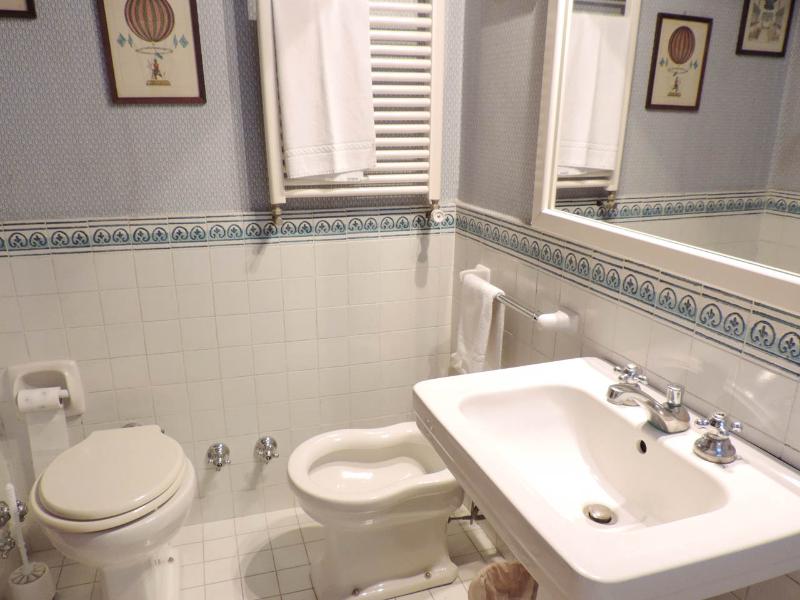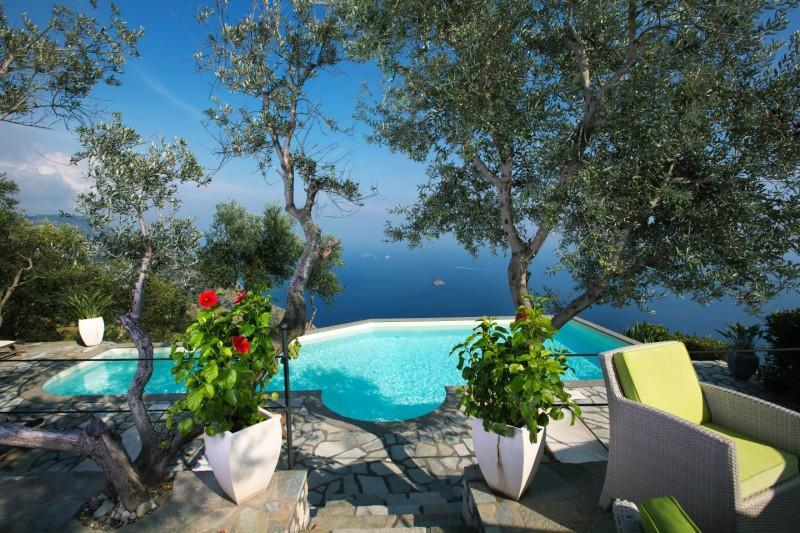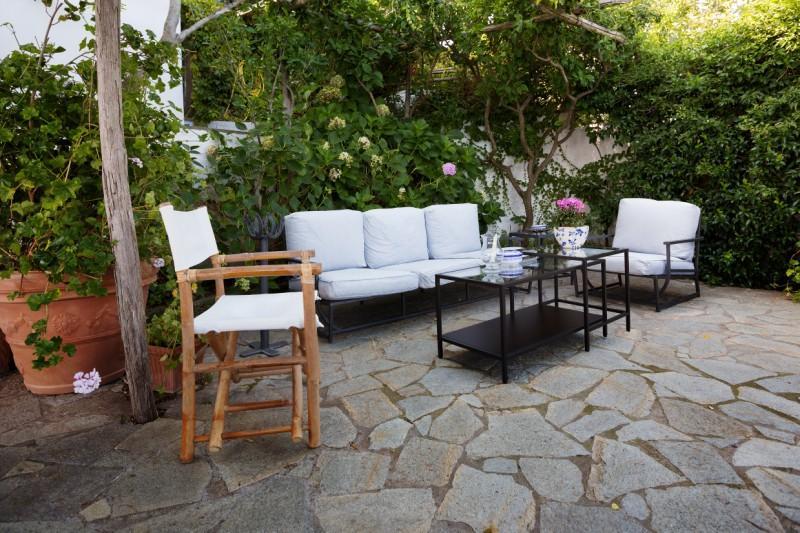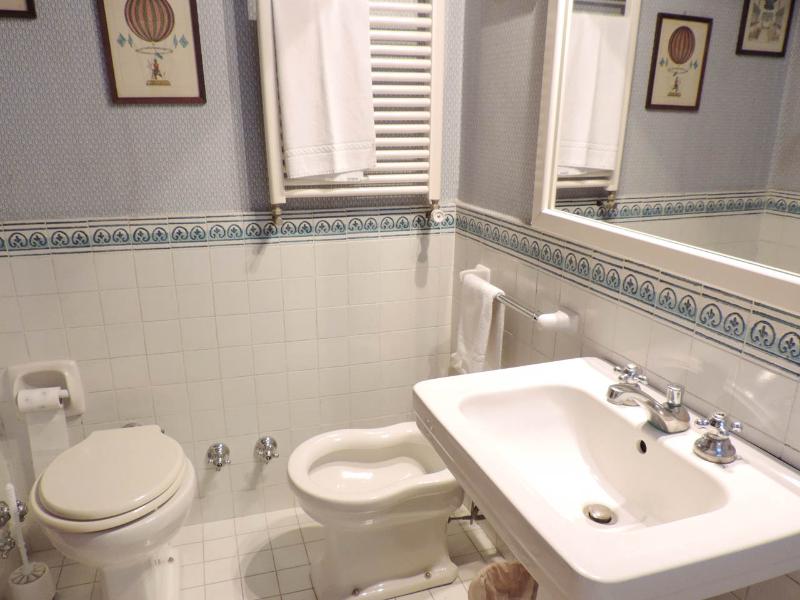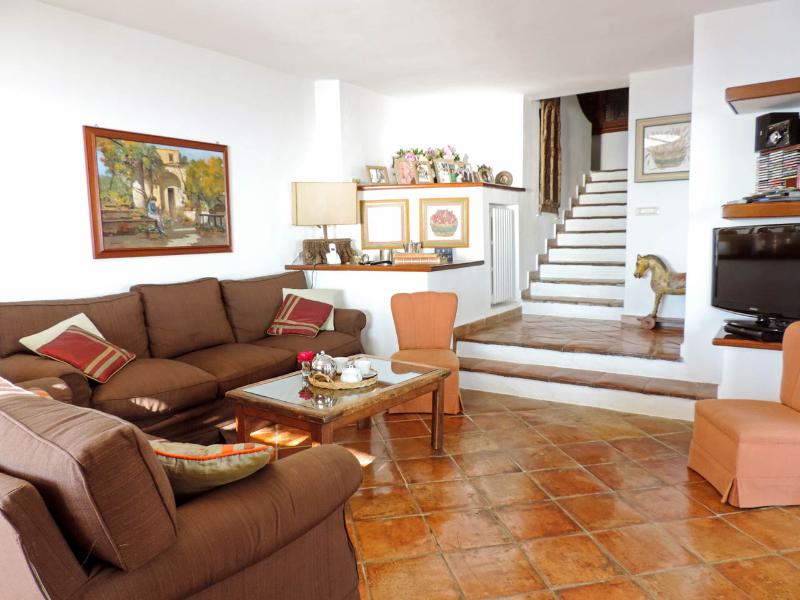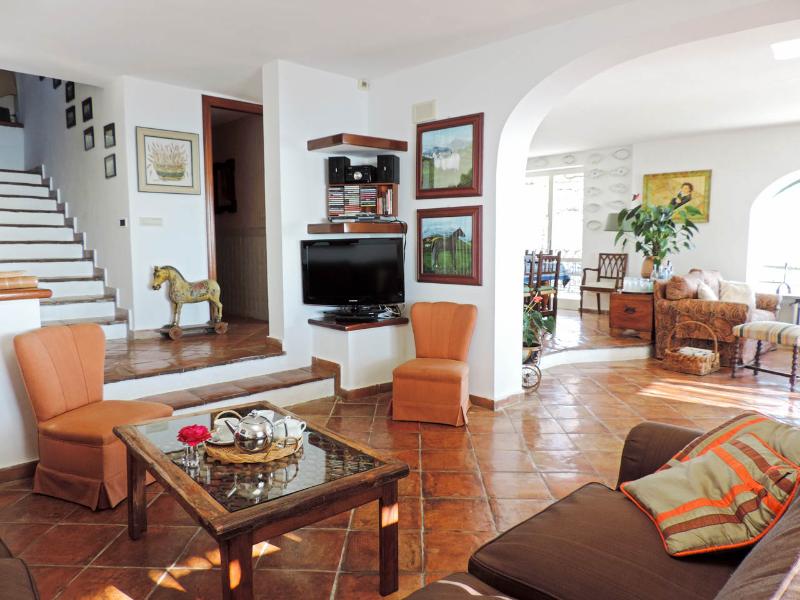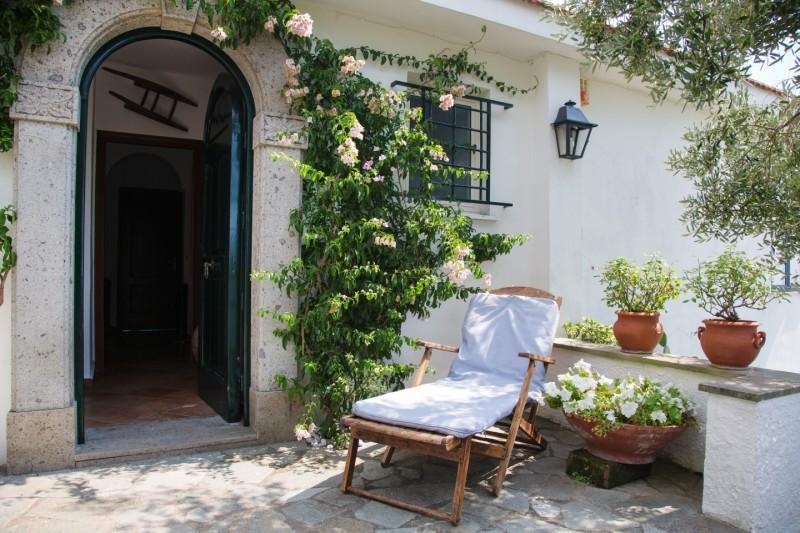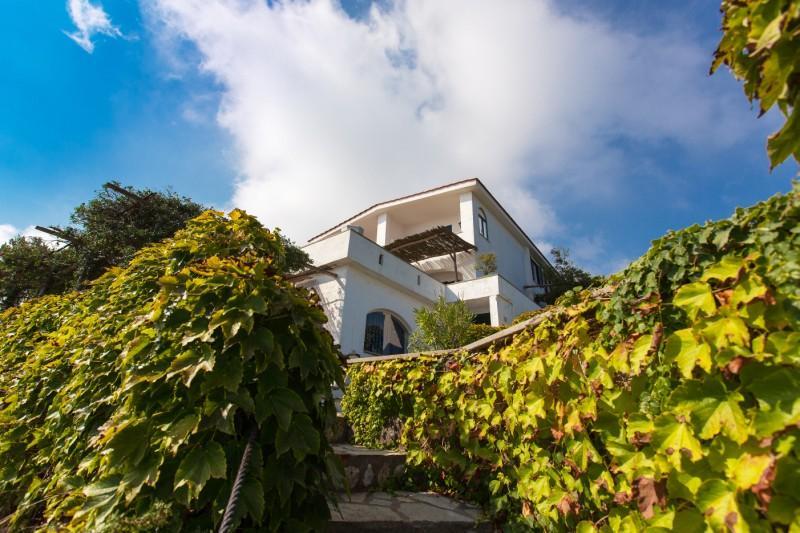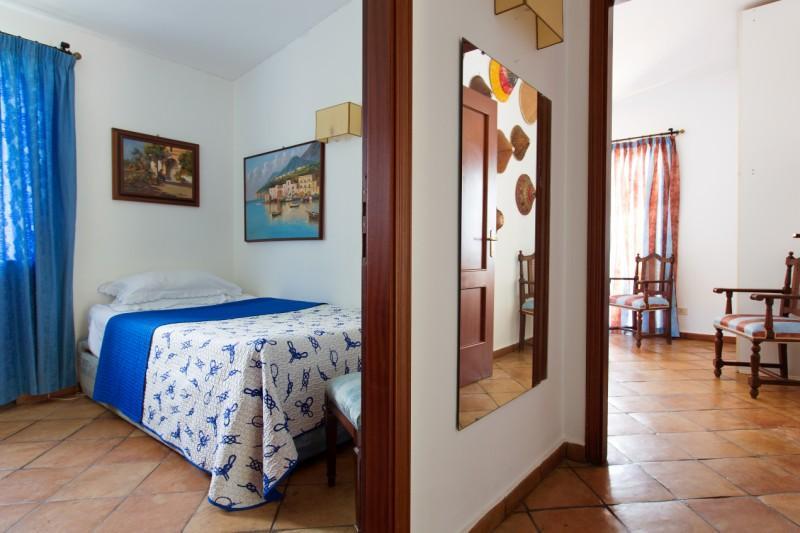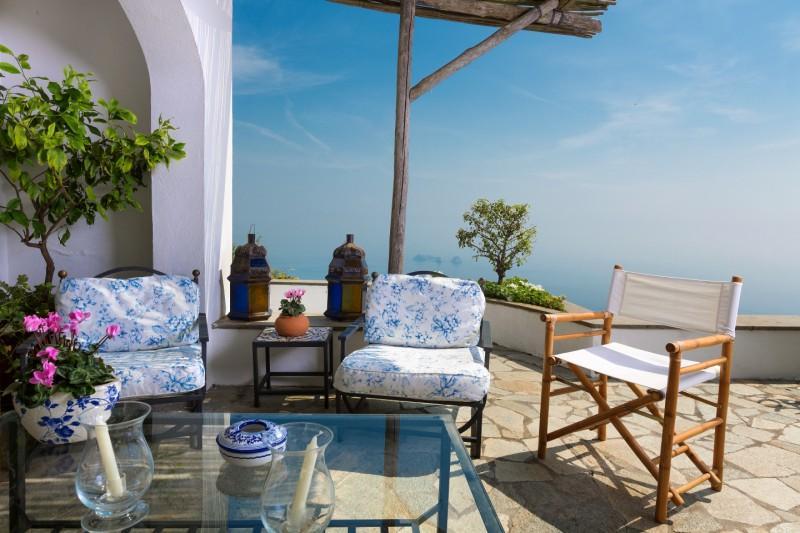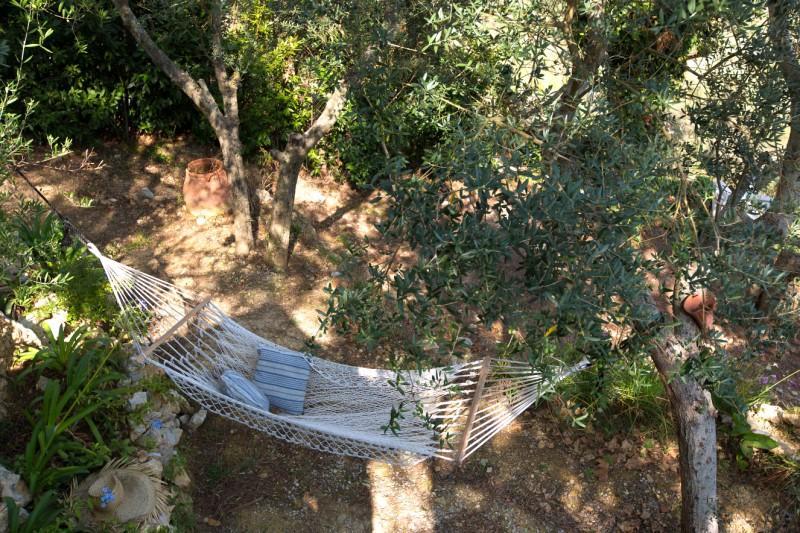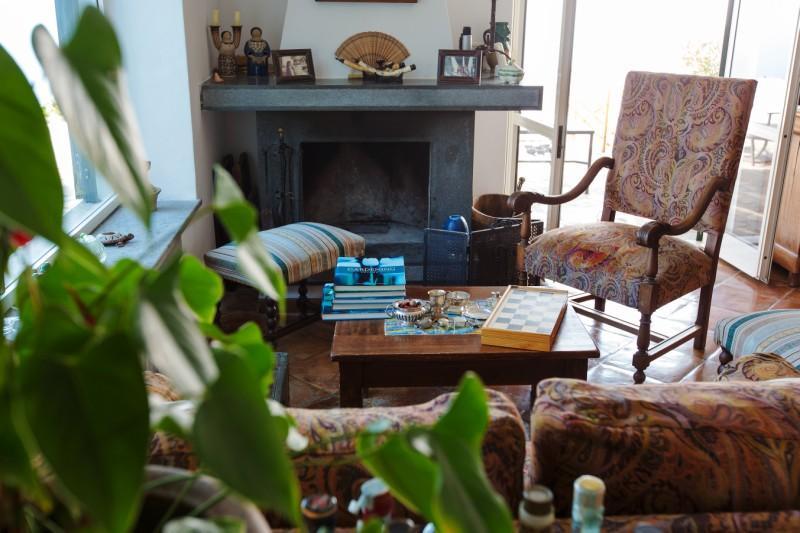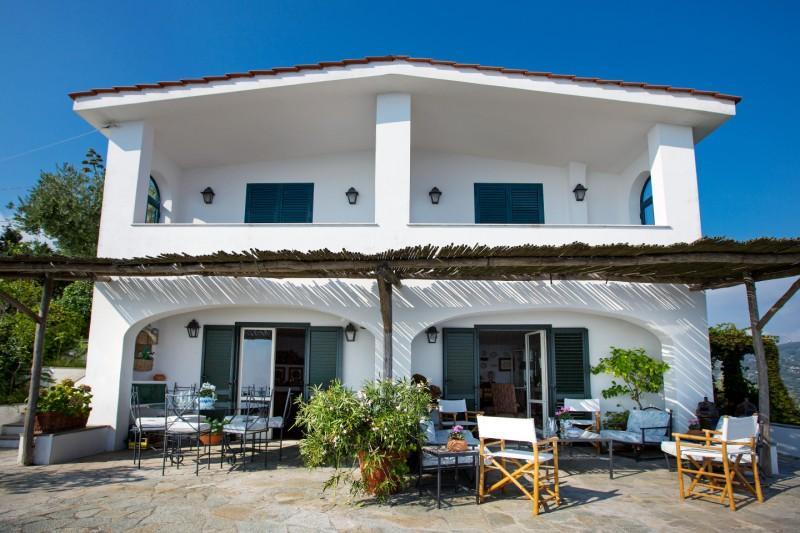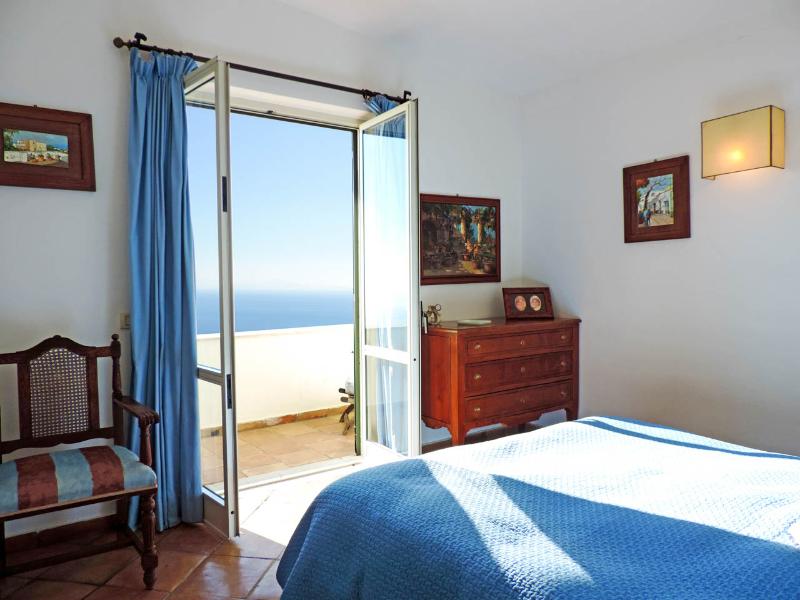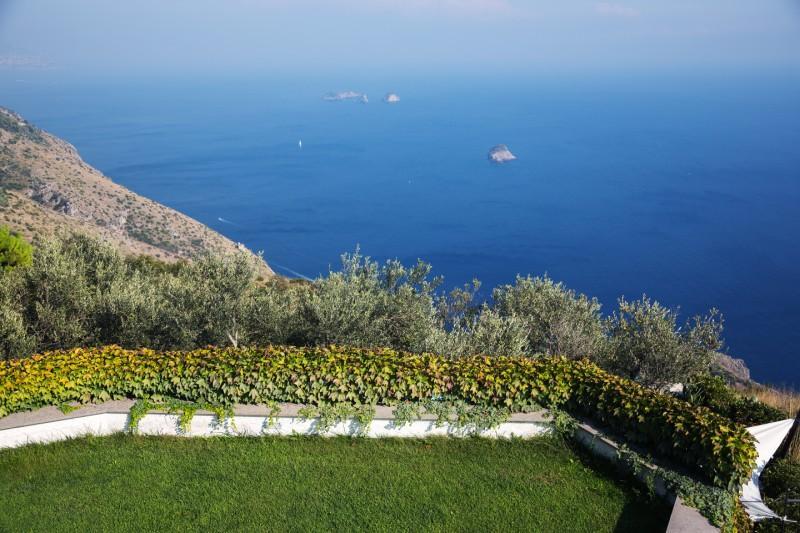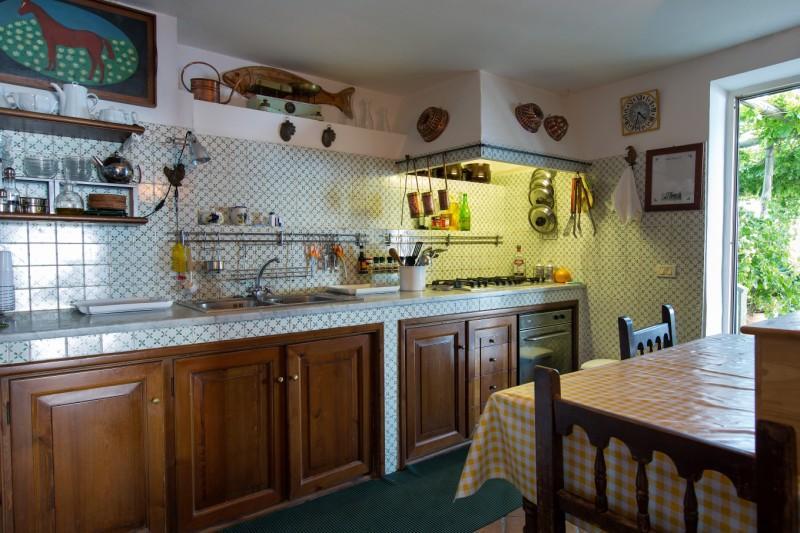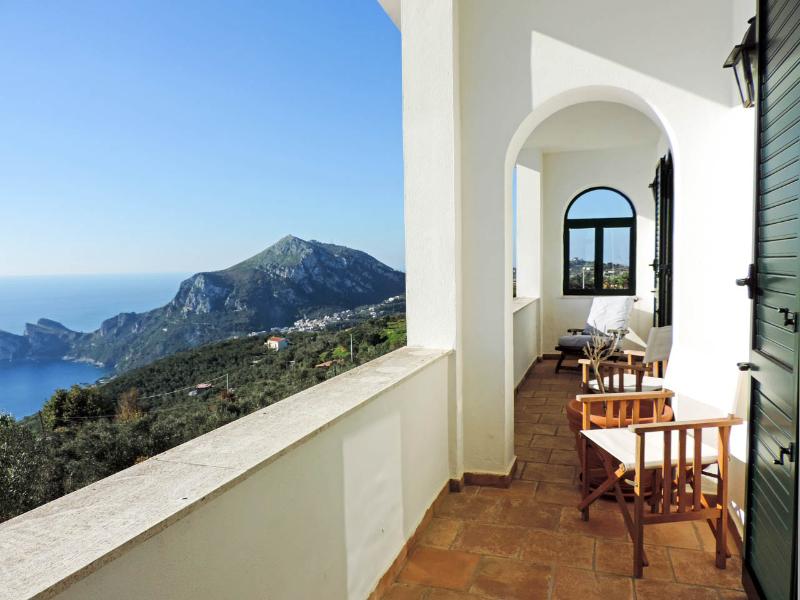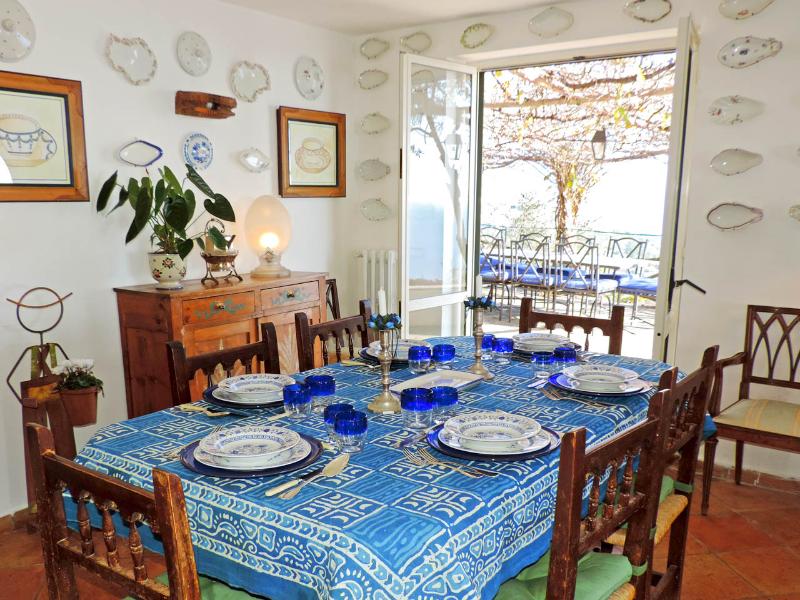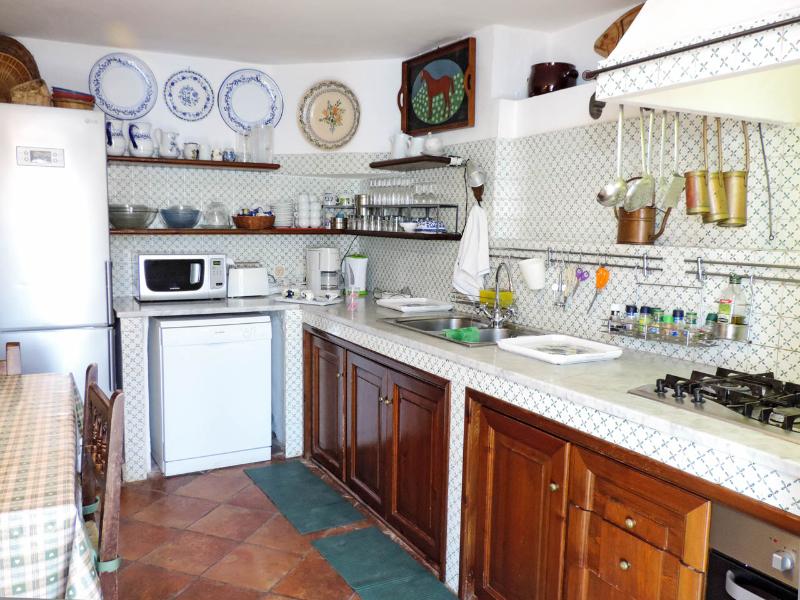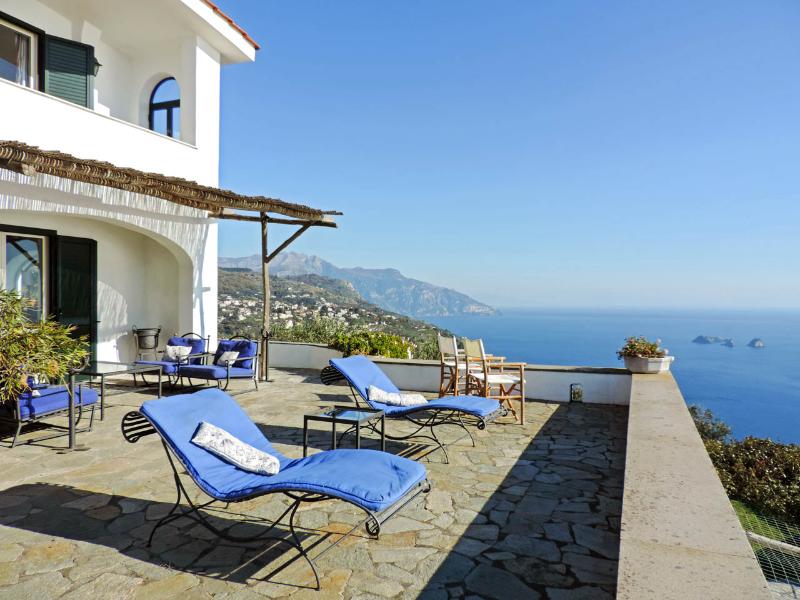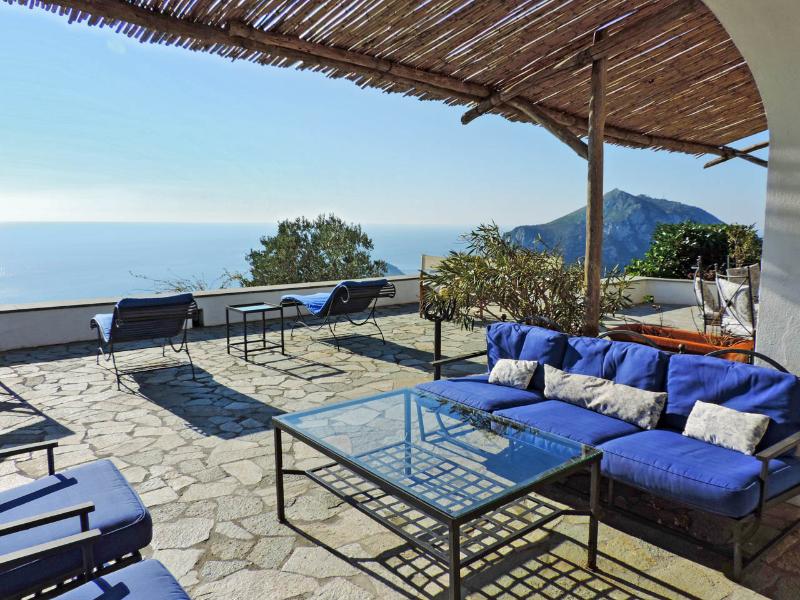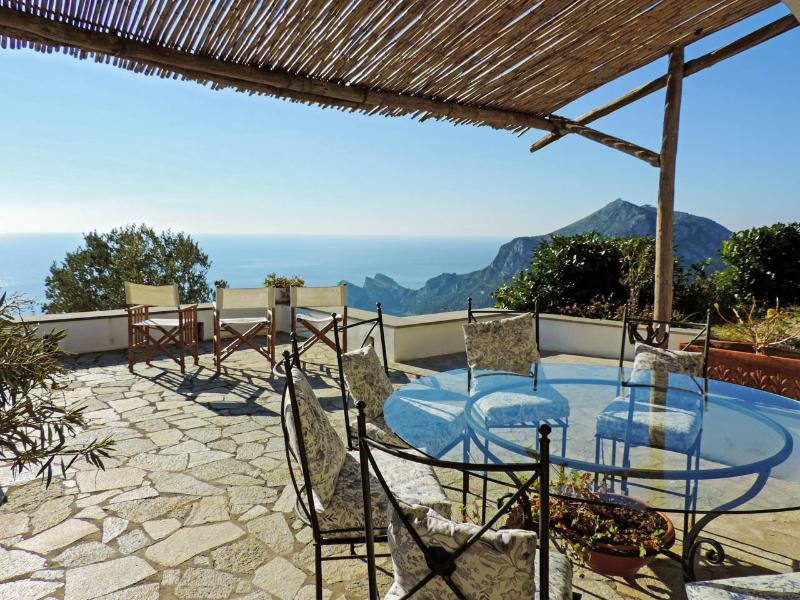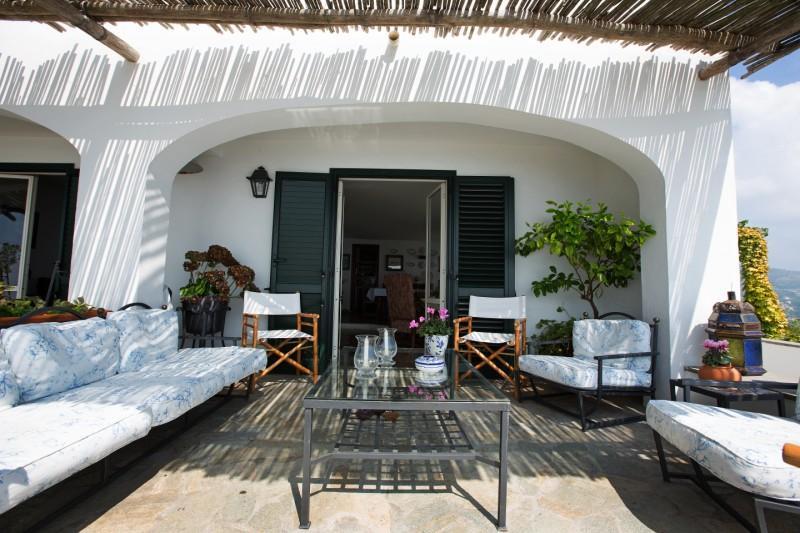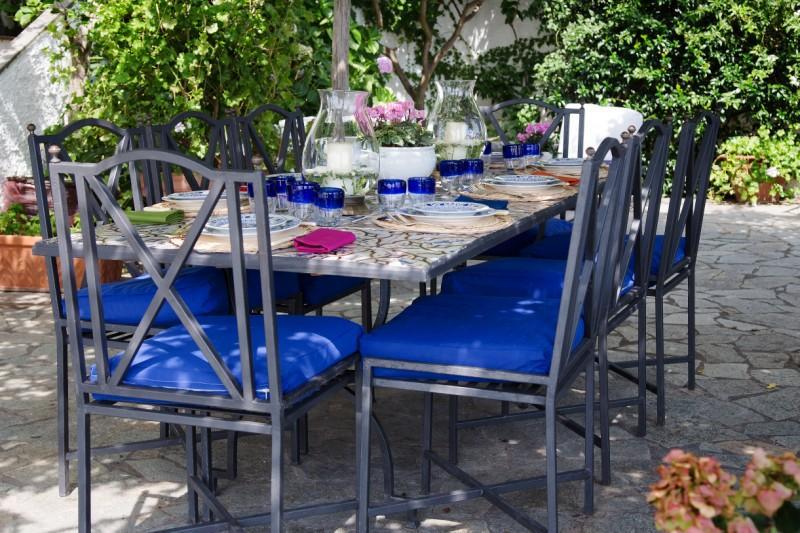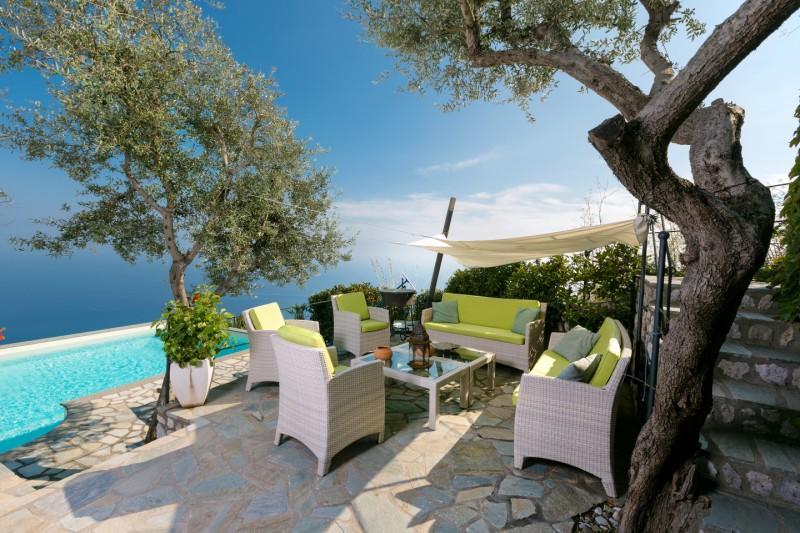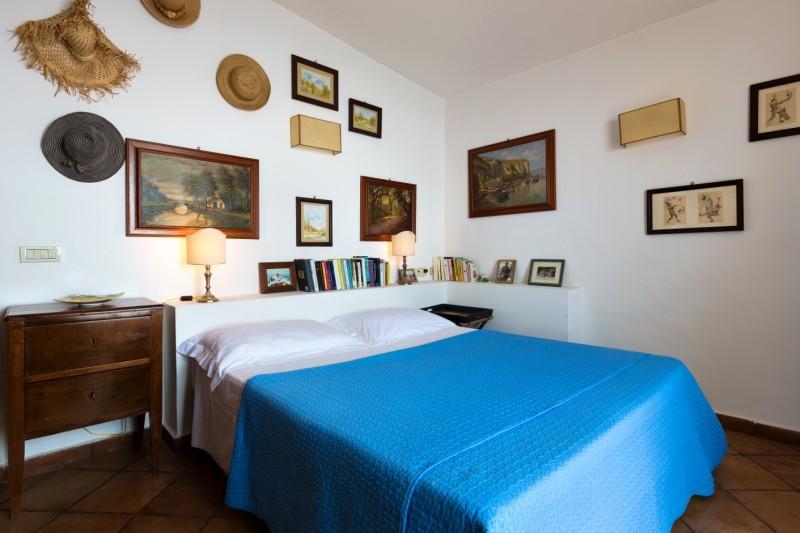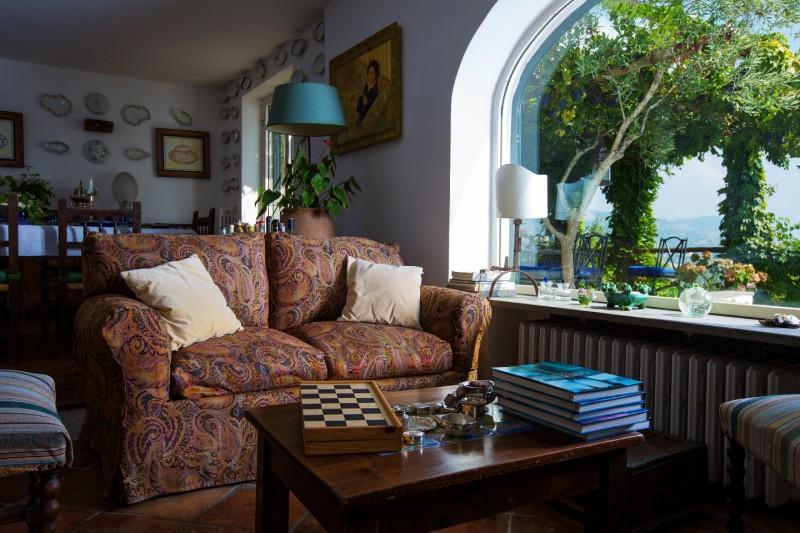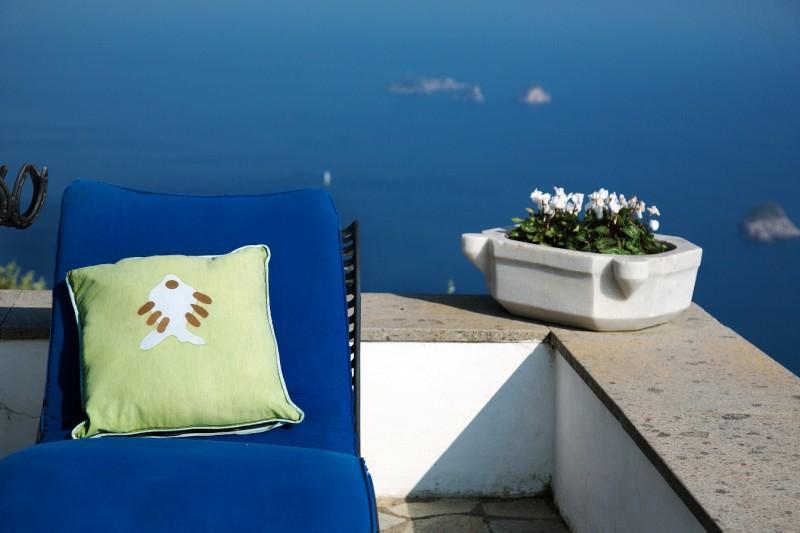 Villa Strepitosa is on the top of a hill about 300 metres above sea level ovelooking the beautiful Natural Oasis of Punta della Campanella. It is in a tranquil area halfway between Massa Lubrense and Sant'Agata sui due Golfi, an unspoiled landscape of green citrus and olive groves in the heart of the Sorrentine Peninsula. The property is also about a 15 minute drive away to the centre of Sorrento and 20 minutes from Positano, the gateway to the Amalfi Coast.
The bay of Nerano with its pebble beach is a few kilometres from the villa. There guests can enjoy the crystal clear waters of the Gulf, fresh fish meals and boat trips to the magical coves and inlets which form part of the Marine Protected Area, visit the island Capri island or go along the Amalfi Coast.
The Villa, spread over different levels on the hill side, was designed for comfortable stays during all seasons. The main access to the property is from the upper part, where there is a the parking area good for two/three cars. The main building is composes of two floors and a dependence. Each unit is surrounded by terraces and blooming gardens overlooking the sea and the coast.
The main house has 4 bedrooms (3 double and 1 single) on the upper floor.
Room 1 - This double room has a comfortable Queen size bed, TV, private bathroom with bathtub and a panoramic terrace.
Room 2 - This double room has a King size bed, TV and panoramic terrace. The bathroom is located just outside the room.
Room 3 - This double room has a King size bed with panoramic window and private bathroom.
Room 4 - This single room has a French sized bed, TV and a panoramic window. The bathroom is located just outside the room. (An extractable bed is also available in on request).
On the ground floor is the largest open space with two luxury sofas, comfortable chairs, flat TV, stereo and PC facilities for listening to music and relaxation. A fireplace completes the living room, which has panoramic windows to enjoy reading or romantic moments. The dining area is equipped with an 18th century English style dinner table for 8/10 people. Next to the dining area there is a very well equipped separate kitchen furnished in the rustic style of a typical family kitchen of the Amalfi Coast. A service bathroom is also located on this floor.
The widest and most panoramic terrace runs all around the main house, which has a pergola shaded by a lush climber vine. This terrace, named Paolino, has a table decorated with hand made tiles in Vietri style and chairs for 8 people. It's possible to have an 'al fresco' breakfast or dinner on the terrace facing on the amazing view of Nerano Bay and Gulf of Salerno.
On the other side there are two lounge areas with two comfortable sofas and an armchair from which you can admire a fantastic sunset with a chilled cocktail and appetizers or, just after dinner, the moonlit night.
The dependence La Casetta is located on a lower level. It has two double bedrooms, one bathroom with shower and a living space.
Outside there is a wide grassy space and a large panoramic terrace with stylish wrought iron furniture. The solarium and the swimming pool are lower down and split into two levels. The upper level comprises of a living area with a sofa, a cocktail bar, a kitchenette and a lunch area. The lower level comprises of the pool itself and the solarium equipped with sun beds. A dressing room and a bathroom with shower is also available in this area.
The whole area is surrounded by olive trees, bougainvilleas and Mediterranean plants to guarantee maximum privacy in a pleasant ambiance whilst admiring the astonishing view of Li Galli Islands and the Amalfi Coast. 
terrace , 1 living room , balcony , 7 bedroom , 7 bathroom
HEATING/COOLING
Fireplace , Air Conditioning , Central heating
COOKING
Kitchen stove , Dish washer , Cooking utensils , Spices , High chair , Kettle , Toaster , microwave , Coffee machine , Fridge , Oven
LAUNDRY
&
SANITARY
tub , Shower , Washing machine , Iron and ironing board , Sink , Hairdryer , Bidet
ENTERTAINMENT
Satellite TV , Broadband Internet , Stereo , DVD player
RELAXATION
Private outdoor swimming pool (unheated)
OUTSIDE
Barbecue, deckchairs, private garden
Children welcome, Pets allowed
Location Villa Strepitosa
Transport
Airport
62 Km
Motorway
20 Km
Directions
By car:
Traveling from Rome to Naples, than exit the A3 Naples-Salerno motorway at Castellamare di stabia and follow the signs for the Penisola Sorrentina / Sorrento. 750 metres after the square in Meta di Sorrento, turn left in the direction of Positano and continue for a further 3 miles, until you come to the sign for Sant'Agata sui due golfi (turn right).  
Season
Pediod
Monday
Tuesday
Wednesday
Thursday
Friday
Saturday
Sunday
Daily
Weekly
Monthly
Tariffa Standard


Villa + Annex

10000
Services includes in the price:
Charges for gas, water, electricity, bed and bath linen, private car park, wifi, a three hours daily maid service!!!!!!
Not includes in the price:
 Tourist Tax (charged at € 2 per adult per day)
Final Cleaning charge cash upon arrival at € 400
Services on request (extra charges): 
Chef in Villa, Cooking class in Villa - Boat Trips - Chauffeur Service - Tour Guide - Wine Tour - Limoncello & Mozzarella Tasting - Transfer to / from airport, port or station -  Personal Shopper - Food Hamper on arrival - Baby sitting, heated pool cost € 120 per week.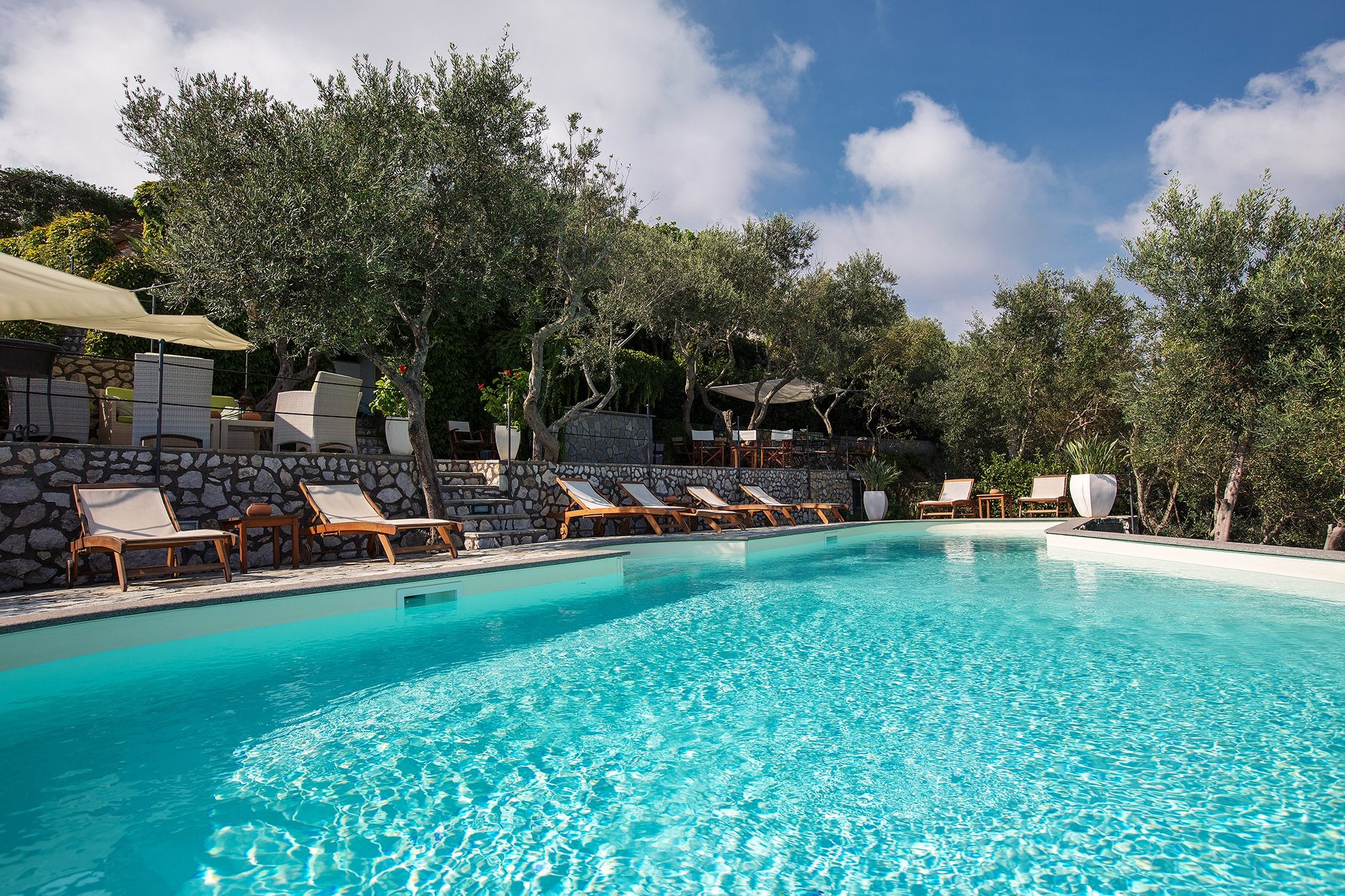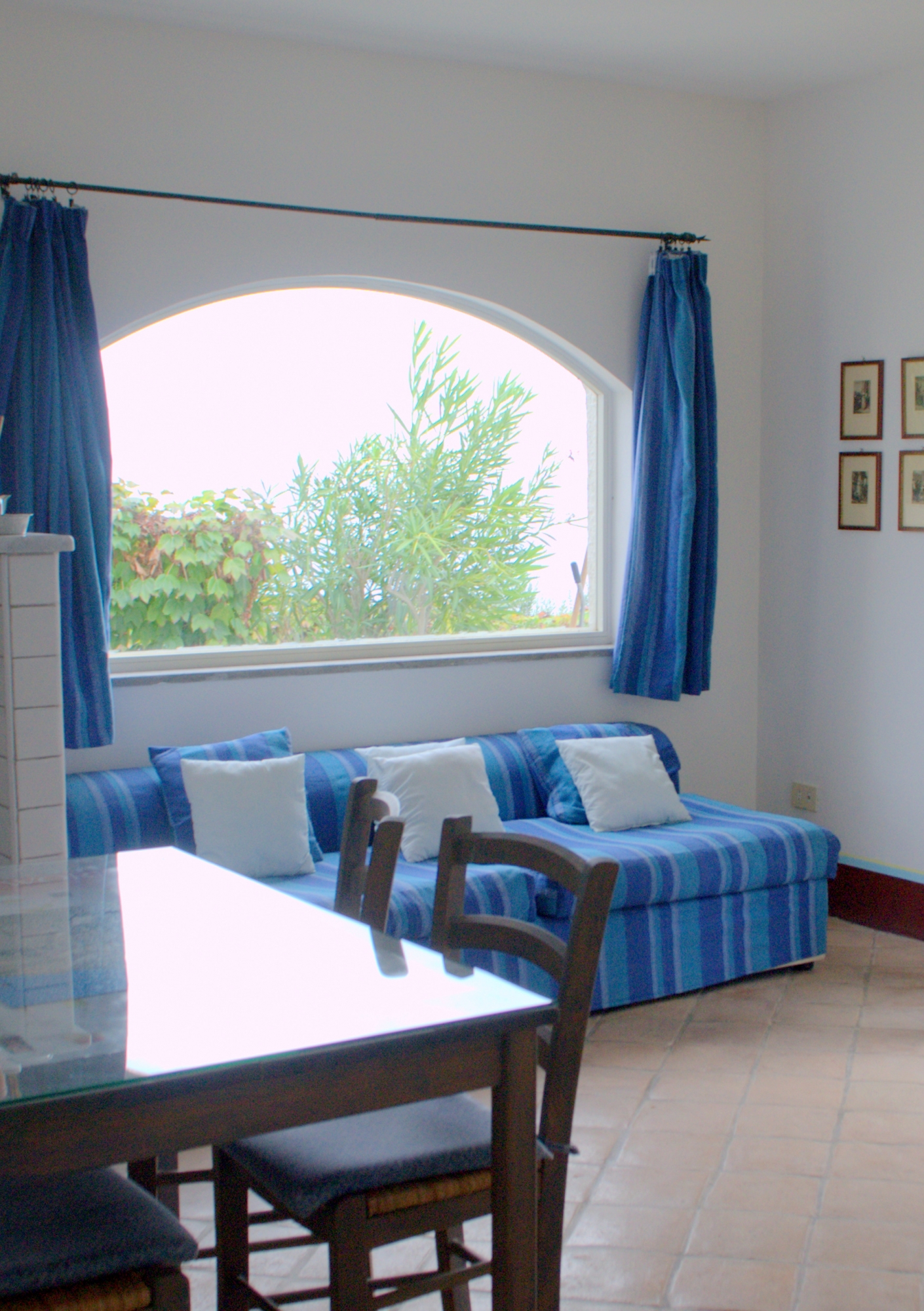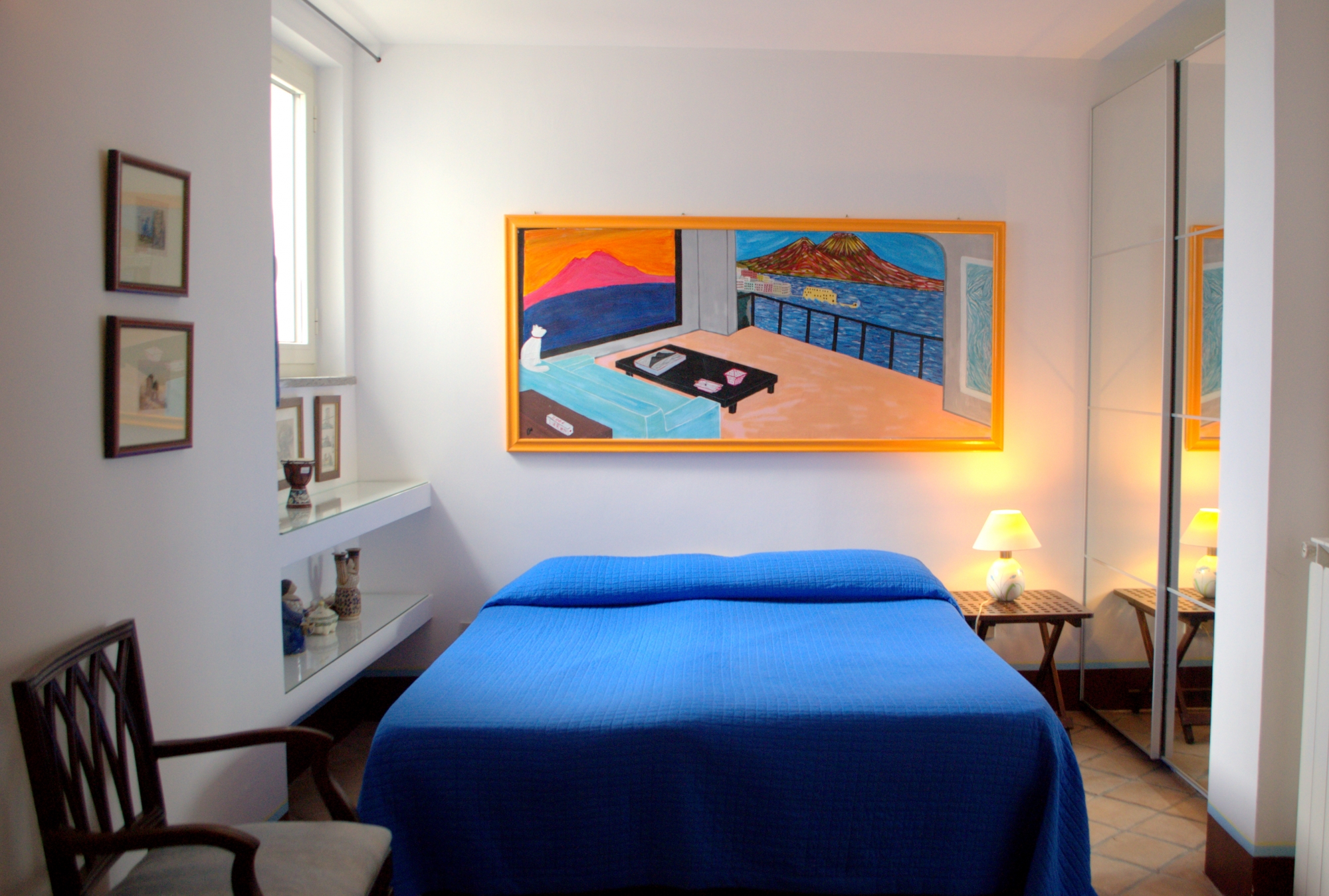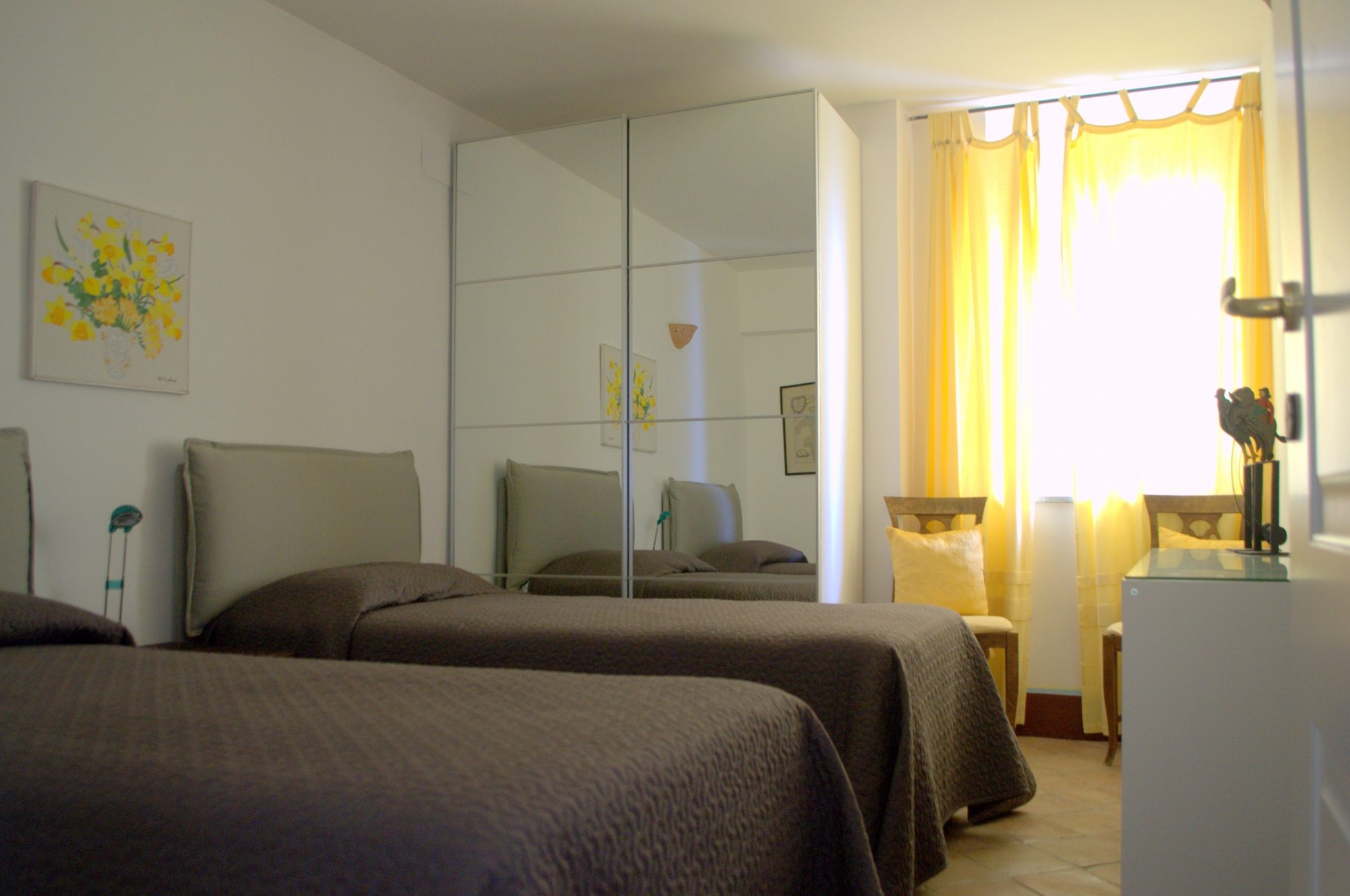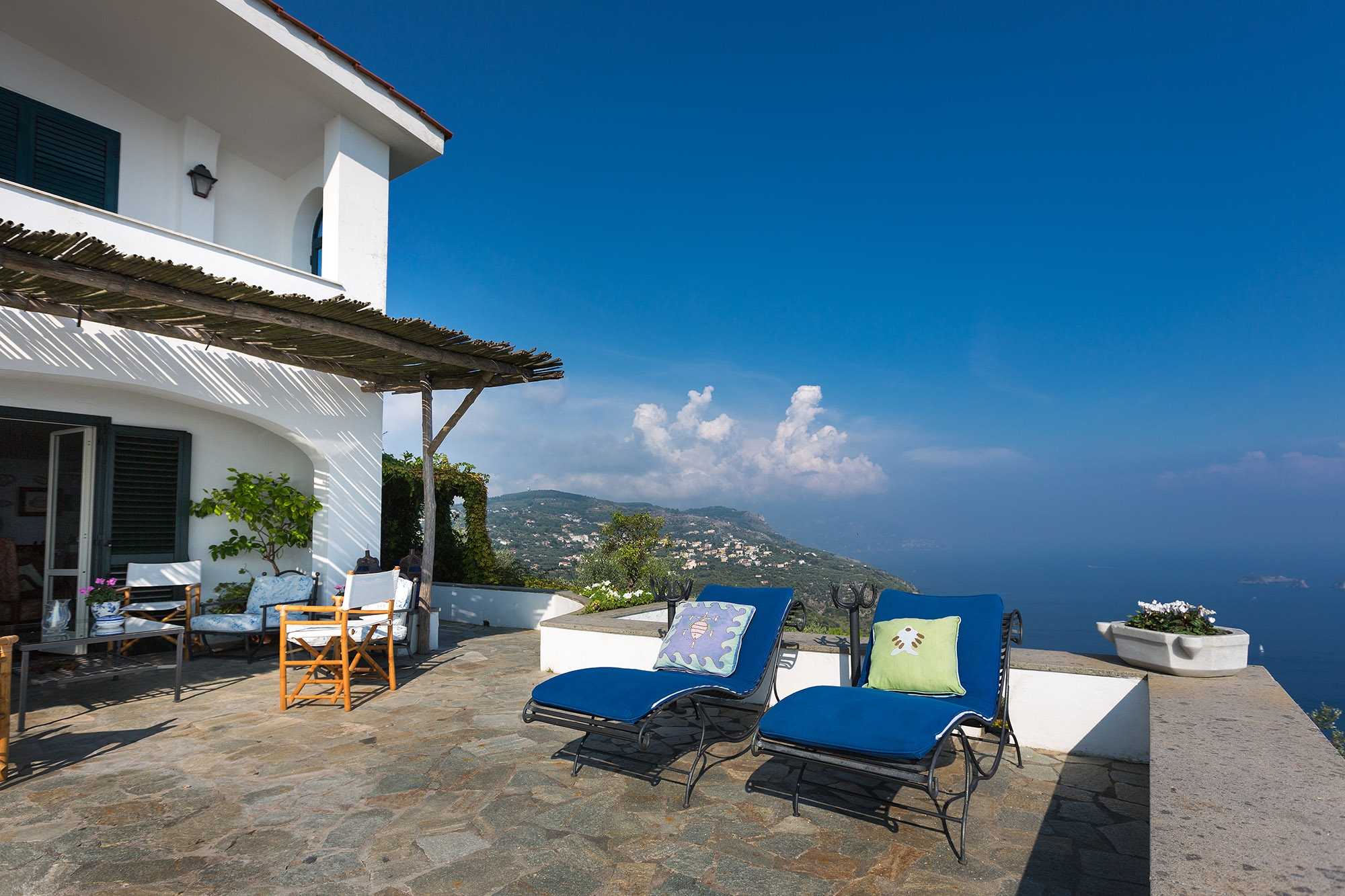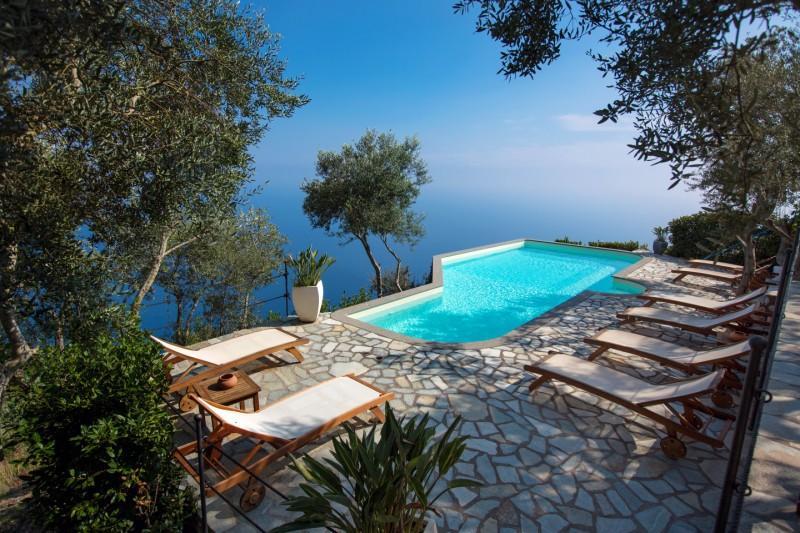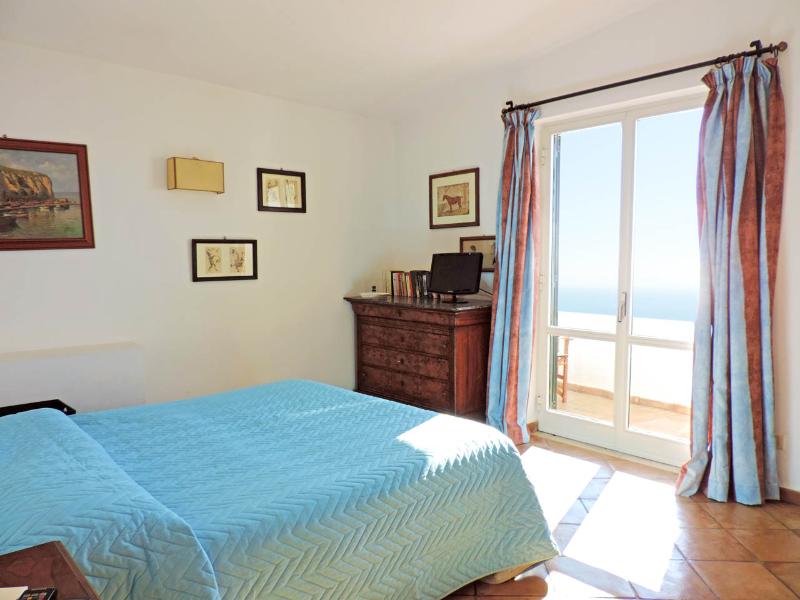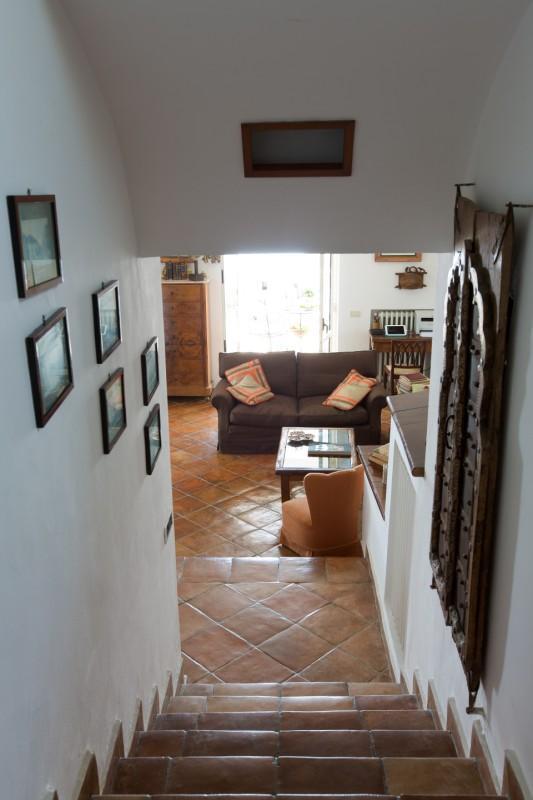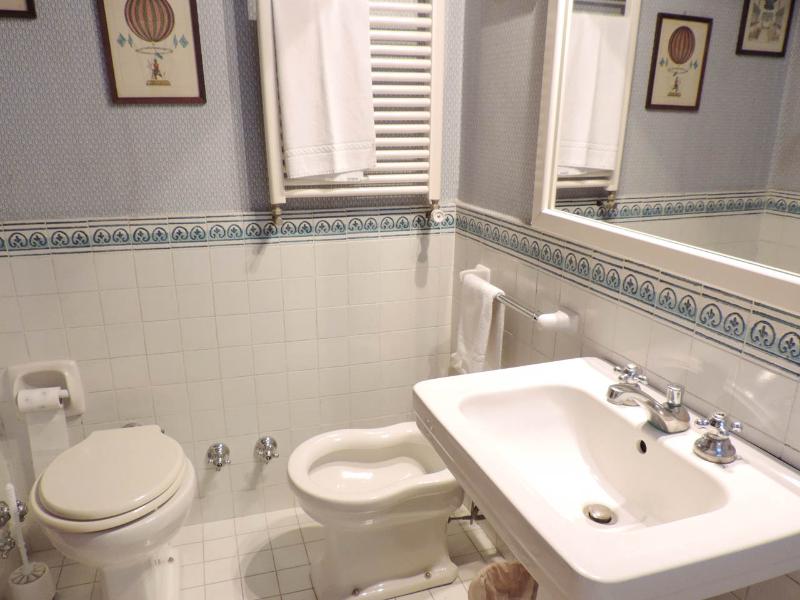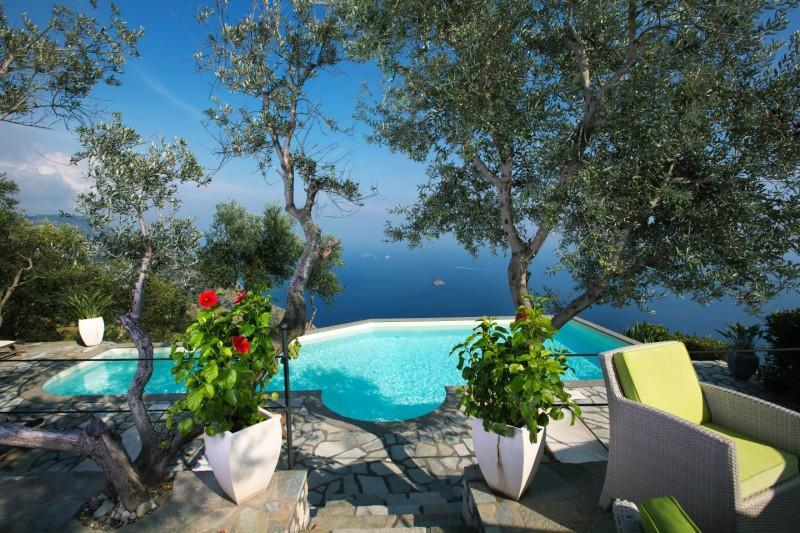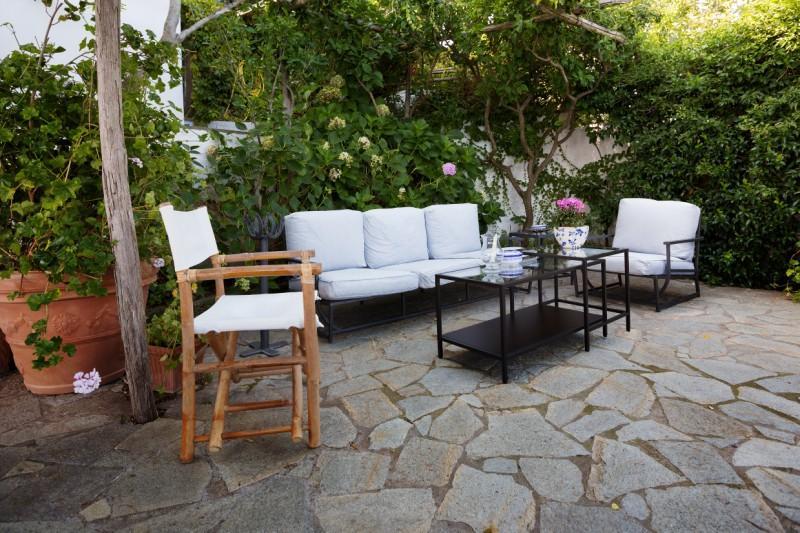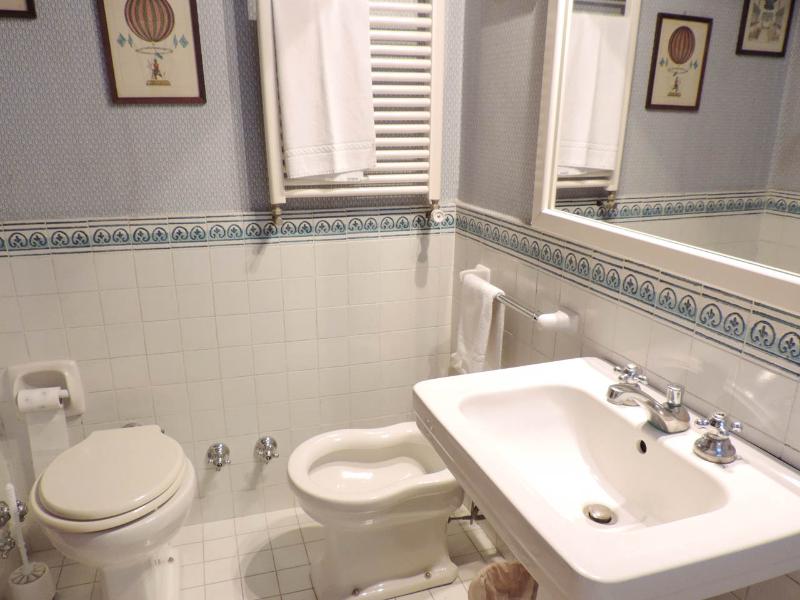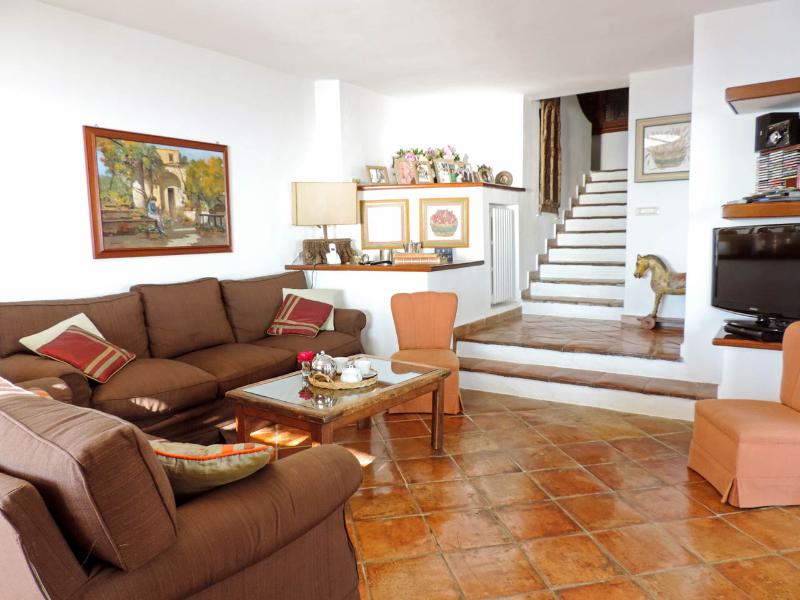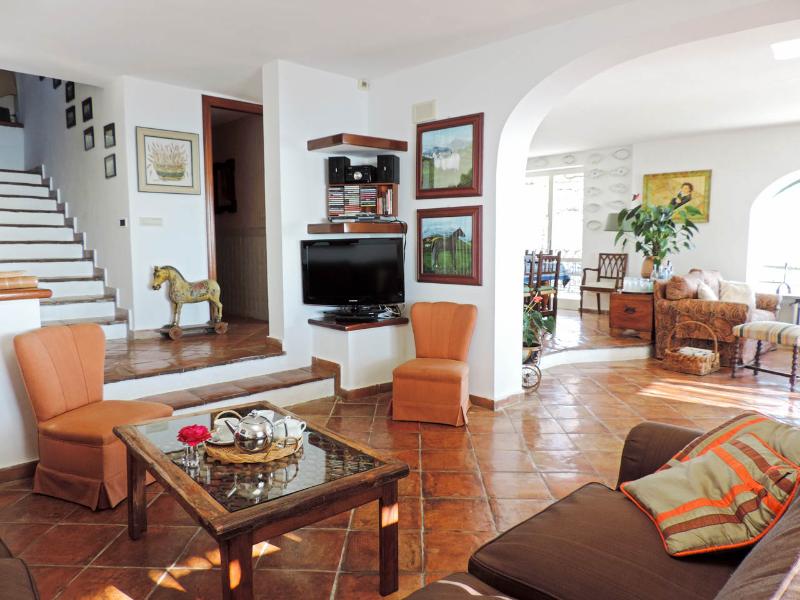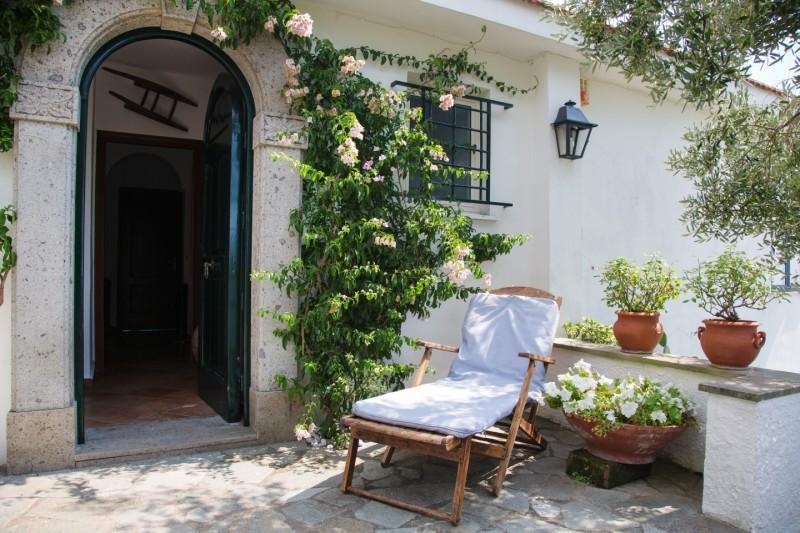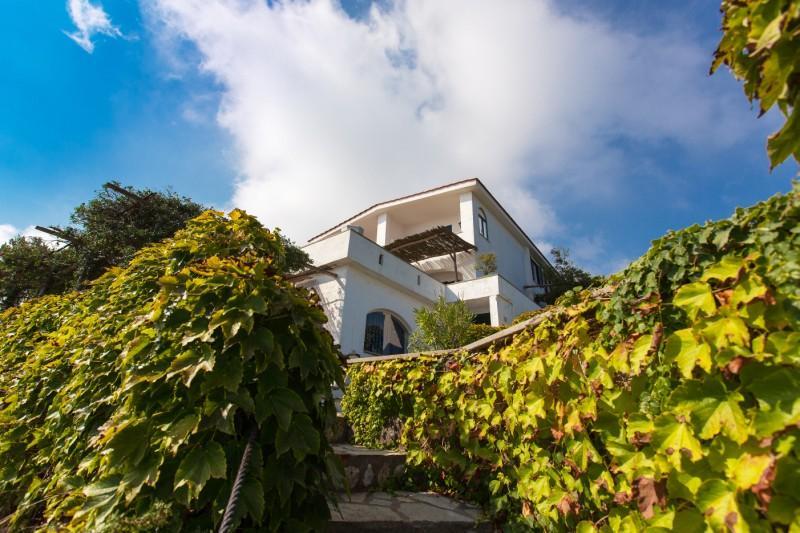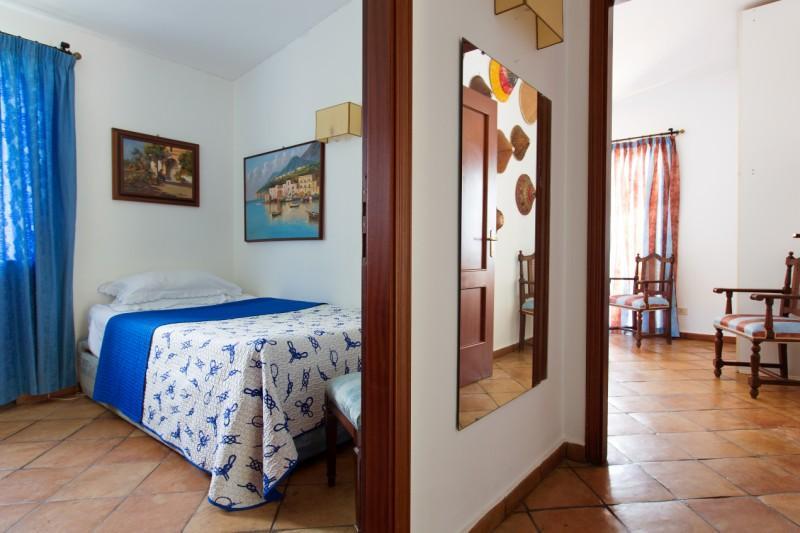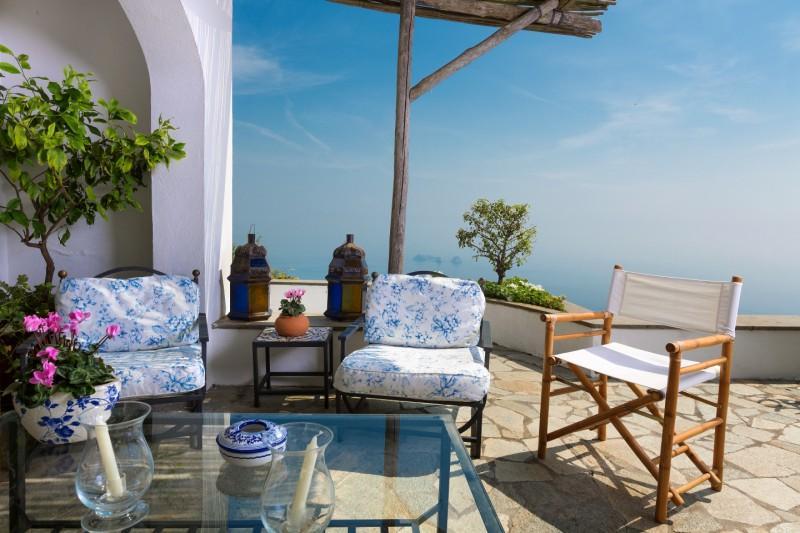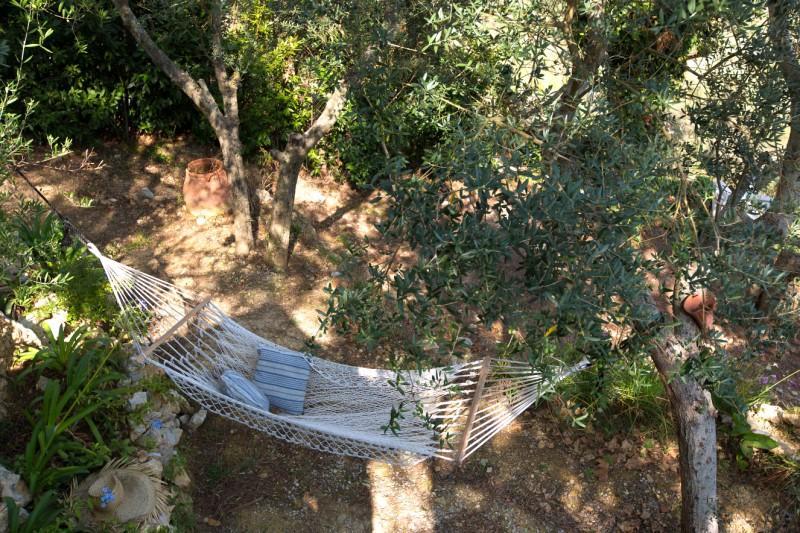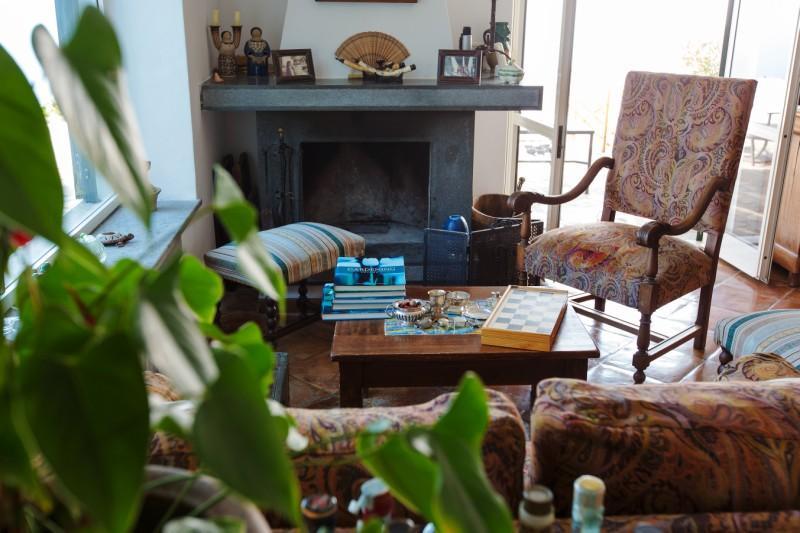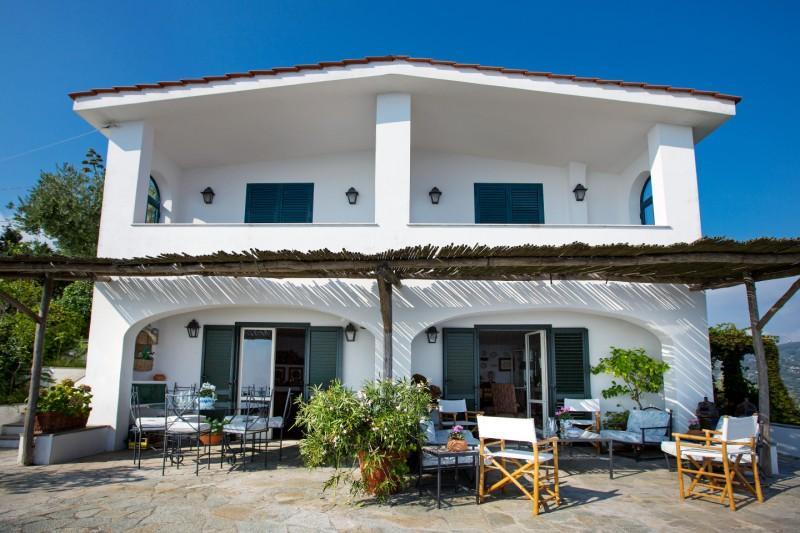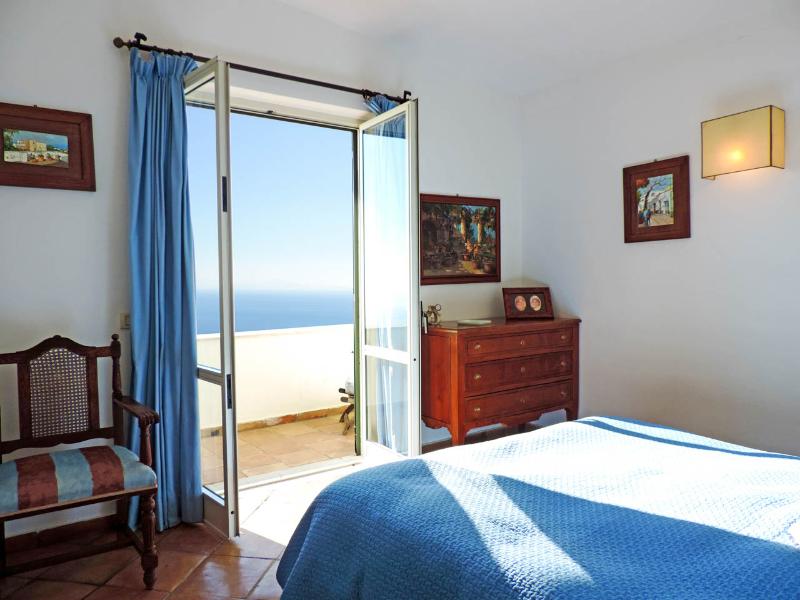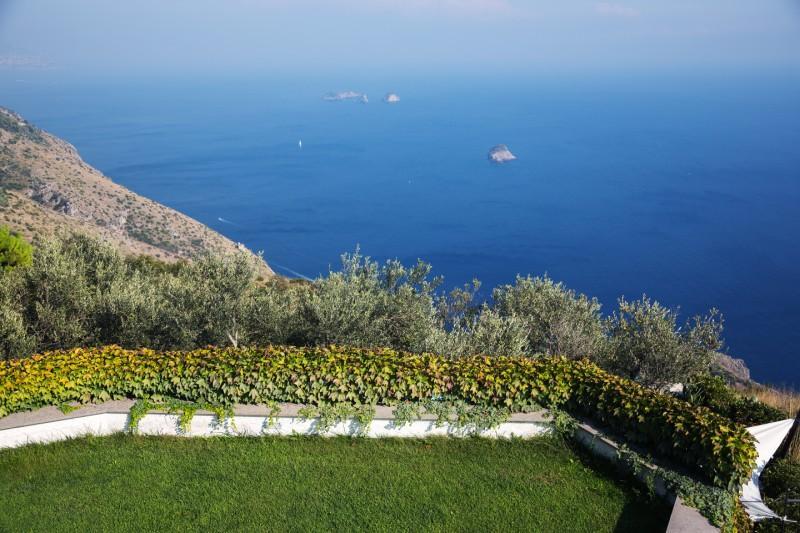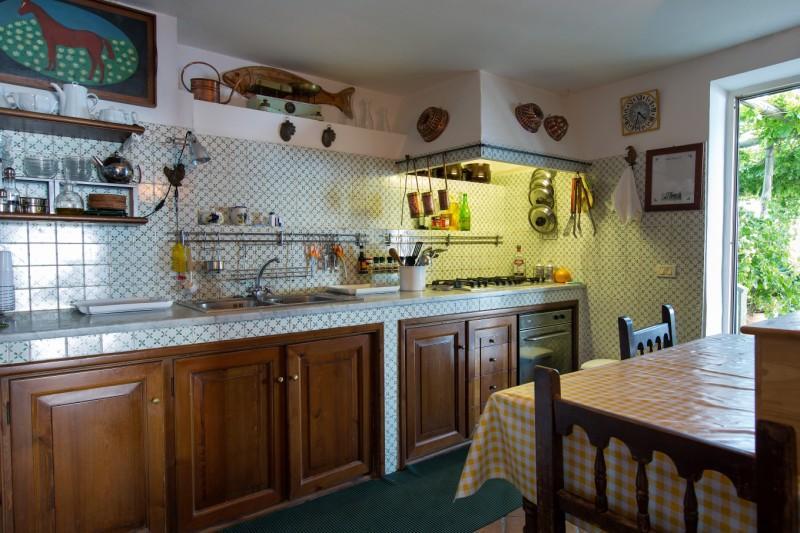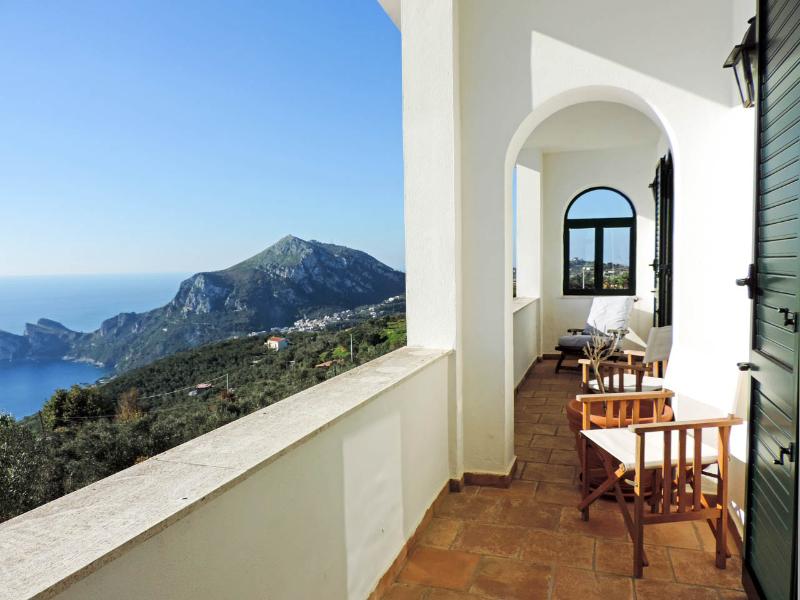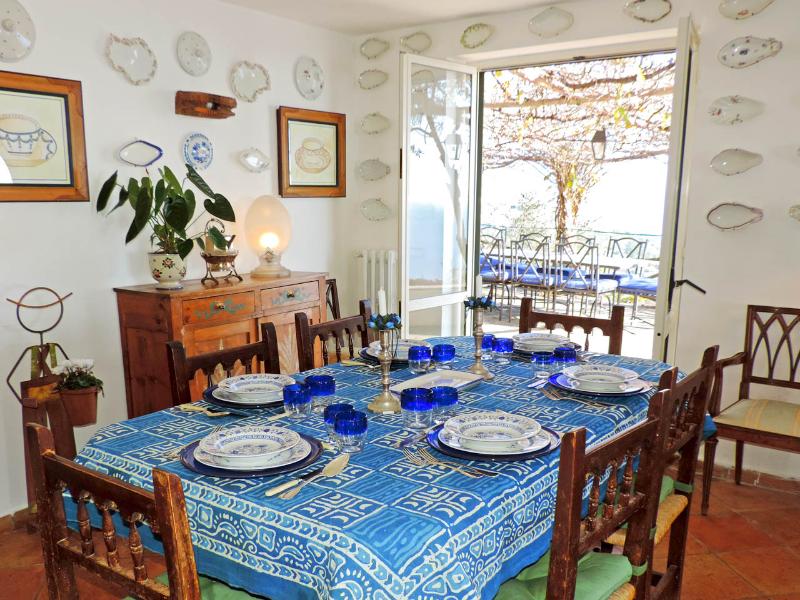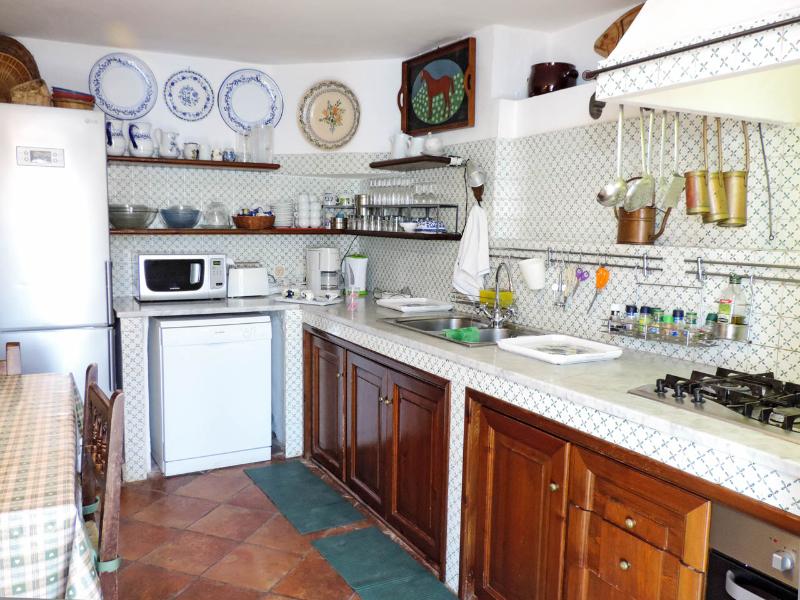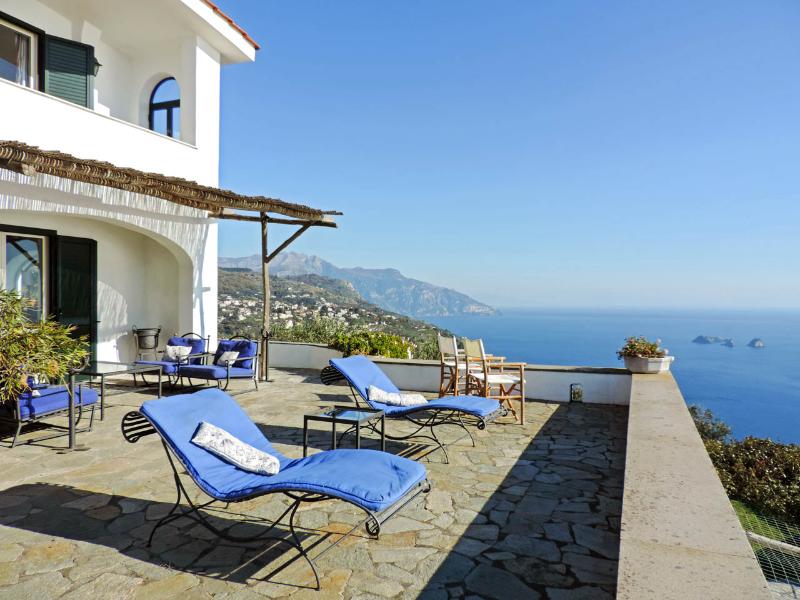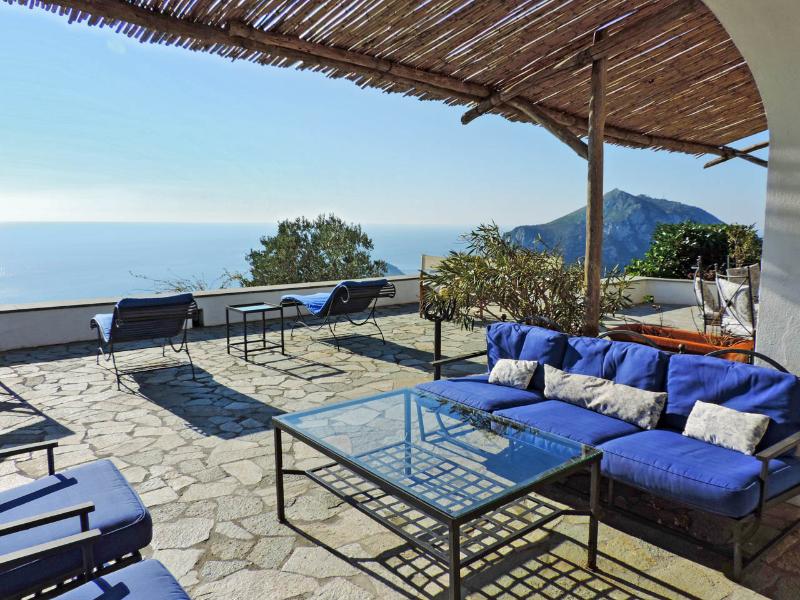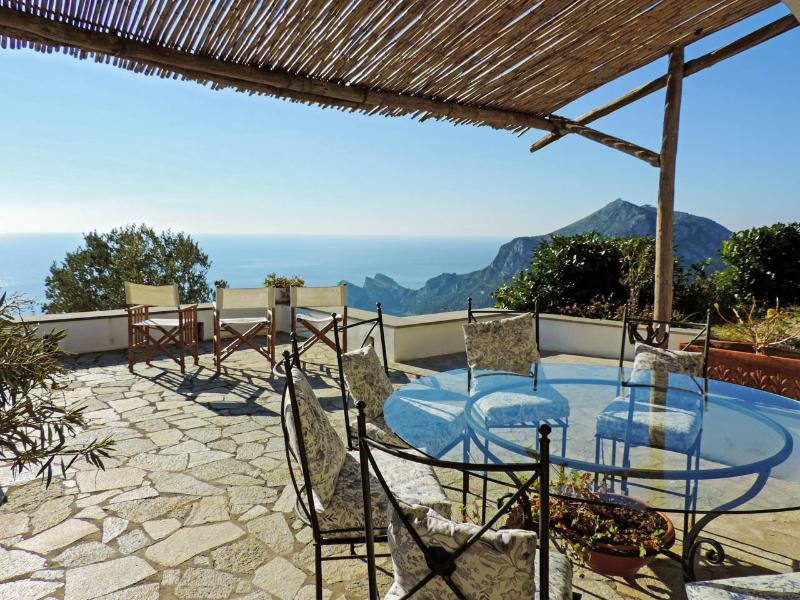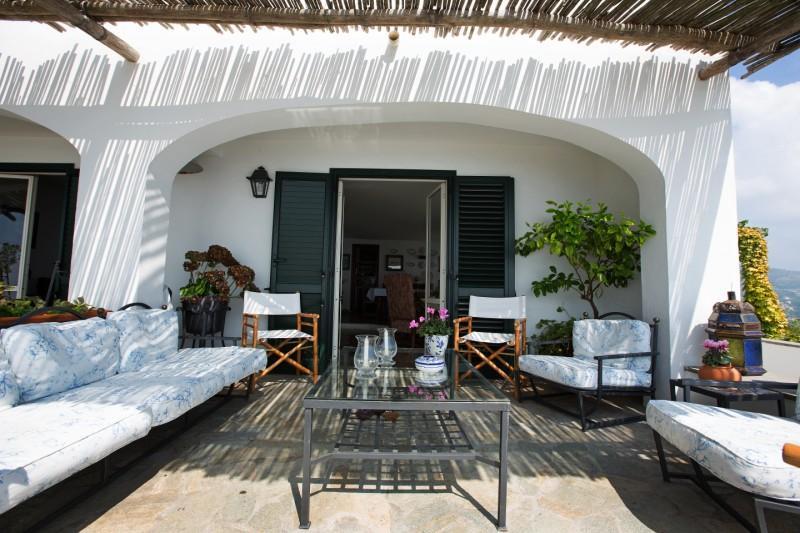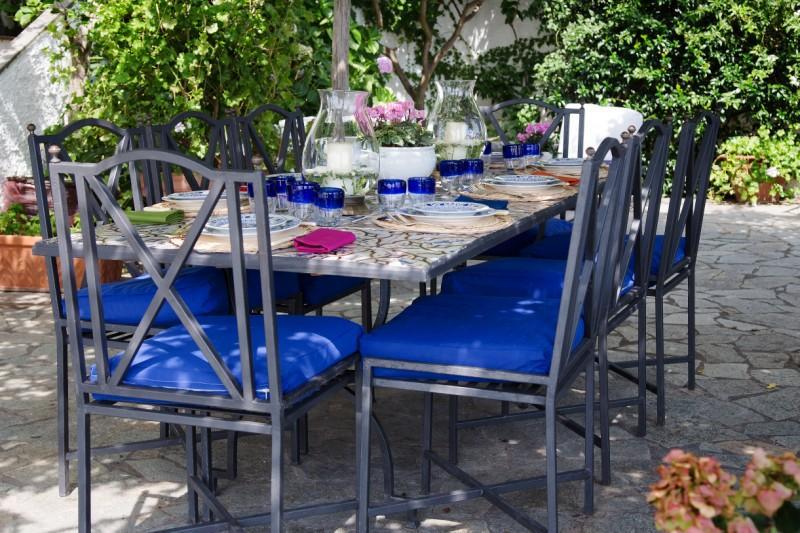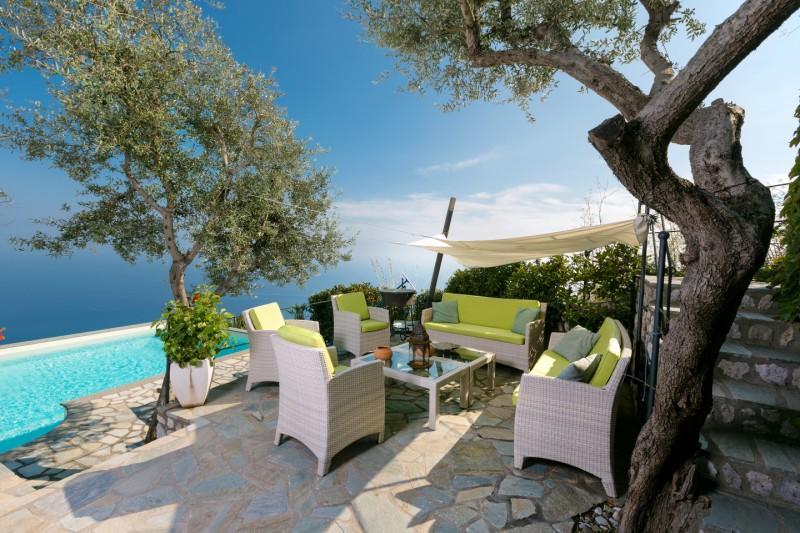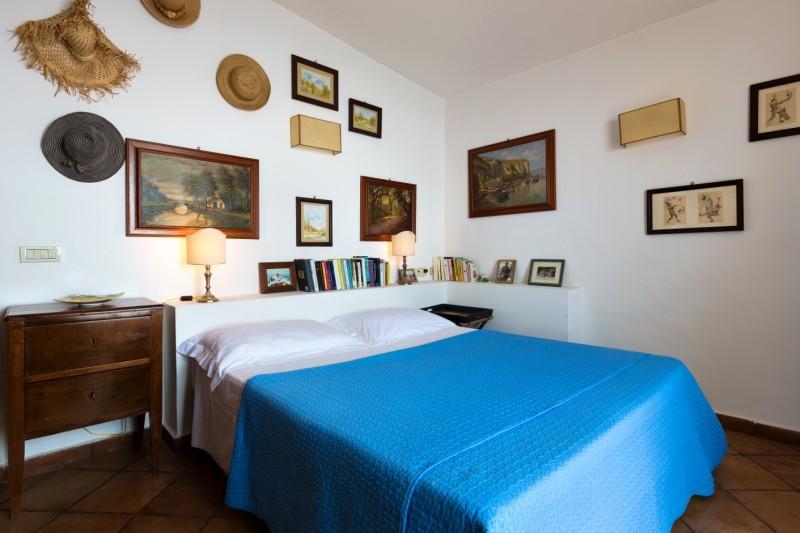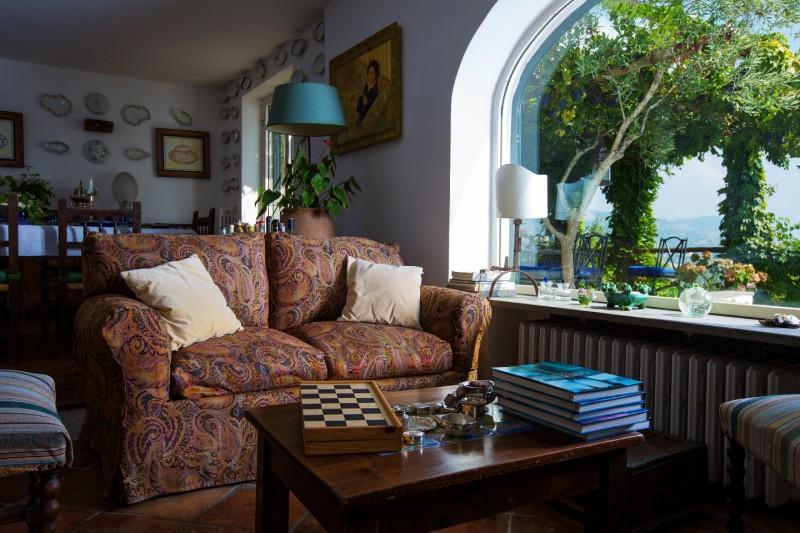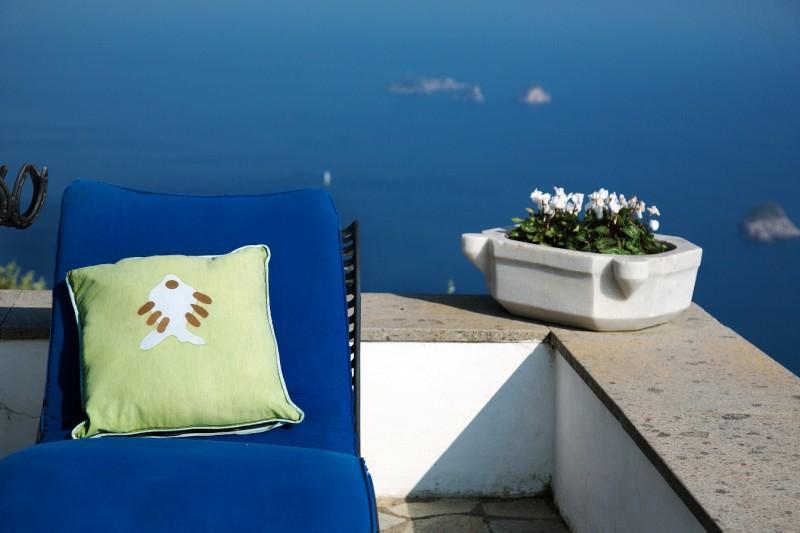 Fantastic stay
We had a fantastic stay. The house is spacious and well-appointed with all the relevant amenities. It has a large number of bedrooms with en-suite bathrooms which is a rarity in Italy. The villa itself offers magnificent views of the sea and in close proximity to Sorrento and other key Amalfi Coast towns. Carmine was responsive to our requests throughout our stay and ensured that everything was in order. The villa was cleaned daily. The path leading to the villa is very narrow. We drove a Mercedes Vito which was barely made it through. In this respect, if renting a car, I would advise a smaller vehicle. Overall a very enjoyable stay. Highly recommended.
Group

Amazing!
The villa was breathtaking! Carmine was the best! Wonderful holiday!
Not specified

Great host and really nice house!
We were a group of 11 and the house couldn't be more comfortable. The bedrooms and bathrooms were very clean, the views are gorgeous and Carmine was amazing in organizing a boat ride through the Amalfi Coast for us and getting a last minute transfer back to Naples. If I had to say something negative, it would be about the road to get there. We rented 2 large cars to fit everyone and it was kind of stressful to get in and out of the house. So if you have multiple drivers in your group, go for multiple small cars! I definitely recommend the house and cannot wait to come back!
Group

Amazing Home and Property with Gorgeous views!
We were blown away by the excellent service the organizers of the villa have provided and by the beautiful property and views. It is extremely clean and well maintained, the pool is crystal clean and the property is truly an original design and layout. Carmine was excellent and extremely attentive to our needs. Our family will be coming back regularly as every member has truly enjoyed their stay and experience at this villa. It is truly a world class experience, we highly recommend this property as it will be something you must feel and see for yourself, it is hard to put it into words!!! We loved our stay.
Group

Breathtaking!
Our experience here at the villa was AMAZING! Our trip started with communication from Carmine about any arrangements we needed during our stay. He helped us with transfers, tours and even a chef prepared dinner for our family. The villa itself was perfect for our family. There were 4 rooms in the main house and 3 more just a few steps below (on the way to the pool). The views.... indescribable!!. There were 11 of us in total and we never had any problems with space or feeling crowded. Carmine even went above and beyond in rushing us to the hospital one morning early because I had the unfortunate luck of having a kidney stone attack during our stay!. He was very caring and passionate about making sure we had everything we needed at all times. He even ran into us in town, stopped and chatted to make sure I was doing ok! Overall the best experience during our 3 weeks in Italy! We will totally recommend and stay again!
Group

A Fantastic Stay in Massa Lubrense!
Not sure where to begin! We had a group of 13 stay at the Villa and every day was enjoyable. The day we arrived we wanted to do something simple and stopped into the pasta shop at the base of the road leading to the house and our team was able to put together a fantastic ravioli dinner with veal medallions on the side (we had excellent cooks in our group!!) ...amazing! We made return visits to the shop for other meals during the week. Carmine (the property manager) arranged a number of tours for our group during the week. He also arranged for a complete evening meal which he and an assistant prepared at the Villa....it was delightful! Caterina came to the house each day to make beds, tidy up, and kept things looking fantastic. The trip to Capri in a private boat was perfect (also arranged by Carmine!) We swam, drank prosecco and had lunch at a lovely restaurante in a scenic cove on the island. We decided to stay away from the main tourist section and were happy with our decision. A number of us had very specific experiences that we wanted to enjoy....whether it be a visit to the Amalfi coast, a visit to the oldest pizza restaurant in Naples, finding a very special dish of spaghetti with sea urchin sauce, ect. Carmine was able to make it happen! There is so much to do, see, enjoy and experience .... spending time by the pool enjoying the view should not be overlooked! Another fun day was visiting Azienda Agrituristica di Benedetto De Gregorio. Klaudia, who works with Benedetto, will arrange a visit that includes leangin how to make limoncello, mozzarella, and pizza..... not sure what could be better!! Klaudia will organize everything including transportation to the farm! This one is a complete win ....location, access to tourist attractions, scenery, support from the staff, all get 10's!! The small road leading to the house? Well, let's just say have a small car and good horn to use as you prepare to make 90 degree turns! It is an exciting half mile or so!
Mature couple

Perfect for reunions
Our experience here at the villa was simply AMAZING! I booked this villa last minute for a team building reunion. We were a group of 7 managers and 4 wifes & husbands. The villa was perfect for us 3 double with en suite bathrooms, 2 doubles and 2 single bedded rooms with two other baths. The housekeeper is very clean and came everyday to put in order the rooms and the kitchen. A large living spaces to talk all together and a secondary living at the dependence were to held private or working talks. We never had any problems with space or feeling crowded. Some spots are special. The sofa in front of the fireplace was magic and inspired many good ideas and conversations, while overlooking the rough and windy sea through the windows. The southfacing outdoor table where we liked to have late breakfast in the sun despite the winter season. Carmine was very polite and answered all my questions during reservation process. He met us at Santagata Sui Due Golfi and he lead us to the property, which is 3 minutes by car. I asked Carmine to arrange our stay and to not tell to my team where /what we were going to do. He was great and arranged trips to Pompei and Amalfi, nights in Positano and Sorrento, arranged transfers to and from restaurants, and finaly he cooked for us and brought napolitan singers in at the villa. We had very good times, great food and wine. Team is built and we are ready to tackle new challenges. At the end, the property is wonderful property and very well managed, I definitely recommend it. Thank you guys for such a perfect stay
Mature couple

Will not disappoint!!
We just came back from a 10 day family vacation in Italy and spent 4 of these days in Calliope's Mansion. This was the best part of our trip. The view were spectacular and the service is amazing. The owners are very responsive and Carmine the house manager takes care of every detail. He arranged transport to Rome, day trips and restaurants. He took any of the planning and travel stress away. The villa was lovely. More beautiful than in the pictures. My only regret is that we didn't catch good weather all 4 days, so the kids only used the pool for 2. We will definitely come back!!
Family with young children

Fantastic stay
Rented Villa for my family, 11 of us went for the week. Carmine was outstanding, helping us plan our excursions, getting us transportation. Anything we needed we could count on Carmine. The meal Carmine cooked for us was outstanding. He really helped our week at Villa run smoothly. Catrina, who cleans Villa everyday was excellent! She is very friendly, and does an outstanding job.. Really enjoyable and relaxing vacation. Sandy Boston, Ma
Mature couple

Paradise
I was nervous as one would be on booking a property from pictures, but once we arrived at the Villa it was even more spectacular than we could believe. We had a party of 13 and never once felt like we didn't have enough room. The way the Villa is laid out is just perfect. Everyone had space of their own and so many levels to gather it was just incredible. There are terraces everywhere. You can pick one every night and not sit in the same place. The views are spectacular from anywhere you go in the Villa, it is just breathtaking from anywhere you look!! When we arrived Carmine met us to guide us in. I had been corresponding with him for a few weeks. Carmine set up tours, transportation to restaurants, to and from trains stations and airports and boat excursions!! He knows everyone and everything. He is a wealth of information not to mention a fantastic cook. We were there to celebrate my husbands 60th birthday so he came and prepared a wonderful dinner celebration which was one of our favorite nights. Also spectacular was Catarina who is the housekeeper. She came everyday to make sure the Villa was just perfect. She is not only beautiful but lovey as well. We did so many incredible tours and saw so many beautiful cities but can honestly say the very best part of our trip was staying at the Villa and spending time together. It was the most magical, relaxing and spectacular vacation we have ever had and we will cherish our memories from our vacation. Thank your for sharing your magnificent Villa with us. Truly a trip of a lifetime!! Sincerely, Casi
Family with young children

Perfecto!
We traveled as a large family ! 7 adults and 6 children. We enjoyed every minute of our stay ! The villa was perfect. The views are indescribable! Our family loved to spend time at the pool. The water was warm and sparkling clean. The villa rooms were spacious and comfortable. The outdoor living space was breathtakingly beautiful. Carmine was so helpful and responded ASAP to any questions we had. He was a wonderful resource to have when planning our daily activities. And we absolutely recommend having him come to the villa and cook for your family ! We had a delicious homemade dinner on our outdoor patio ! Rosaria came every morning to clean , freshen up the villa and re stock things that were needed. She is so wonderful ! There is a little shop at the bottom of the road where you can buy fresh made pasta. Highly recommend! No complaints. A truly magical place to stay. Thank you for treating our family to a perfect Italian Vacation.
Family with young children

The views, the service, the layout, the meal, the hospitality! Incredible!
There were 13 of us at peak, 8 adults, 1 teenager, 4 children between 9 and 12yrs of age. This place was just perfectly to our taste, and the layout worked. First of all, the planning pre-arrival was perfect, even though I was not entirely on top of everything, Carmine was. We had organised 3 day-trips one to Capri, one to Positano, Amalfi, Ravello and one to Pompeii and Vesuvius. All flawlessly executed and we had a great driver or set of drivers for all. Then we had an evening meal at home one evening - simply delicious, cooked by Carmine himself and his crew, and other days we relaxed by the pool or went off to St Agata or Sorrento. This villa is just so cosy that we immediately felt at home in it. And certainly Carmine and Caterina (who came to clean daily) made us feel even more so.
Family with young children

September stay
Very nice location although the road to get to the villa can be challenging yet fun! The views are incredible, the Villa is laid out nice we had 8 in our party. Carmine makes sure all your needs are met, sets up rides with reliable safe drivers, he also set up a charter boat trip for us, the charter captain went out of his way to accommodate all of is on our trip. Carmine also is a great cook I need to mention that for sure, highly recommend you let him cook up a meal during your stay.
Mature couple

Stunning villa
Five stars all the way. The location made for a quiet vacation yet the local restaurants provided pick up and drop off service so we weren't completely isolated without a car. Carmine and Katarina were excellent at their jobs.
Family with older children

Beautiful home and postcard setting. Rent a small vehicle as road to house is tight.
House manager Carmine was super helpful and he provided info whenever we needed anything. I hope to return to this property again.
Family with young children

Four couples in heaven
All I can say is that the property's pictures sold us in the first place, and the reality is much much better. It is heaven! The views are to die for on many patios, on multiple levels. The interior is perfectly appointed. The one lane driveway is the only thing you will need to get used to. It's tough to explain, but you will start with a feeling of confused dizziness, but it changes to insane belly laughs very quickly. Luca worked with us through a myriad of forced schedule changes because of Covid over 19 months. Thank you. Housekeeping was wonderful, thank you! And Carmine helped us plan many of our scheduled trips and restaurant reservations, and always pulled through with rave reviews. He even prepared dinner on site for one of the most memorable evenings of our trip. Thank you so much! We can't wait to return!
Mature couple

AMAZING pre-wedding weekend
I can not overstate how incredible this stay was! From the beautiful views, to the roomy and spacious house (we comfortably slept 13 people!), to the house manager Carmine - everything was amazing!! We had travelled all day from Lake Como and Carmine had a chef prepare a delicious dinner for us right in the house so we didn't have to worry about getting ready and finding a place to eat. Carmine also arranged all of our transportation for the weekend which was a HUGE help. He set up a private boat tour for the day around Capri and helped us with dinner reservations or delivery each night. Really, it was a wonderful experience and we can not wait to come back!!
Family with young children
Jennifer (Los Angeles, California, Stati Uniti)

THIS PLACE IS AMAZING
Quick summary: 1. THIS PLACE IS AMAZING and the pictures do NOT do it justice! It is far more amazing in person!! 2. The bedrooms are very comfortable and there is an included housekeeper which is a great addition for added value! 3. Carmine and his hospitality services are excellent. 4. The extra options for entertainment are so worth it. We did a private dinner, cooking class and Amalfi Coast boat trip. 5. The villa is secluded so either rent a car while in Sorrento or plan accordingly for taxi costs. Details 1. This villa is AMAZING! Sorry, I said that already. Y. The internet is pretty great (for Italy, which is slower than the US). 2. Bedrooms are great. The villa includes a housekeeper who comes everyday at 10a. This was so helpful and she was very nice! 3. We would NOT have had such a wonderful experience were it not for Carmine! He helped us organize taxis to and from the airport and train stations, gave advice on where to go and what to do and helped organize the various excursions we added. He was available by phone whenever we needed and made sure we understood everything. This was invaluable as it was my first time in Sorrento and was the first time in Italy for the other 6 people who joined me from various states! Carmine ensured my birthday weekend was EXCELLENT! He even made sure we had a cake typical of that region for my birthday dinner after I randomly read about it on a blog! It was homemade and everyone loved it!! 4. My family LOVED the private cooking class with Carmine! And we all enjoyed the private birthday dinner cooked by Carmine. He is so friendly and funny, he felt like another member of the family! The boat trip up the Amalfi Coast was simply gorgeous and we lucked out with impossibly perfect weather in between two rainy, cloudy October days! 5. Don't think I would have rented a car due to windy roads, but I would have planned a bit better to get taxis for dinners out when we didn't cook. I wish I could complain about something, but Carmine really try to cover !
Group

Best trip of my life!!!!
Our trip to Europe began in Paris, went to south of France then on to Rome and finished in Sorrento. Without question the best part of the trip was on the villa overlooking the ocean in Sorrento. Carmine prepared the best dinner of the entire trip, took care of trips to Vesuvius, Capri and Pompeii and made great suggestions on local restaurants. He was a big part in making this vacation a trip of a lifetime. Thank you my friend.
Family with young children

Thanks Carmine!!!
Just returned from a two-week tour of Italy with a group of friends. Sorrento and the Amalfi Coast were my favorite by far, much in part due to our host, Carmine! From chef dinners to transportation and helpful advice, we were very well taken care of. Our villa Strepitosa, was absolutely breathtaking with it's warm accommodations and incredible views. The highlight of our stay was a private boat tour which Carmine arranged for us. We spent a full day exploring the Amalfi coast with our expert captain, Ivan, who made each of us feel special with his charm and personal attention. Simply unforgettable and I can't wait to return. Thank you, Carmine!
Group

Lovely stay at Villa Strepitosa
Carmine makes you feel completely welcome. He made making the arrangements easy and the stay perfect. He was flexible if we wanted to change things, made great recommendations, and arranged everything for us.
Family with young children